FourFourTwo's 100 best foreign Premier League players ever: No.8, Patrick Vieira
The Frenchman was eventually treated to quite a few better superlatives than the "thinking man's Carlton Palmer" accolade he was greeted with after his Arsenal debut in 1996. On hand with more is former Gunner Stephen Hughes, who watched with awe as his new team-mate arrived from Milan to help kick-start a new era in north London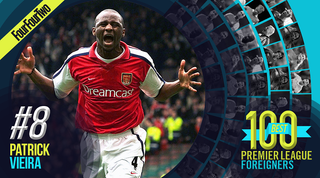 I'd actually played against Patrick for England at schoolboy level, so I already knew a little bit about him when he came to Arsenal.
In a couple of those games he'd played as a makeshift centre-half, and when he arrived I remember we all initially thought he might play there for us because of his stature. Patrick was a similar age to me, but he was just so tall.
In his first training session we played a practice 11-vs-11 game in training. This was obviously just before Arsene Wenger had arrived but Pat Rice was there, and immediately you could just see what that long stride of his could do; it'd take him away from you in two movements. I don't think we actually got to see the best of Patrick until Arsene came, but we could see his natural ability.
I remember one of the senior boys saying, 'Well if he can play, he's going to adapt fantastically'. And God could he play.
Making an impression
I was a midfielder too but initially I was actually playing wide left quite a bit, getting up and back under George Graham, and I think they were earmarking me for that kind of role as I was left-footed. I knew I could play in the middle and they knew that too, but Patrick was very much an out-and-out midfield player. After seeing him play I wasn't really worried, though – I knew I couldn't lace his boots.
Patrick was absolutely horrific to play against in training. He had such an English attitude – he was an out-and-out winner even in small-sided games, 4-vs-4s, and just absolutely hated losing. That spread, and the English boys just loved that mentality about him. He took it on board straight away. We could all see the attributes he had, and knew if he could mould them together then we'd have a player on our hands.
I think Patrick adapted so quickly because he was such a great lad and got up to speed straight away. He wanted to make an impression, and when you move to a new place you really want to hit the ground running. That's what he did.
Obviously on matchdays he was a bit of an animal, but off the pitch he was softly spoken and liked a giggle with the rest of us. He didn't necessarily join in or get properly involved, but he sat back and used to love watching everyone take the mickey out of each other; Wrighty, Dennis [Bergkamp], Martin [Keown]. We were quite ruthless to one another, and he enjoyed that.
The English lads really took to him – he spoke the language pretty well, which helped – and you could only say he was a really nice bloke. Patrick quickly became one of the most popular players in the dressing room – and even then you could see he was captain material.
English football suited him, and it helped that the manager firmly believed in him as one of his first signings. Arsenal got him for £3.5m from Milan, where Patrick was frustrated and not playing a lot, so this was a perfect move for him.
Great feet for...
Dennis Bergkamp was the best I've ever played with, but Patrick was the best midfielder by an absolute country mile. He gave you the ball when you wanted it, could play one- or two-touch, and was so athletic. He sensed danger, he was strong, great in the air and if there was a challenge to be won you could be sure he'd be in for it.
There were absolutely hundreds of times when people came off worse in training. But although everybody knows the individual battles he had with certain players, what people forget about Patrick is just what a brilliant footballer he was. Some of the stuff he'd do was frightening, and I genuinely don't think he got enough credit for it.
Everyone remembers that strong, aggressive holding midfield player but the ability he had is easily overlooked. I can remember him just dinking the ball over opposition players like they weren't even there, running past them, nutmegging them. You could give him the ball in any situation, and although he might have looked cumbersome because he was so tall, he'd just roll his man and get out of situations for fun. He'd drop that shoulder and be away.
Everyone focuses on his warrior-like mentality, but nobody should forget what he could do on the ball – he genuinely had fantastic, unbelievable feet for a tall guy.
If he came short and didn't get the ball he'd go a bit mad, as if to say 'Give us it here, I won't lose it… it's no big deal'. Obviously he was right. For some players it's all right doing a little step-over, dropping a shoulder or pulling off a bit of skill, but another thing he had in a favour was that once he was in his stride it was all over. He needed two when everyone else needed five or six.
Reality check
I remember standing five yards away calling for the ball; you'd think he was going to pop it to you while the opposition midfielder was closing him down, but he'd just put it over his head and be 20 yards away from him before he'd even have chance to turn around. See you later. And there was me with the best view on the pitch! I'd just stand there thinking… 'Er, wow'.
I'd also be thinking, 'How the hell am I supposed to get in front of this guy? Really?' For two or three years he was just unbelievable, and because of the way he played the fans loved him too.
Sure he got his fair share of sending-offs when the red mist used to descend, and opposition teams used to try to wind him up because that was the only way you were going to get to him. If you didn't, he was going to play you off the pitch.
That said, when we did some shooting drills in training we all thought he was one of the worst finishers we'd ever seen. Every one flew about a mile over the bar, and he used to cackle with laughter – it was probably the one element of his game that let him down. Apart from that he had absolutely everything.
United passions
His games against Manchester United stand out for me, and I was lucky enough to play in quite a few of them.
I remember the 1998 Charity Shield, when France had just won the World Cup. Patrick had come back and you could tell he'd enjoyed himself; he hadn't trained once, I think he'd been on a party for three weeks, but the manager had still put him straight in the team. We won 3-0 – and he was absolutely incredible. Everyone was trying to kick him but they couldn't get near, he was just unplayable.
When you hear the great players of that era talking, the one man they hated playing against was him. Patrick was just a delight to play with – he'd have your back, but if you weren't at it he'd soon let you know. If he wanted more, you'd know about it. Just brilliant.
Interview: Joe Brewin
100-91 • 90-81 • 80-71 • 70-61 • 60-51 • 50-41 • 40-31 • 30-21 • 20-11 • 10 • 9 • 8 • 7 • 6 • 5 • 4 • 3 • 2 • 1
FourFourTwo's 100 best foreign Premier League players ever
Thank you for reading 5 articles this month* Join now for unlimited access
Enjoy your first month for just £1 / $1 / €1
*Read 5 free articles per month without a subscription
Join now for unlimited access
Try first month for just £1 / $1 / €1
Quizzes, features and footballing fun
Get daily World Cup 2022 news, updates and other football frolics to your inbox
Quizzes, features and footballing fun
Get daily World Cup 2022 news, updates and other football frolics to your inbox
Thank you for signing up to Four Four Two. You will receive a verification email shortly.
There was a problem. Please refresh the page and try again.