How to stop Barcelona: 5 ways Atletico Madrid silenced the MSN trident
Halting Messi, Suarez and Neymar is far from easy, but Diego Simeone's side managed to do it on Wednesday night. Thore Haugstad, armed with Stats Zone, was at the Camp Nou to observe their approach...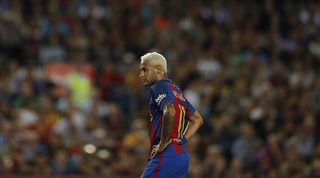 Few tasks in football are as daunting as stopping Barcelona's glittering forward trio at the imposing Camp Nou. The 'MSN' strike force – Lionel Messi, Luis Suárez and Neymar – are widely considered one of the greatest attacking tridents of all time, and had looked in fine fettle prior to Wednesday night, crushing Celtic (7-0) and Leganés (5-1) while notching up 10 goals between them. 
How to negate such talent? Better call on the best defence in the world. Atlético Madrid equalled La Liga's defensive record last season by conceding just 18 goals, with Diego Simeone's side the only team to have knocked Barça out of a major competition in the MSN era. In fact, the last time the trio started a competitive game without scoring was in the Catalans' 2-0 Champions League quarter-final defeat at the Vicente Calderón back in April.
What Atletico delivered on Wednesday night was in many ways a case study in how to stop the trio. For 40 minutes Atleti looked close to defensive perfection, keeping their structured shape, closing down efficiently and tackling cleanly. Their big lapse came when Ivan Rakitic flicked in Andrés Iniesta's cross a minute later, but the forwards – not helped by Messi's injury close to the hour mark – were kept quiet throughout.
Just after the Argentine's departure, the visitors equalised to seal an excellent 1-1 draw. Though dependent on fine margins, their achievement was largely down to strategic nous and defensive principles which can be broken into five hints for Barça's future opponents.
Correa's strike earns Atletico a point
1. Double- and triple-up out wide 
A key factor in the Simeone system is the manner in which his players shuffle from side to side to press opponents out wide. Most know Atleti play a deep and compact 4-4-2, but many teams play in similar ways with far less success; what few master is the judgement and cohesion to box in opponents through collective pressing traps. 
On Wednesday, the Atleti midfield four featured Gabi and Koke centrally, Yannick Ferreira Carrasco left and Saúl Ñíguez right. Neither wide midfielder tracked his full-back when Barça had the ball centrally, instead tucking inside to block passing lanes into the strikers. When Barça did emerge out wide, both the wide midfielders and the double pivot would shuffle across to help out their full-back, block possible passes into the middle and provide cover. Gabi, in particular, won many balls near the flank.
Combined with a dense team structure that eliminates space down the middle, this kind of pressing helps to prevent the one-on-one situations in which Messi and Neymar thrive.
2. Surround Messi
This latter point is particularly relevant against Messi. By now most coaches have realised no player can do a clean man-marking job on the Argentine; you have to stop him through collective effort, by denying him time, leading him down blind alleys and getting blocks in. 
For better or worse, Messi spent more time in the middle than usual on Wednesday. He often hung around waiting for the ball, at which point Atleti tried to have someone at hand to block the pass. Striker Antoine Griezmann often dropped back to his own penalty area, at one point standing in front of Messi to lead Barça right-back Sergi Roberto to pursue a less dangerous option. 
Still, it's simply not possible to deny Messi the ball at all times. The playmaker bore down on the penalty areas in customary fashion several times; in response, Atleti threw men into his path, and both Gabi and Stefan Savic got crucial blocks in. That meant only two of his efforts hit the target, and even one of those was deflected into Jan Oblak's gloves. Even more impressively, Messi created just one chance all game.
3. Field mobile centre-backs
The Atleti central midfielders are not the only ones providing defensive cover. Aware that Messi and Neymar would probably dribble past his full-backs at some point, Simeone pulled his centre-backs out wide to extinguish fires. This can be interpreted as a defender 'being dragged out of position', but that danger is only relevant if they're too slow to actually avert the danger. These defenders are not, and they made several interventions at times when their full-backs had been beaten. 
The best example was Diego Godín, who stepped in to tackle Messi and made a goal-saving block on Suárez. Coupled with the cover provided by the central midfielders, this creates the impression of Atleti being armed with both double and triple cover all over; a point humorously noted by Bayern Munich's social media department in their semi-final defeat at the Calderón in May.
It just wasn't our night. #AtletiFCBpic.twitter.com/INtvEB1WkX
— FC Bayern English (@FCBayernEN) April 27, 2016
4. Reduce space near Suárez
Still, you don't stop Barça just by blocking the flanks: the Catalans often stretch teams before working the ball through the centre, where a mobile Suárez is looking to fool his markers.
What Atleti did well was to close him down quickly and aggressively, so that he had no space to turn. Whether the striker went wide or down the middle, defenders were at hand, and all four recorded excellent tackle completion rates: Juanfran pulled off 6 out of 6, Filipe Luís 4/6, Godín 4/5 and Savic 4/4. Suárez did not manage a single dribble, nor a shot that wasn't blocked. 
5. Be clever in your fouling
When such tackling skills come up short, clever fouling may be necessary. While Messi and Suárez were outcrowded, Atleti struggled more with Neymar, yet out of the eight free-kicks the Brazilian won, only one was near the box. That one exception was also nearly punished, Gerard Piqué glancing the subsequent free-kick inches wide. 
Apart from that, Neymar tested Oblak twice and curled another shot just wide. Some luck was required to stop him, but that's life against the MSN trident. "They're extraordinary players," Simeone said after the game. But with tactics, cohesion and concentration in defence, Atleti showed that even the best can be stopped. 
Quizzes, features and footballing fun
Get the best features, fun and footballing frolics straight to your inbox every week.
Thank you for signing up to Four Four Two. You will receive a verification email shortly.
There was a problem. Please refresh the page and try again.