How will Germany play at the World Cup?
Germany are among the favourites to lift the World Cup in Qatar, but how will they set up under Hansi Flick?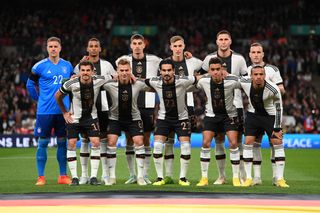 (Image credit: Getty)
Germany are one of the most successful sides in World Cup history, having won the trophy four times, and will be among the hot favourites to do it again in Qatar.
Following a disastrous group-stage exit at Russia 2018, Germany have since hired a different coach – former Bayern midfielder and then Bayern manager Hansi Flick – and have brought through a talented crop of younger players to complement a core of experienced heads.
But how will Germany play in Qatar, what is their best formation and where do their strengths and weaknesses lie? FFT brings you the lowdown...
What formation will Germany play in Qatar?
Germany most commonly set up in a 4-2-3-1 formation, with a back four, two screening midfielders and an attacking trio behind a central striker. However, they may switch to a 3-4-2-1 against stronger opposition.
In the former formation, Manuel Neuer will definitely start in goal despite Marc-Andre ter Stegen operating between the posts in a recent UEFA Nations League clash with England. The Bayern captain is considered one of the greatest goalkeepers of all time and is key to Germany's style of play.
In front of Neuer, central defenders Antonio Rüdiger and Niklas Süle will likely play between Benjamin Heinrichs and David Raum. Joshua Kimmich and Ilkay Gündogan will feature as the deep midfielders, behind an attacking-midfield trio of Leroy Sane, Thomas Müller and Serge Gnabry. Kai Havertz appears to have made the No.9 spot his own after recent showings.
Jamal Musiala, Bayern's 19-year-old playmaker, is an excellent rotation option and will replace, or come on to complement, the ageing Thomas Müller throughout the tournament.
What is Germany's style of play?
Under Hansi Flick, Germany play a high-pressing game and look to win the ball back as far up the pitch as possible. Germany operate with a high defensive line, which is made possible through the speed and aggression of centre-backs Rüdiger and Süle, and "sweeper keeper" Manuel Neuer. Any balls played over Germany's defence will more than likely be cleared away by the gloveman.
In possession, play is dictated by Germany's deep-lying midfielder Joshua Kimmich. The Bayern man sets the tempo and looks to get the more attacking players on the ball on dangerous positions.
Out wide, Sane and Gnabry are extremely fast and powerful wingers who will make runs in behind opposition defences. Once a breakthrough is made, the duo will look to whip crosses into Kai Havertz – a strong aerial presence – or cut it back to Müller/Musiala.
Strengths and weaknesses
One of Germany's key strengths is their goalkeeper, Manuel Neuer, who is arguably the best in the world in his position. He offers world-class quality in possession (former Bayern coach Pro Guardiola reportedly wanted to play him in midfield for a game) and a sweeper style which allows them to maintain such a high line.
Central midfield is also a strength, with Kimmich, Gündogan and, in front of them, Müller, all experienced and technically gifted ball players. Musiala and Leon Goretzka offer eye-watering strength in depth, should it be needed.
Weaknesses include full-back, where prime options (including Euro 2020 star Robin Gosens) are unlikely to be available through injury. Centre-forward is also an issue. Havertz is a capable striker but many feel it is not his natural position. Alternatives include Timo Werner, who is better suited to playing in a pair and would require a change in formation to thrive. Central defence has also come under fire, with a lack of experienced options beyond Rüdiger a concern.
Why are Germany so good at penalties?
As explained in our deep dive into why Germany are so good at penalties, the nation is astonishingly clinical from 12 yards. In World Cup history, the Germans (and we're including West Germany in this article) have contested four shootouts: in 1982, 1986, 1990 and 2006. They've won them all. They've taken 18 penalties and missed just once (against France in 1982... they still won that match). This, despite the fact that opposition's goalkeepers have dived the correct way 50% of the time.
It's all to do with compartmentalising, according to one of their greatest-ever takers, Andreas Brehme. "I think Germans are just good at compartmentalising," he recently told FFT. "There's huge pressure, sure, but this is a single action that must be treated as such."
Thank you for reading 5 articles this month* Join now for unlimited access
Enjoy your first month for just £1 / $1 / €1
*Read 5 free articles per month without a subscription
Join now for unlimited access
Try first month for just £1 / $1 / €1