Italy Euro 2020 squad profile: Best player, manager and past Euros record
The full Italy Euro 2020 squad has been released – here's everything you should know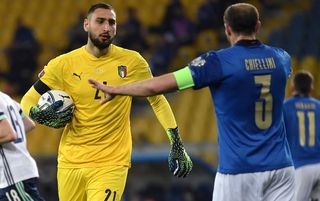 (Image credit: PA)
The Italy Euro 2020 squad for this summer is one of the first to be released, with Roberto Mancini revealing a provisional 33-man squad.
Consistent performances in their latest set of international games in March saw Italy emerge 2-0 winners against Northern Ireland, Bulgaria and Lithuania.
Consisting largely of players who ply their trade in Italy's Serie A, boss Roberto Mancini has made the most of what he had at his disposal by also including a few extra players from across the continent.
ALSO SEE
What are Italy's Euro 2020 fixtures?
Italy Euro 2020 group: Who have they been drawn against?
Who is Italy's captain, Giorgio Chiellini?
Italy Euro 2020 squad: Full 26-player list
GK: Salvatore Sirigu (Torino)
GK: Gianluigi Donnarumma (AC Milan)
GK: Alex Meret (Napoli)
DF: Giorgio Chiellini (Juventus)
DF: Leonardo Bonucci (Juventus)
DF: Alessandro Florenzi (Paris Saint-Germain)
DF: Francesco Acerbi (Lazio)
DF: Emerson Palmieri (Chelsea)
DF: Leonardo Spinazzola (Roma)
DF: Giovanni Di Lorenzo (Napoli)
DF: Alessandro Bastoni (Internazionale)
DF: Rafael Toloi (Atalanta)
MF: Bryan Cristante (Roma)
MF: Jorginho (Chelsea)
MF: Marco Verratti (Paris Saint-Germain)
MF: Nicolo Barella (Internazionale)
MF: Lorenzo Pellegrini (Roma)
MF: Manuel Locatelli (Sassuolo)
MF: Stefano Sensi (Internazionale)
FW: Andrea Belotti (Torino)
FW: Ciro Immobile (Lazio)
FW: Lorenzo Insigne (Napoli)
FW: Federico Bernardeschi (Juventus)
FW: Federico Chiesa (Juventus)
FW: Domenico Berardi (Sassuolo)
FW: Giacomo Raspadori (Sassuolo)
Looking for a fantasy Euro 2020 game?
With Zweeler Fantasy Euro2020 (£8.99) will get you a £70m budget to choose 7 countries you think will do best this summer.
Then go head to head with thousands of others for a share of over £13,000 prize pool and top prize of over £4,000!
Find out about this game and others here (opens in new tab)
Italy Euro 2020 squad: Team profile
Roberto Mancini could reasonably claim to be the man who saved the Italian national team.
When he took the Azzurri reins in May 2018, one of international football's most successful sides was at rock bottom after their failure to qualify for the World Cup in Russia – a catastrophe unheard of in 60 years. But Mancini meticulously rebuilt from the ruins to create a team with a clear identity and a promising crop of youngsters competing for selection.
The atmosphere couldn't be more different. National pride in Italy's football team has been restored, sparking hope for the future and a cautious belief they can challenge at Euro 2020.
In qualifying, Mancini broke double World Cup-winning manager Vittorio Pozzo's record from the 1930s by leading the Azzurri to 11 consecutive victories. Italy qualified with three games to spare – another record – and won every game to top their group with a goal difference of +33. Only Belgium performed better.
They then won last year's UEFA Nations League group, defeating Poland, the Netherlands and Bosnia and Herzegovina along the way. Following March's round
of 2022 World Cup qualifiers, Italy are unbeaten in 25 games, equalling Marcello Lippi's 2006 World Cup-winning side.
The main concern is the forward line. European golden boot winner Ciro Immobile hasn't yet replicated his superb Lazio form in an Azzurri shirt, and no one else has made the No.9 spot theirs. Italy have overcome the problem thus far by spreading the load: 19 players scored during qualifying, but Torino's Andrea Belotti topped the charts with four.
Nevertheless, a new generation of talents, all 24 and under, such as Inter midfielder Nicolo Barella, goalkeeping sensation Gianluigi Donnarumma and Juventus' on-loan Federico Chiesa make the Italians an engaging side to watch.
"With an extra year, the young guys will have a chance to improve," Mancini said after the tournament's postponement.
He wasn't wrong, with yet more promising youngsters such as Inter centre-back Alessandro Bastoni playing their way into the squad.
A group featuring Turkey, Wales and Switzerland should launch the Azzurri – and their banger of a national anthem – into the knockout stages. And beyond.
Italy Euro 2020 squad: Who is Italy manager?
Roberto Mancini
56-year-old Roberto Mancini manages Italy, after starting the role as national team manager in 2018.
FOR MORE Who is Italy's manager? Everything you need to know about Roberto Mancini
Formerly of Inter Milan (twice), Zenit St Petersburg, Galatasaray, Lazio and Fiorentina, Mancini's crowning moment in his career so far came during his time in charge at Manchester City. Winning the club their first Premier League title, Mancini also picked up the FA Cup during his time in England before his dismissal in 2013.
Mancini took over a struggling Italy, who had failed to qualify for the 2018 World Cup. Managing to turn their fortunes around by qualifying for Euro 2020, Italy are on the right tracks to become one of Europe's elite again, although they're by no means at their best.
Italy Euro 2020 squad: Who is their best player?
Diminutive midfielder Marco Verratti is Italy's standout performer, dictating play from central midfield while also possessing the ability to mix it with larger players when he has to. A part of PSG since 2012, Verratti has an abundance of European experience that is lacking within Italy's squad.
Captain Giorgio Chiellini, Lorenzo Insigne and Ciro Immobile join Verratti as some of Italy's other notably important players.
Italy Euro 2020 squad: Italy's past Euros record
The Azzurri have won the European Championships once in their history, in 1968 during their first appearance in the tournament. Although they haven't enjoyed success since, Italy have performed well in multiple other tournaments. Both 2000 and 2012 ended with Italy as losing finalists, while they also reached the semi-finals in 1980 and 1988.
Their most recent appearance in the tournament culminated in them reaching the quarter-finals, where they lost on penalties to Germany.
Euro 2020 dates, venues, tickets information, coronavirus protocols, and groups – everything you need to know
Euro 2020 fixtures and dates: Full schedule and how to watch every match of the 2021 summer tournament
Thank you for reading 5 articles this month* Join now for unlimited access
Enjoy your first month for just £1 / $1 / €1
*Read 5 free articles per month without a subscription
Join now for unlimited access
Try first month for just £1 / $1 / €1