Euro 2020: dates, venues, squads, fixtures, tickets information, coronavirus protocols, and groups – everything you need to know
Euro 2020 will now take place in June 2021; here's everything you need to know about the tournament, the new dates, venues and tickets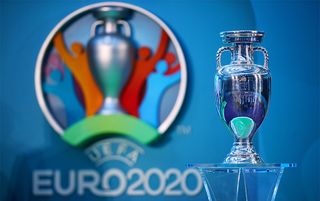 (Image credit: Getty)
Is Euro 2020 definitely going ahead?
Yes - Euro 2020 is going to happen, and is starting on June 11, 2021.
UEFA has already committed to all 55 of its member nations receiving the revenue from Euro 2020, agreed upon in 2018. UEFA is reportedly dipping into its cash reserves to stay on top of the bill, so the money generated by broadcasting and sponsorship revenue is vital.
What countries are in Euro 2020, what groups are they in, and when will squads be confirmed?
After nations were seeded and certain teams were placed in groups based on hosting games at the tournament, the following groups were drawn for Euro 2020:
Group A: Turkey, Italy, Wales, Switzerland
Group B: Denmark, Finland, Belgium, Russia
Group C: Netherlands, Ukraine, Austria, North Macedonia
Group D: England, Croatia, Czech Republic, Scotland
Group E: Spain, Sweden, Poland, Slovakia
Group F: Portugal, France, Germany, Hungary
Euro 2020 squads are expected to be released from late May, but you can see the most recent squad for each country by clicking on their name above.
What is the Euro 2020 fixture schedule?
The full Euro 2020 fixture schedule has been confirmed, with Turkey vs Italy the first match of the tournament at 8pm BST on Friday, June 11 2021 in Rome.
The final will take place a month later, at 8pm on Sunday, July 12 at Wembley.
You can also get a FourFourTwo Euro 2020 wall chart, either free to download or with a copy of the May 2021 issue of the magazine, which you can buy here.
Will it still be called Euro 2020 or will it now be called Euro 2021?
Following the 12 month delay of Euro 2020 to the summer of 2021 it was initially unclear what the rearranged tournament would be called. But after an internal review, UEFA confirmed that the tournament will still be known as Euro 2020.
A UEFA statement said: "This decision allows UEFA to keep the original vision of the tournament, which was set to celebrate the 60th anniversary of the European Football Championship (1960–2020).
"It will furthermore serve as a reminder of how the whole football family came together to respond to the extraordinary circumstances of the COVID-19 pandemic, and of the difficult times that Europe, and the world, had to go through in 2020.
"This choice is in line with UEFA's commitment to make UEFA Euro 2020 sustainable and not to generate additional amounts of waste. A lot of branded material had already been produced by the time of the tournament's postponement. A name change for the event would have meant the destruction and reproduction of such items."
So now you know why it is called Euro 2020 despite taking place in 2021.
What dates are Euro 2020 now set to be held between?
The European Championship will be held between June 11 and July 11, 2021, having been moved from the summer of 2020.
The first match will still be between Italy and Turkey at the Stadio Olimpico in Rome, with the final being held at Wembley.
Will fans still be allowed to attend games?
Yes, that's the plan. As it currently stands, Euro 2020 will go ahead as planned in the same venues, just a year later.
The tournament will now be held across 11 venues rather than 12. Seville has replaced Bilbao while Dublin has had to withdraw from hosting and the games originally planned for Ireland have been reallocated to Saint Petersburg and London.
Saint Petersburg and Baku have confirmed a minimum of 50%, while Amsterdam, Bucharest, Copenhagen, Glasgow and Rome have confirmed a capacity of 25%-33%.
Munich have confirmed they will be able to welcome a minimum of 14,500 spectators while London has confirmed a minimum capacity of 25%, which should rise for knockout games later.
Find out more about the Euro 2020 stadiums here.
Which countries are hosting Euro 2020?
After a UEFA meeting on April 23, 11 countries will now host Euro 2020. They are England, Scotland, Italy, Netherlands, Russia, Hungary, Romania, Azerbaijan, Denmark, Germany and Spain.
What will happen to ticket-holders' tickets if they can't attend games?
UEFA is currently working on the assumption that Euro 2020 will take place at the originally proposed venues - but the tournament will see reduced capacity crowds.
If a match is played at its original venue - but behind closed doors or with a reduced capacity - ticket-holders will be granted a full refund. UEFA confirmed this year that, "in the event that a UEFA Euro 2020 match is moved to a venue which is more than 50km away from the original venue, ticket buyers would be entitled to a full refund of the ticket price if they cannot, or do not wish to, attend".
As more details come out about the finalised venues and capacities of the competition, UEFA are expected to set a new date for ticket holders to receive refunds. More news on tickets is expected in April 2021.
What happens if there's a new wave of COVID-19 or an outbreak during Euro 2020?
UEFA are confident that an outbreak of coronavirus would not derail the entirety of Euro 2020, with the possibility of moving venues still on the table for certain games - just as the knockout games of the Champions League have seen.
UEFA are said to have not yet drafted an official protocol that would cater for the impact of a potential COVID-19 outbreak in the summer - but when details are finalised in April, this should become more clear.
How can I purchase tickets for Euro 2020?
Euro 2020 tickets were released over a number of dates. The application window for the tournament began back in June 2019, where fans had to register for a lottery-like draw. In July and August 2019, fans found out their fate. In December, the ticket sales reopened for fans of qualified nations.
Since then, the final four teams qualified for the competition, with Scotland, North Macedonia, Hungary and Slovakia reaching the competition via the UEFA Nations League play-offs. Fans of these teams will be able to apply for tickets separately, with UEFA to announce the sale dates in April 2021.
How can I get tickets to the Euro 2020 Final?
Tickets for the final have already been on sale. These were released along with tickets for all other stages of the competition last summer.
Euro 2020 Final tickets were due to be eligible for resale in April 2020. A further ticket update is due in April 2021
Which country is hosting the most Euro 2020 matches?
Wembley Stadium in London will host the most matches of any venue at Euro 2020, with eight games to be played there – including the final and semis.
Originally, it was planned for Belgium to build a new national stadium, Eurostadium, in Brussels. Eurostadium was stripped of hosting rights to a handful of games at the tournament in December 2017, however, with UEFA citing uncertainty as to whether the project would be completed.
These games were instead given to Wembley.
Is Euro 2020 qualifying still ongoing?
No. The final four teams were decided on November 12, 2020, with the conclusion of the UEFA Nations League play-offs. Hungary, Slovakia, Scotland and North Macedonia were successful in grabbing those final spots at the tournament.
What ball will be used for Euro 2020?
As is customary for major international tournaments, Adidas will be supplying the ball for Euro 2020. Named Uniforia - a portmanteau of "unity" and "euphoria", the ball is mainly black and white, similar to the Telstar effort of the last World Cup, only with flashes of fluorescent colour.
You can buy an Adidas Uniforia for £120 here.
Will Euro 2020 teams receive vaccinations before the tournament?
It seems unlikely - UEFA don't have an official stance but sources have called UEFA insisting on players receiving jabs as "very doubtful".
The Premier League has a "wait our turn" approach for vaccinations, as in the UK, the COVID-19 vaccine is being given out on the basis of age and vulnerability first. It is bad PR for athletes to "skip the queue" as it were, especially when bubbles have been largely successful for elite European clubs this season.
It's far more likely that nations will be told to get into bubbles, just like clubs.
Who are the Euro 2020 referees?
The Euro 2020 referees were confirmed by UEFA on April 21, 2021. There are 18 referees from across Europe in total, with two English refs, Anthony Taylor and Michael Oliver.
Subscribe to FourFourTwo today and save over a third this Mother's Day. All the exclusive interviews, long reads, quizzes and more but for less.
Thank you for reading 5 articles this month* Join now for unlimited access
Enjoy your first month for just £1 / $1 / €1
*Read 5 free articles per month without a subscription
Join now for unlimited access
Try first month for just £1 / $1 / €1