Liverpool must end a decade of fearful slip-ups against Villarreal
The Reds' recent cup record doesn't make for particularly positive reading, writes Timothy Ellis, with Jurgen Klopp's side trailing the Spaniards 1-0 ahead of Thursday's second leg...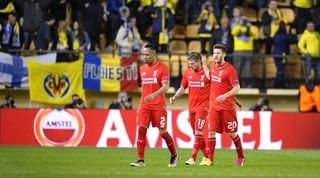 When former Manchester United boss Sir Alex Ferguson stated that "Blackburn will have to finish like Devon Loch to give us any chance" during the Premier League title race of 1995, the Ewood Park "response" came from Ferguson's old Liverpool adversary, Kenny Dalglish. It consisted of ignoring the bait completely.
When Blackburn eventually clinched the title, Ferguson penned a congratulatory letter to Dalglish with the addendum: "Devon Loch is a horse... I'm sure your Dad must have backed it. Mine did." As if Dalglish didn't know that the horse was famous for falling on the final straight while leading the 1956 Grand National...
Ever since an exhausted Steven Gerrard effectively bailed his team-mates out with a Roy of the Rovers goal in the FA Cup final against West Ham 10 years ago, Liverpool have made a habit of falling a fence or two from the finish line.
Gerrard scores against West Ham
Taste of success
To put it bluntly, the Reds have lost too many semi-finals and finals in the last decade. Last week, things were all going so well until Spanish galloper Alberto Moreno unseated himself from his left-back position, leading to the concession of an injury-time goal against Villarreal in the first leg of the teams' Europa League semi-final. It could yet prove to be the catalyst for another Liverpool failure when a piece of silverware comes into view.
There were sniffs of the Premier League title in 2002 and 2009, and a major waft of it in 2014, but when a cup opportunity presented itself during the first few years of the millennium, Liverpool were generally very good at taking it. As Jose Mourinho once said: "They are a great team in knockout competitions."
League Cups were accrued in 2001 against Birmingham, 2003 against Manchester United and 2012 against Cardiff, with Liverpool's only final loss coming via Chelsea in 2005. The UEFA Cup and FA Cup were both claimed in 2001, as was the 2005 Champions League on the most famous night of them all. All seven finals, including the FA Cup in 2006, were an almighty battle, with four penalty shootouts required. It wasn't pretty, but Liverpool delivered when it mattered most.
Silverware slump
The decline in trophies started with the 2007 Champions League Final. Eerily, Liverpool looked as comfortable as they had last week at El Madrigal against an ageing Milan side; like at Villareal, they did not have a huge goalscoring option on the pitch on that losing night in Greece, with Dirk Kuyt the sole focus up front.
Jermaine Pennant played the Jordon Ibe role of getting in crosses with little effect. while James Milner replaced Bolo Zenden as the uninspired workhorse. Peter Crouch sat on the bench until the final 12 minutes – much to Milan's relief – and Craig Bellamy did not get a game. Robbie Fowler wasn't even deemed worthy of a place in the squad.
"I am not ashamed to say I cried that day," Fowler recounted. Daniel Sturridge and a host of Liverpool fans might be doing something similar should the Reds crash out at Anfield on Thursday.
Liverpool lost the chance to win a sixth European Cup and seemed to lack the requisite quality on the most important European night of them all. The ratio of five 'Big Ears' trophies to two losses is still a damn good one, but despite coming close to the final in subsequent years, the Reds have stumbled against Chelsea at the semi-final stage twice. Tom Hicks and George Gillett then brought the house down on the European Empire as the domestic home crumbled.
Missed opportunities
There were still chances to win European and domestic trophies, though. A late goal by Atletico Madrid's Diego Forlan knocked Rafa Benitez's side out of the semi-finals of the Europa League in 2010 – a trophy they would have expected to win with Fulham waiting in the wings. Benitez also saw a tremendous title charge in 2008/09 foiled by a 4-4 draw against Arsenal, when a clearly nervous Liverpool were undone by some calamitous defending.
When Chelsea beat Liverpool in the 2012 FA Cup Final, the Reds didn't turn up until the hour mark when substitute Andy Carroll battered John Terry & Co. Petr Cech somehow clawed a Carroll header out and an exhausted Chelsea hung on for a 2-1 win.
Then there was the slip by Gerrard that has left an indelible stain on Liverpool's approach to the squeaky-bum stage of competitions. In 2015, Brendan Rodgers made a mini-recovery of sorts after a desperate first half of the Premier League campaign, only for the team to lose out to Chelsea in the semi-finals of the Capital One Cup, despite battering them at Anfield and missing numerous chances at Stamford Bridge.
The FA Cup semi-final against Aston Villa was the most complete non-performance of a Liverpool side in recent memory, as Tim Sherwood's team tactically trumped Rodgers.
Turnaround?
Even proven winner Jurgen Klopp couldn't reverse the team's cup fortunes as the Capital One Cup was lost on penalties to Manchester City after another timid performance in February. The German has a poor record in cup finals himself, losing his last four as a manager, but must be hoping that he can inspire Liverpool to at least get another chance to reverse his and his team's trend.
"Only silly idiots stay on the floor and wait for the next defeat. You have to strike back," said the 48-year-old after the defeat to City. Now is the time to find out if he can really lift Liverpool beyond the fear factor that has been striking them down ever since Stevie G saved the day and then did a most cruel Devon Loch of his own.
Thank you for reading 5 articles this month* Join now for unlimited access
Enjoy your first month for just £1 / $1 / €1
*Read 5 free articles per month without a subscription
Join now for unlimited access
Try first month for just £1 / $1 / €1