Meet the candidates vying to take the Spain baton from Xavi
Barcelona's midfielder linchpin for 15 years is set to leave the Camp Nou for Al Sadd at the end of this season, but Lee Roden says it's the national team that will need to hold auditions for his long-term replacement...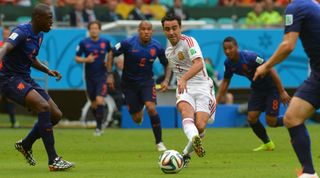 When Xavi Hernandez steps out onto the Camp Nou pitch on Saturday for his last home game as a Barcelona player, it will be a sad moment for supporters, but not a desperate one. Luis Enrique's new style of play has brought both results and titles, and it looks like Barça are finally ready to exist without their icon, the power of Ivan Rakitic having replaced the class of his predecessor. 
Xavi's shoes have not yet been filled at international level, however, and his departure from Europe is a reminder of that pending task. Replacing a player who defined a nation's style is a struggle, and Vicente del Bosque's experimentation with line-ups reflects that. As do results: wins over Macedonia and Belarus in the post-Xavi era are diluted by losses to Slovakia, Germany and the Netherlands. 
Del Bosque will never find a straight swap for Xavi, but he does have some useful central midfield options. Five in particular offer attractive qualities, yet at the same time come with questions...
Thiago Alcântara
Barça fans were distraught when they lost Thiago in 2013, and with good reason. The midfielder's Xavi-esque combination of accurate passing and intelligent movement is combined with other strengths.
More willing to arrive in the opposition area, better in the air and a good dribbler, strong performances for Bayern in the Champions League this year served as a reminder of his effectiveness at the highest level. 
Spain have been unable to tap into that class until now. No fewer than three ligament injuries over the course of his two seasons in Bavaria means there is an obvious gamble in placing hopes on Thiago. If he stays fit, however, he provides absolute security on the ball.
Koke
A sector of the Spanish press earmarked Koke as Xavi's successor some time ago, but he is no carbon copy of the Catalan. For starters, his passing is more direct, summed up by 10 assists in the Colchoneros' 2013/14 La Liga title win, many of which were balls into space for Diego Costa. Koke is also a greater physical presence – a natural consequence of working with Diego Simeone – and less patient on the ball than Xavi is. 
The midfielder has been given regular caps since the World Cup but performances were mixed. The tactical switch between club and country is a sticking point, at times leading to the Madrid native dropping too deep to receive the ball when he should have fixed his position further up the pitch.
Atletico Madrid want him to become a central midfielder rather than someone who comes off the wing, but he has tended to play better in the latter role than the former. The outcome of that positional battle at club level may impact how useful Koke ultimately proves to be for Del Bosque.  
Oliver Torres
There's another Atletico Madrid talent with the potential to pick up some of Xavi's responsibility for La Roja, though he has even more development left to do than Koke. After a barely noticeable loan spell at Villarreal last season, Torres has spent the last year shining in Julen Lopetegui's Porto, scoring seven goals and assisting six in 2014/15. Though he has started in a wide position recently, his great eye for a pass and ability to keep the ball under pressure could prove useful at the tip of an inverted midfield triangle – the same role Xavi played for Spain at both the 2010 World Cup and Euro 2012. 
The 20-year-old is brave on the ball, happy to receive it in congested areas and has a natural ability to turn away from danger and release solid passes over a range of distances; all characteristics Spain need more of since a certain Catalan retired. Oliver does need to fill out, but that will come with time, and what's more important is where he plays his club football. A return to the Vicente Calderon next season could make or break the youngster, as well as his chances of becoming a senior international in the near future.
Dani Parejo
Not so long ago, some would have laughed at the suggestion of Parejo being good enough to start for Spain, but the Valencia man has made a big step up over the course of the last season.
Five assists in La Liga only tell part of the story for a midfielder who is crucial in organising his team and keeping the attacks flowing at the Mestalla. Parejo is one of the first names on the Valencia team-sheet despite the influx of new signings since Peter Lim took charge of the club, and they look likely to resist any offers to draw him away from Spain's third city in the summer. 
The Valencia captain is a leader, something Spain could benefit from in this transitional period. Los Che's penalty taker, the 26-year-old is willing to step up in moments of intense pressure, a sign of the mental strength needed to flourish in a difficult period for Spain. Notably, Parejo is Valencia's top scorer in the league this season, and his ability to arrive from the second line is certainly a plus point.
A chance to play for Spain will surely arrive if Valencia make the Champions League next season, but it's then up to the Real Madrid academy product to capitalise on it.
Sergio Busquets
In Xavi's early years at Barça he often played as the deepest of three midfielders before Frank Rijkaard decided to push him further forward, and the idea of doing the same with Busquets is not new.
Busquets started out as a No.10 at youth level, and a central attacking midfield role is one he played sporadically under Pep Guardiola. Luis Enrique sees the No.5 as an option there too, using him ahead of Javier Mascherano on several occasions this season. 
Could Spain make use of the Catalan further forward in an effort to find a solution for Xavi's absence? In theory, it could bring some control and ball retention to complement the anarchic directness of Isco & Co.
Busquets also has a better eye for a final ball than some give him credit for: his pass to Lionel Messi for Barcelona's opener against Valencia in April is an excellent example.
The big problem, however, is that pushing the pivot further forward means finding someone else to fill his place deeper on the pitch – a headache in itself.
So who's the answer?
Spain have an enviable number of options to try and fill Xavi's place, but all come with dilemmas. Will Oliver cut it at the top? Can Parejo meet European standards? Is Busquets needed more elsewhere? The safest bets may well be Thiago and Koke, but only if the former stays fit and the latter reaches the levels he does with his club. Xavi's exit from the elite drives home just how difficult it is to find a player of his standard. Solving the problem or not will shape Del Bosque's legacy in his latter years in charge of Spain. 
Quizzes, features and footballing fun
Get the best features, fun and footballing frolics straight to your inbox every week.
Thank you for signing up to Four Four Two. You will receive a verification email shortly.
There was a problem. Please refresh the page and try again.