The Player: Lying to your manager can often be a good thing
The occasional white lie can be the secret to a harmonious squad, according to our insider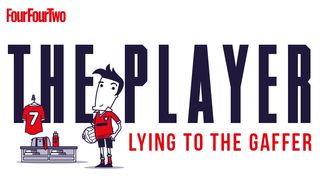 The Player has spent 15 years across all four divisions. He's played in the Premier League and for his country. (Illustration by Spencer Wilson.)
Each week we'll bring you a column from our mole...
It was our Christmas team night out and we were pretty worse for wear. The manager had warned us that he didn't want to hear of any misdemeanours. If he did, the fines would be heavy.
At 1am, 12 hours into a rare mammoth drinking session, half of the team ended up in a kebab shop. For reasons still unbeknown, two players decided it would be a good idea to launch doner kebabs at a tramp in a nearby doorway.
The rightly furious target was covered in cheap meat and chilli, which prompted the angry shop owner to storm out and have a go at the knuckleheads chucking his food around.
Within minutes, the police were on the scene and reprimanded the guilty pair. The captain looked at his phone. There was a text from the gaffer; a warning to behave, sent just before midnight. "Been pretty low-key, gaffer," lied the captain. "Everything fine."
Narrow escape
We carried on with our kebabs and went on to a strip club before getting back to the minibus at 3am for our transport home. But contrary to our captain's text back to the manger, everything wasn't fine. Everyone made it back to the bus except the guilty two. We called them, but their mobiles rang out.
We told the minibus driver to go to the nearest police station. Our team-mates weren't there, nor at the one two miles away. It was now 4am and tempers were short, but we knew we had to locate our missing comrades otherwise we'd all be in deep trouble.
The desk sergeant at a third police station confirmed that the players were being held there. Our skipper tried to negotiate. The desk sergeant recognised him. He explained that they would be kept in until they'd sobered up. While there was no specific charge for throwing a kebab at one of society's unfortunates, they could have easily been charged with being drunk and disorderly. The victim hadn't wanted to press charges – he just wanted uninterrupted sleep.
Our captain was reasonable, the copper too. A court appearance because of two idiots' actions would be a disaster for the club. The players were let off with a caution – and nothing got back to the manager.
Little white lies happen every day in football. Kebab-throwing footballers don't help themselves with their stupidity, but some are gluttons for punishment.
Colluding with colleagues
I had three former team-mates who were well under their partners' respective thumbs. They were all neighbours and the WAGs compared notes, so the players had to get their stories straight. I pitied them.
Pre-season tours would be a nightmare for them, especially if we had a night out. Had the WAGs known their three perfect other halves who "weren't like the rest of them" had been in a strip bar with the rest of the squad, they would have gone crazy. But what had the players done wrong? It was our one night out of a nine-day tour. Team bonding is good on such sessions, but footballers' reputations can precede them and their partners are unsurprisingly mistrusting.
Other lies originate in stupidity. A team-mate went roller-skating with his two kids one Sunday morning, went over and pulled his groin. He asked his best mate to cover for him by saying that his groin had been tight after the warm-down on Saturday's match.
The team-mate told him that in that case, he should've told the physio. So, they hit on another idea – that they'd been running together on Sunday morning and slipped. The manager believed them and told the injured party: "Your problem is that you're too professional." Genius.
Injury pains
Physios can also be compromised into telling fibs. If you do your cruciate, you're going to spend six to nine lonely months in a gym and a lot of hours with that person. You become close, but you're human.
You'll have some pretty bad times with such a lay-off. I've been there – taken a night out I shouldn't have done and turned in hours late. The physio covered for me. One day, he asked me to cover for him. I was expected in every day except Saturday. The physio told me that he had a christening and suggested that neither of us came in on Sunday. I smiled. We both knew that we had something on each other, if needed.
Some physios are ultra-loyal to the manager, usually the person who employed them. If the manager wants an injured player off the books, the physio will be his man to report any misdemeanours back. Not that I've ever heard of a player launching a kebab at a physio...
Quizzes, features and footballing fun
Get the best features, fun and footballing frolics straight to your inbox every week.
Thank you for signing up to Four Four Two. You will receive a verification email shortly.
There was a problem. Please refresh the page and try again.