Ranked! The 10 best central midfielders in Premier League history
By Nick Miller published
Games are often won and lost in midfield – and these men did much more of the former than latter thanks to their prevailing class, writes Nick Miller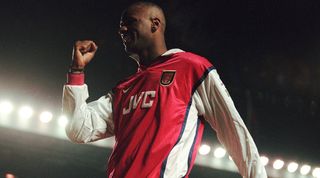 10. Claude Makelele
Zinedine Zidane's famous line about Makelele sums it up. "Why put another layer of gold paint on the Bentley when you're losing the entire engine?" he huffed, in reaction to Real Madrid selling his compatriot but buying David Beckham.
Makelele was the key component of all the teams he played for; the core around which everything else was built; the thing that allowed everything else to function.
He's also one of the most significant players in Premier League history because he was the first genuinely elite player they signed after Roman Abramovich arrived. Sure, Damien Duff, Hernan Crespo and Joe Cole were good, but were they the best in the world in their role? Makelele was.
9. N'Golo Kante
In these lists there's sometimes a temptation to omit the recent, mistrust your judgement and choose those with their entire body of work available to assess. But in his three full seasons in the Premier League, Kante has already established himself as one of the best – one of just seven players to win the title with two clubs.
But while the others (with the exception of Ashley Cole) were relatively peripheral figures, would either of Kante's two clubs have won the league without him? Maybe Chelsea, but certainly not Leicester.
The old line is that Kante is basically worth two players, and for the most part that old line is absolutely correct.
8. Luka Modric
It's tempting to leave Modric out of this list because his best work has been done away from the Premier League, at the heart of the Real Madrid sides which won the Champions League for fun, or the Croatia team that reached the World Cup final.
But for a few years Tottenham had a midfield genius, a playmaker of extraordinary talent who perhaps frustratingly played for them at the wrong time. Imagine him linking up with Christian Eriksen, or providing the bullets for Harry Kane.
"It's the best thing that can happen to any player," said Ivan Rakitic recently, about playing with Modric. "Not only that Luka is the best [Croatian] player ever, but he is a great person, a leader and we are following him."
7. David Silva
We're getting into slightly difficult territory here, category-wise. Is Silva really a central midfielder? He played a lot on the wing, but maybe he's more of a No.10.
Either way, he's played enough in a central midfield role under Pep Guardiola to qualify, so he's in. And why not bend the rules a little for a player as good as the Spaniard? Silva is a master of the subtle arts; of the carefully-placed flick and the rapid dabbed pass.
He's not especially quick, he's not that strong, he's not very big and he's fairly one-footed, but he can dominate games like few others, controlling things as if half of him is a 5ft 7in footballer running around on the pitch, and the other half some sort of all-seeing deity who is able to manipulate games to his own ends. In short, he's brilliant.
6. Yaya Toure
At his peak, there were few more thrilling players to watch than Toure. In the first season Manchester City won the Premier League, when they ploughed through the run-in to (just) overtake Manchester United, the Ivorian was their key player.
Toure was also a player who could make an ostensibly defensive substitution an attacking one: a few times that season, Roberto Mancini would take off a striker and bring on a defensive midfielder, with the purpose of pushing Toure further forwards.
Or, to put it another way, to tell Yaya that it was now time for him to win the game – which he often did. City have had better players, but they might not have had any quite as significant.
5. Patrick Vieira
When is a defensive midfielder not a defensive midfielder? When he's Patrick Vieira.
It's not a coincidence that Arsenal's near decade-long trophy drought began when Vieira left for Juventus in 2005 – a massive hole in personality as much as skill and physicality which they've never really managed to fill.
"Out of everybody I ever faced as a player, he drove me to become better," said Roy Keane of his midfield nemesis. "Obviously Arsenal were the team that really challenged Manchester United and, for a short time, went past us. On his day, when he was driving Arsenal on with the sheer force of his personality, he was unplayable."
4. Steven Gerrard
The top four in this list are virtually interchangeable, with a cigarette paper between them.
The question of how good Gerrard might have been had he played with better players throughout his career is an interesting one. Usually, one assumes that a higher quality of colleague will unlock a higher quality of performance, but Gerrard's best moments seemed to come when he looked around and thought, "Well, nobody else is going to do this, so I'd better get on with it…"
Being better than his team-mates seemed to inspire him – was that what made him so good, and such a hero with the Liverpool crowd? Gerrard didn't control games in the same way that many central midfielders do, but he decided them. He was a player of moments… but what moments.
3. Paul Scholes
It's become something of a running joke that whenever a great foreign player is asked who the best Englishman he ever played against is, he will say "Scholes, of Manchester".
It's as if this is a hipster choice, the sage pro telling us something a layman wouldn't know. But there's a reason all of those players rated Scholes: he was phenomenal.
The United great could do pretty much everything: pass long, pass short, shoot from way out, shoot from close in, he was strong, could keep the ball, and had vision. If he could tackle, he would have been half decent.
2. Frank Lampard
Often the most satisfying things about watching elite level footballers is seeing something that you just can't explain; a quality that you just can't quantify.
Lampard's timing was one of those things: an ability that probably he couldn't even explain, to arrive in the penalty area at just the right time to score goals – and loads of them, too. Chelsea benefited from 211 of his 274 career strikes, making him their all-time top scorer, and at his peak he scored 20 or more in five straight seasons (having got 19 the campaign before that).
Those numbers would make a striker Hall of Fame material, but for a central midfielder to manage it is almost miraculous. "Frank is the best midfield player that I played with," said Didier Drogba. "The most intelligent and efficient."
1. Roy Keane
The eyes are drawn to central midfield. That's where games are won and lost. It's where the most control is expected; where the most personality is required; where players lead from.
That's why Roy Keane is at the top of this list. He doesn't have the skill of some of the other players here (although he did have more than he was often given credit for), he didn't score as many goals, he didn't have the subtlety, or same athleticism. But he won games by will, force of personality and his maniacal desire to not just get past his opponents but sometimes plough straight through them, metaphorically but also sometimes literally.
Of course he would often plough straight through colleagues too, which must have made him horrendous to play with sometimes. You'd probably rather watch every other player on this list, but you wouldn't want any of them on your side more than Keane.
YEAR ZERO The season that made Roy Keane (Nottingham Forest, 1992/93)
Thank you for reading 5 articles this month* Join now for unlimited access
Enjoy your first month for just £1 / $1 / €1
*Read 5 free articles per month without a subscription
Join now for unlimited access
Try first month for just £1 / $1 / €1
Quizzes, features and footballing fun
Get the best features, fun and footballing frolics straight to your inbox every week.
Thank you for signing up to Four Four Two. You will receive a verification email shortly.
There was a problem. Please refresh the page and try again.