Ranked! The 10 best centre-backs in Premier League history
By Nick Miller published
England's top flight has provided a home to many top-class stoppers since 1992. Nick Miller selects the pick of the bunch...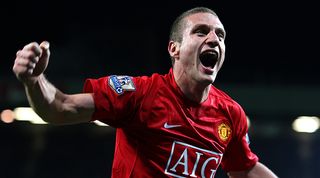 10. Vincent Kompany
It's hard not to wonder what more Kompany might have achieved if he hadn't been so dogged by injuries in recent years. Yet despite multiple fitness setbacks, he's become a symbol of Manchester City's greatest ever era – the last man signed before Sheikh Mansour arrived, and the heart of their three title-winning teams.
"When one guy is with the same club for 10 years it's because he is something special," said Pep Guardiola recently, on the 10th anniversary of the Belgian joining City. At a club which has changed beyond recognition in the last decade, Kompany has been a constant, a stable point around which everything else has revolved.
SEE ALSO 10 years since the takeover: How Manchester City transformed after a 30-year odyssey of failure (opens in new tab)
9. Jamie Carragher
In some ways, the most endearing footballers are the ones who get the absolute most from their talent; the ones who have to graft, switch positions and prove themselves.
Carragher falls into that category. A workmanlike full-back/midfielder who turned himself into one of the best centre-backs in the Premier League, he was a reliable, consistent defender throughout his time at Anfield. For much of his career Carragher was one of the few things Liverpool could be certain of. Who knows what more he might have won had he played in a better team?
8. Ledley King
A lament for what might have been. If you've ever seen a Tottenham fan talk about King, you'll probably see conflicting emotions: sadness that his nonexistent knees scuppered what could have been one of the great careers, but happiness that they saw him at all. Better to have loved and suffered chronic injuries than never to have loved at all. Or something like that.
King had it all: a commanding presence, pace (witness his absurd tackle on Arjen Robben) and calmness on the ball. Although he could barely train from the mid-2000s onwards, he still dominated at the weekend as if nothing was wrong, prompting Harry Redknapp to call him a "freak". For once, Harry, we agree.
7. Sol Campbell
Narratives are so strong in today's game that they often obscure how good a player actually was. The first thing people might remember about Campbell, for instance, is his treacherous crossing of north London on a free transfer in 2001.
Yet in terms of both earnings and trophies, the England international's move from Tottenham to Arsenal was justified. Campbell revealed earlier this year that Arsene Wenger didn't do much defensive coaching during his time at the club. Was that because the Frenchman wasn't interested in it, or because with Campbell at centre-back he knew he didn't need to bother?
6. Marcel Desailly
The Premier League may be the go-to destination for many of the world's top footballers these days, but that wasn't necessarily the case in the 1990s. It's therefore difficult to overstate how exciting it was when players like Desailly touched down on English soil in the Premier League's formative years.
The Frenchman may have been almost 30 by the time he arrived at Chelsea in 1998, but he still had plenty to offer. Strong, intelligent and tenacious, Desailly was an expert reader of the game who brought out the best in those around him at Stamford Bridge.
5. Jaap Stam
Alex Ferguson, it's fair to say, got most things right during his 27-year tenure as Manchester United manager. Yet the Scot himself admitted he made a mistake in selling Stam to Lazio in 2001, with the Dutchman continuing to play at the top level for another six years.
It seems extraordinary that Stam was only at United for three full seasons, but such was his impact - part of that astonishing Treble-winning team and then the side which won two league titles with their eyes closed in 2000 and 2001 - that it feels as if he was an Old Trafford stalwart for a decade. Strong in the air and quicker than he looked, he also possessed one of the scariest stares of any Premier League defender.
4. Tony Adams
Despite all his achievements, Adams still feels like an under-appreciated figure in English football. Perhaps it's because of his personal problems, coaching failures or somewhat maverick post-playing persona, but the former Arsenal captain was undoubtedly one of the best centre-backs the Premier League has seen.
The leader of that famous Arsenal defence inherited by Arsene Wenger, Adams was an integral part of the Frenchman's first two title-winning teams in 1998 and 2002. First-teamer at 17, captain at 21, 669 appearances - all for Arsenal - over 18 years and an incalculable number of strikers left wondering how they were going to get past him.
SEE ALSO Tony Adams' demons: "The sweats, hallucinations, terrors... the voices... this is not normal" (opens in new tab)
3. Nemanja Vidic
When Manchester United won the Premier League three years on the bounce between 2007 and 2009, their goals against column read 27, 22 and 24. Edwin van der Sar deserves plenty of credit, of course, but the Red Devils' parsimony was primarily down to Vidic and Rio Ferdinand, a beautifully balanced combination of steel and silk at centre-back.
"How many centre-halves can you name who actually like defending?" Alex Ferguson once asked. "Vidic liked it. He loved the challenge of sticking his head in there. You could tell that the thrill of contesting those 50-50 balls animated him."
2. John Terry
It would be something of an understatement to describe Terry as a complicated figure. There's plenty to dislike about the man – nothing more than his four-match ban for using racist language in 2012 – but as a centre-back, the ex-Chelsea captain was very nearly peerless in the Premier League era.
Physically brave almost to the point of foolishness, crunching in the tackle, a fine passer with both feet, brilliant positionally, the on-pitch symbol of Jose Mourinho's brilliant first Chelsea team and a five-time title winner, Terry has been among the most significant English footballers of the last 25 years.
1. Rio Ferdinand
Defending is typically a functional pursuit; the aim is to quite literally stop other people realising the principal objective of football. Unlike most, Ferdinand was a defender you would actually want to watch. The England international was an aesthetic joy, marrying natural style with an oft-overlooked level of substance. A winner of six league titles at Manchester United, Ferdinand had everything you'd want in a centre-back.
"He was such a pleasure to play with and play in front of," said Paul Scholes of his Manchester United team-mate. "To play in front of him, he made your job so easy."
Thank you for reading 5 articles this month* Join now for unlimited access
Enjoy your first month for just £1 / $1 / €1
*Read 5 free articles per month without a subscription
Join now for unlimited access
Try first month for just £1 / $1 / €1
Quizzes, features and footballing fun
Get the best features, fun and footballing frolics straight to your inbox every week.
Thank you for signing up to Four Four Two. You will receive a verification email shortly.
There was a problem. Please refresh the page and try again.