Ranked! The 10 best players of the 1982 World Cup
Platini, Socrates and Zoff all rocked Spain in '82 - but who was the No.1 performer? Jonathan Wilson runs through the stars that made the tournament so memorable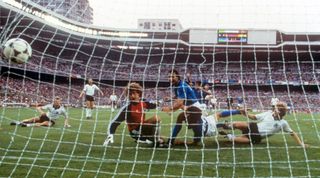 10. Paul Breitner, West Germany
Only three men have ever scored in two World Cup finals: the Brazilians Vava and Pele, and the unlikely figure of Paul Breitner, the bushy-haired West Germany left-back or midfielder who once professed leanings to Maoism.
His goal this time, swept in with seven minutes remaining to cut the deficit to 3-1, was of rather less consequence than the one he scored in 1974, but at least confirmed him as West Germany's best player in what for them was generally a shameful tournament.
His most significant contribution, perhaps, was to negate the threat of Steve Coppell as West Germany held England to a 0-0 draw in the second phase.
9. Zbigniew Boniek, Poland
Has there ever been a better World Cup hat-trick than Boniek's against Belgium in the second phase?
The first was a 20-yard drive lashed in from Grzegorz Lato's cut-back, the second a clever looping header, and the third a spin and skip around the goalkeeper. All were superb finishes and all followed intelligent build-up.
Yet Boniek had begun the tournament slowly in a deep role, suddenly bursting into life as he was redeployed at centre-forward in the 5-1 win over Peru in the final first-phase match. Booked needlessly in the 0-0 draw against the USSR that saw Poland through to the last four, Boniek was suspended and badly missed against Italy.
8. Zico, Brazil
He scored a wonderful free-kick against Scotland, a volley and a first-time drive against New Zealand, and a tap-in after Eder's free-kick had hit the bar against Argentina. It was his impudent backheel that laid in Socrates for the first against Italy.
Zico was the great creator of a great, creative Brazilian side and yet the memory is clouded by the final half hour against Italy, when with Socrates pressed into use as a centre-forward, he was called upon to make the play and couldn't (where, suddenly, it was asked, had he been in the narrow win over the USSR?).
The judgement is harsh, but with great talent comes great expectation.
7. Gaetano Scirea, Italy
The stereotype says that the World Cup was won by Italian steel, but this was a more attacking side than any Italy team for two decades.
Claudio Gentile was a master of the dark arts, for sure, but Italy's defence was led by Scirea, an elegant and composed libero in the Franz Beckenbauer mould who was more than happy to advance from behind the backline.
Defensively superb against Brazil, he showed a more creative side of his game in the final, backheeling the ball into the West German box, accepting the return and weighting a perfect ball square for Marco Tardelli to lash in.
6. Michel Platini, France
Perhaps the most remarkable thing about 'Platouche' was his tactical astuteness; the fact that, as circumstances demanded, he could play any position from midfield holder to centre-forward.
In 1982, he lay deeper than he would in Euro '84, and scored just twice – against Kuwait, and with a penalty against West Germany in the semi-final – but as France spun great webs of passes he was always at the centre, guiding and cajoling.
Most remarkably of all, he pulled a brittle side together after their opening defeat to England, despite the revelation that his wife had had an affair with his team-mate Jean-Francois Larios.
5. Dino Zoff, Italy
At 40, Zoff was written off by many before the tournament, but his 88th-minute save from Oscar's header in the 3-2 win over Brazil – plunging to his left to smother the ball on the line – would alone have justified his selection.
It's often forgotten too that he made an excellent late block from Michel Kaham in the first-phase draw against Cameroon. Had that gone in, Italy wouldn't even have made it into the second phase. As it was, Zoff's consistency and leadership were key in Italy's triumph, and he was rewarded by becoming the oldest captain ever to lift the World Cup.
4. Socrates, Brazil
Bearded and brilliant, Socrates was the brain of Brazil. He might not quite have had the flair of Zico, but he was the central intelligence.
He equalised against the USSR in the opener with a ferocious drive after a beautiful double sidestep – performed, like everything he did, with unflustered thoughtfulness – and there was similar calculation as he scored the first equaliser against Italy, waiting for Dino Zoff to edge off his line in anticipation of a cross before smacking the ball in at his near post.
Perhaps, though, it was his part in Falcao's strike against Scotland that was most characteristic, linking a chain of passes before providing the killer final pass.
3. Falcao, Brazil
The image of Falcao, arms spread, eyes wild, veins bulging, after scoring the second equaliser for Brazil against Italy is one of the most evocative in World Cup history. For him personally, it capped a tournament in which he established himself as probably the best deep-lying playmaker in the world.
Yet he wouldn't even have started Brazil's opening game – a tight 2-1 victory over the USSR – had Cerezo not been suspended. His control of midfield, reading of the game and long-range passing were of such quality, though, that when Cerezo returned against Scotland, it was Dirceu, a more destructive holder, who was omitted.
And so was formed the "magic square" of Brazil's midfield: Cerezo and Falcao sitting deep, with Zico and Socrates in front of them. Falcao (nicknamed the '8th King of Rome' by fans of Roma, where he played his club football) organised, constantly cajoling and probing, Cerezo added some urgency (in the most graceful possible way) and the pair gave at least a measure of cover when the two full-backs charged forwards.
He scored the fourth against Scotland, it was his cross that laid on the second for Serginho in the 3-1 win second-phase win over Argentina, and then came Italy. The power of Falcao's shot, the very deliberate way in which he lined up the top corner – the circumstances even – made it a stunning goal, but he would ultimately be undone by Rossi's finishing and the creativity of his club-mate, Bruno Conti.
2. Bruno Conti, Italy
When Zico, reflecting on Brazil's 3-2 defeat to Italy in the second group phase, commented that "we were playing against 10 Italians and one of ours", there was no doubt who he was singling out: Bruno Conti.
He was just as important to Italy's sudden explosion in the second-round group as Paolo Rossi, and exemplified the attacking ideal of coach Bearzot. Italian tradition dictated that the right-sided midfielder had to track back to play as an auxiliary right-back, but Conti was more like an orthodox winger.
Quiet in the first stage, it was Conti who set up Antonio Cabrini for Italy's second in their second-phase victory over Argentina – the game that gave the Azzurri belief. He was instrumental in the epic against Brazil, cutting infield and drawing defenders before transferring play to Cabrini to cross for Rossi's opener, and then providing Italy with a reliable outlet when they were under pressure.
In the semi-final against Poland, Conti beat two men and crossed for Rossi's second. Then he had key parts to play in Italy's second and third goals in the final, when he sagely adapted to a more central role after the early loss of Francesco Graziani to injury. Rossi may have fired the gun, but it was Conti giving him the bullets.
1. Paolo Rossi, Italy
This was Rossi's World Cup, yet many felt he was fortunate to be there at all. He was a key part of the Italy side at the 1978 World Cup, scoring three goals while also demonstrating an underappreciated ability to link play. In 1980, though, he was given a three-year ban for his part in a match-fixing scandal, which seemed to have ruled him out of the 1982 tournament.
Rossi protested his innocence – and indeed, one of his accusers later admitted the charges were fabricated – and his ban was commuted to two years. Boss Bearzot, ignoring Rossi's lack of playing time, immediately recalled him to the national side.
It seemed an error, as Rossi failed to find the target in any of his first four games. But Bearzot kept faith and was handsomely rewarded: Rossi scored a poacher's hat-trick to see off Brazil, added both goals in the semi-final win over Poland, and then opened the scoring in the final. By the end of the tournament he had the Golden Boot for top scorer, the Golden Ball for best player and a winner's medal – the only time a player has collected all three accolades at a single World Cup.
World Cup Wonderland: stories, interviews and more
Thank you for reading 5 articles this month* Join now for unlimited access
Enjoy your first month for just £1 / $1 / €1
*Read 5 free articles per month without a subscription
Join now for unlimited access
Try first month for just £1 / $1 / €1
Get FourFourTwo Newsletter
The best features, fun and footballing quizzes, straight to your inbox every week.