Satan really looking forward to claiming Ranieri's soul
Foxes' Crystal Palace win is another step towards eternal damnation, Back of the Net report...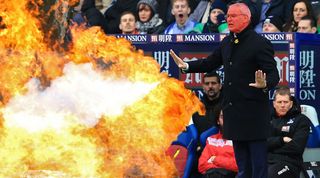 The Devil cannot wait for the football season to end so that he can finally possess Claudio Ranieri's immortal soul.
Speaking from a pentagram at Leicester's training ground, the Prince of Darkness revealed that he and Ranieri had signed a contract in blood promising that Leicester will win the league, and in return that Ranieri's soul would be Satan's plaything for all eternity.
Satan said: "The moment Ranieri lifts the Premier League trophy, the walls of the King Power Stadium will fall, and the sun will be extinguished, and there will be a great wailing and gnashing of teeth as I drag him into Hell.
"It was easy, really. I just breathed the spirit of Diego Maradona into Riyad Mahrez and Kasper Schmeichel, and possessed the body of Jamie Vardy. If you look at his eyes, you can tell it's really me in there."
Their fault
Satan denied he had anything to do with the form of Leicester's title rivals, however, insisting that Arsenal and Manchester City had cocked everything up without his intervention.
He said: "I have to take some credit for Manchester United, though. Ed Woodward's one of mine, in case it wasn't obvious. And Jose Mourinho eased up on the human sacrifices this season, so he had to be punished."
Ranieri said: "People used to question my ability to strike good deals, but this is a great bargain – if you ignore the fact that I will be immersed in a lake of fire as soon as the final whistle blows.
"Still, it's a better fate than having to manage Greece."
Please note: This news story is not real. But you already knew that, right?
Quizzes, features and footballing fun
Get the best features, fun and footballing frolics straight to your inbox every week.
Thank you for signing up to Four Four Two. You will receive a verification email shortly.
There was a problem. Please refresh the page and try again.