Stats Zone Analysis: How Rashford put Arsenal to the sword – and how he could keep doing it to others
The 18-year-old has one hugely important attribute that will be dangerous against any side, writes Robert O'Connor...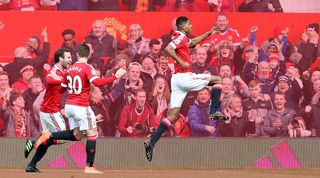 Amid the malaise that has laid waste to Manchester United's season, the one lingering positive has always been Louis van Gaal's track record in blooding young talent – a nod to at least one of the longed-for traditions that have been absent since Sir Alex Ferguson took up his seat in the directors' box.
On Sunday against Arsenal there was a sense too, more conspicuous in recent weeks, that the team are remembering how to attack a game with the kind of entitlement that Old Trafford expects.
But as the season rolls into March it looks increasingly likely to be remembered for the breakthrough performances of the club's academy players; Jesse Lingard, Cameron-Borthwick Jackson and, resoundingly after his two-goal haul against title-chasing Arsenal, Marcus Rashford.
Brace yourselves
Two goals in 122 minutes of first-team football, following his brace against Midtjylland in midweek, points towards something more significant than just a willing debutant with gas in the tank and fortune onside.
Rashford's movement against Arsenal, in claiming not only two goals for himself but putting one on a plate for Ander Herrera, was finely calibrated and highly intelligent.
If Van Gaal's tenure is to be up at the end of the season his legacy will be, at least in part, the introduction he gave to Old Trafford's newest idol – whether thanks to injuries elsewhere or otherwise.
Even before Rashford put his side two goals ahead inside 30 minutes he was igniting memories of more prosperous times for United, cutting in from the left and driving at Hector Bellerin and Gabriel before the latter brought him down for what should have been an early penalty.
If a lack of directness in the final third has been a cause for ire for United fans this season, then Rashford's inclination to drive into gaps offered enough to take the edge off those frustrations, leaving Arsenal's right-sided defensive pair looking off balance and uncertain.
Few defenders have been pulled around as much at Old Trafford this season as Arsenal's back four were against the movement of Rashford and Lingard.
Space invader
Shortly after the 20-minute mark, when Juan Mata broke down the left, the 18-year-old showed the first signs of that inclination to wander into space without the ball, slowing his run to free himself up 12 yards from goal as both Gabriel and Laurent Koscielny were pulled towards Lingard higher up.
That ability to put the brakes on and check away even when the play was moving forward at pace became a hallmark of everything Rashford did well against Arsenal, though the visitors failed to take heed of the warning.
His first goal was the product of some fortune, but without the young forward's initial movement it would have been wasted luck. When Guillermo Varela shaped to cross, Rashford hung back, allowing Bellerin to become distracted by the play in front of him and leaving the young striker with room to finish the move once the Spaniard had been pulled to the loose ball from Gabriel's slip.
It was space that had been won seemingly without effort, but in delaying from making the more traditional centre-forward's run across the defender he reaped the rewards when Gabriel stumbled.
His second didn't require any such forethought, the gap left by a static central-defensive pair sufficient for Rashford to neatly double his side's lead without a thought for carving out an angle for the chance.
Hunting the hat-trick
Arsenal paid a startling lack of attention to a player who in just half an hour had forced them to re-evaluate the way that United would attack them, and the 18-year-old probably won't score a simpler goal in his debut season in red.
Moments after netting that goal he pulled the Arsenal defence apart again with his clever movement, darting for the near post as Mata shaped to cross, leaving Lingard in acres of space 12 yards from goal.
It was the third time in the first half that the visitors had failed to cope with Rashford's unpredictable positional play, interrupting what little defensive rhythm existed among the back four and leaving them scattered.
Indeed, each time either of United's young forwards looked to make space for himself or his partner, Arsenal looked unsure of their responsibilities; two players with 16 Premier League appearances between them turning the visitors' experienced backline to strangers.
Old head, young shoulders
United's third was an example of Rashford's ease with the ball at his feet. His pass-completion rate was decent for an 18-year-old making his first start at Old Trafford, 11 out of 14 attempted finding the target, and the range of balls with which he succeeded was an additional feather in his cap.
His willingness and ability to look long when Arsenal pressed, or for a quick offload when space opened up, suggest a player who is adaptable with the ball and can read the way a game ebbs and flows.
When he received the ball from Mata midway through the second half and drove forward, the teenager had the presence of mind to pause and reassess his options once Arsenal looked to crowd him out. His neat lay-off for Herrera was sensible and calm.
If United under Van Gaal are to return to some of the tenets that a restless Old Trafford feels have been forgotten, then finding a way to systematically undermine opposition at home while giving young blood a chance will be at the fulcrum.
One without the other you feel may not be enough for the Stretford End to find faith. The late introduction of Ajax academy graduate Timothy Fosu-Mensah will have helped quieten the call to harvest the youth ranks, but the completeness of Rashford's performance has brightened up a difficult season at United – something around which next season's manager, whoever that will be, might resurrect some hope.
More features every day on FFT.com
Analyse Manchester United 3-2 Arsenal yourself using Stats Zone
STATS ZONE Free on iOS • Free on Android
Thank you for reading 5 articles this month* Join now for unlimited access
Enjoy your first month for just £1 / $1 / €1
*Read 5 free articles per month without a subscription
Join now for unlimited access
Try first month for just £1 / $1 / €1