Top 10 mistaken identities: Guti's mystery 'man', Thiago Silva murdered and Chaddy the Owl's furry head
By James Calder published
After Norwich were forced to apologise to Italian Serie D club SC Vallee d'Aoste for claiming to have trounced 'them' 13-0, James Calder recalls other incidents of character confusion...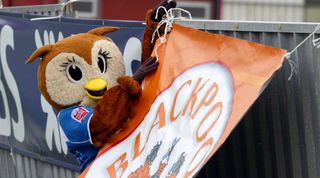 1) Baltic balls-up
Heads rolled at the Czech FA after officials confused visitors Lithuania with Baltic neighbours Latvia ahead of a Euro 2008 warm-up match in Prague. The embarrassing mix-up saw the match programme emblazoned with the Latvian flag and a photo of the national team, while bemused Lithuanians were confronted with the Latvian anthem when they lined up before the game. Accepting his part in the "inexcusable" cock-up, FA spokesperson Vaclav Tichy stood down, with his second in command also clearing his desk.
2) Keane to be known
Let the caption do the talking here.
3) Sibling love
Real Madrid playmaker Guti had his sexuality called into question when he was surreptitiously snapped puckering up to a mystery "man". Rumours of the player's alleged homosexuality spread after Spanish gossip mag Cuore published the grainy photos. Threatening legal action, a fuming Guti set the record straight through his agent Zoran Vekic, who revealed that the short-haired object of his desire was none other than the player's pregnant sister.
4) Kill Barry
Barry Fry's popularity took a nosedive round Dagenham and Redbridge way after a newspaper reported he had sat on an FA tribunal allowing 2002 Conference champs Barnet to take their place in the Football League despite alleged financial shenanigans. Daggers fans, whose side had finished runners-up to the Bees, were incensed at the decision and death threats were issued to Fry, though it was later revealed they had got the wrong Barry: Kent FA blazer Barry Bright had chaired the committee in question.
5) Ersatz Wolves
Wolverhampton Sunday league team Oxbarn Sports and Social Club were out of their depth on a 1973 tour of Germany after being erroneously billed as "Wolverhampton Wanderers" ahead of a game in Mainz. Turning up to find the town's full-strength second-flight side as their opponents and a five-figure crowd in place, the Black Country amateurs informed their befuddled hosts of their real identity before bravely fulfilling the fixture, which ended in a 21-0 hiding.
6) Name game
Edinburgh City FC came in for abuse when smoking-ban supporters mistook them for a similarly named social club objecting to the national crackdown on the evil weed. After receiving a number of vitriolic emails accusing them of encouraging people to smoke, the East of Scotland league side sought to distance themselves from actual ban opponents Edinburgh City Football Club Limited. "I really want to make it clear to people that this legal challenge has nothing to do with us," said harassed City chairman Terry May.
7) Ramon rap
Hapless former Real Madrid president Ramon Calderon fell foul of zealous immigration officers at New York's JFK Airport when his name tallied with that of a drug trafficker on a most-wanted list. Held for two hours, Calderon was subjected to a series of security checks, prompting his wife to call personal friend and Spanish Interior Minister Alfredo Perez Rubalcaba for assistance. Before the minister could intervene, however, the Blancos supremo was allowed to proceed.
8) Rogue report
Reporters on Portuguese weekly O Crime got their facts wrong after the murder of a Brazilian footballer in 2008. Running with a gruesome front-page splash complete with a photo of the deceased, the crime rag had Selecao skipper Thiago Silva down as the victim of a brutal contract killing allegedly ordered by a jilted girlfriend. The gaffe-prone publication had confused the PSG star with near-namesake Thiago Jotta da Silva, however, a lesser-known player with second-division side Estacio.
9) Twit twoo
No stranger to controversy, Oldham Athletic mascot Chaddy the Owl found himself in the news again after being dismissed during a 2000 League One clash with Peterborough United. Taking his customary pitchside position, the outsize bird caused the linesman on the other side of the pitch to confuse him with Latics striker Carlo Corazzin, resulting in an incorrect offside decision. Ref Dave Pugh took action by red-carding Chaddy, who later pleaded, "I did have a replica shirt on, but I also have a big, furry head."
10) Seeing double
Twin brothers Srdjan and Zvezdan Cebinac gave Cologne a headache when they turned up for a trial in the 60s. Impressed by Zvezdan's skills, the Bundesliga outfit decided to offer the Yugoslav midfielder a contract but inadvertently asked the less-talented Srdjan to sign the forms. Cursing their luck, the Germans shipped their unwanted acquisition off to Fortuna Sittard after only three appearances and looked on with regret as Zvezdan, capped 20 times for his country, enjoyed a successful spell with Nuremberg.
Thank you for reading 5 articles this month* Join now for unlimited access
Enjoy your first month for just £1 / $1 / €1
*Read 5 free articles per month without a subscription
Join now for unlimited access
Try first month for just £1 / $1 / €1
Quizzes, features and footballing fun
Get the best features, fun and footballing frolics straight to your inbox every week.
Thank you for signing up to Four Four Two. You will receive a verification email shortly.
There was a problem. Please refresh the page and try again.