The Wenger successors that weren't
By Chas Newkey-Burden published
Over the years, the Wenger Outers have proposed a number of replacements to succeed Arsene at the Emirates Stadium. Chas Newkey-Burden wonders if they were all that wise...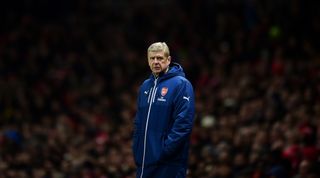 Arsenal's victory at Manchester City was their 10th win in the last 13 games. The Gunners are favourably poised in both FA Cup and Champions League, having enjoyed agreeable draws in both tournaments.

Suddenly the 'Wenger Out' chorus, which peaked last month as the Frenchman was abused at Stoke train station, has lost its voice, the shrieks of a few particularly treacherous vagabonds aside.
And as the clamour for Wenger to go falls quiet, so do suggestions of names to replace him. Over the years, members of the 'Wenger Out' brigade have put forward a host of people they would like to take the reins.
Have these turned out to be sensible candidates, names we can now look back upon and wail bitterly over the fact that they got away? Well, let's take a look, shall we…
David Moyes
The Scot was once the favoured successor of serial Wenger-baiter Piers Morgan. "Here's an idea, Gooners," tweeted Morgan in 2013, "let's swoop in transfer window for an Everton triple whammy: Fellaini, Baines and... Moyes." Instead, Manchester United swooped for Moyes (and, indeed, Fellaini) and he guided the reigning champions to seventh place, their lowest league finish since 1990.
Tony Adams
Feast your eyes on the Arsenal legend's managerial CV: a 16-game spell in charge of Portsmouth, a forgettable period in the Azerbaijan Premier League and a year in the Wycombe hot seat. No wonder Wenger's critics want Adams to take over. Who could possibly be better qualified to be a Champions League manager?
Owen Coyle

The Coyle clamour peaked around 2011, as the Scot's form at Burnley and Bolton earned him the 'up-and-coming' label. Arsenal fans demanded that the board appoint him at once, before the likes of Manchester United or Chelsea could get their mitts on him. Having been sacked by Bolton and then Wigan while each club languished in the bottom half of the second division, he was last month appointed head coach of MLS club Houston Dynamo.
Pep Guardiola

Every time there's a couple of dodgy Arsenal performances in a row, fans start calling for Wenger to be replaced by the Spanish maestro. And sure, I agree that Pep should manage the club one day. I also agree that peace should break out across the Middle East, cancer should be cured and food should be free.
Harry Redknapp

The affable car-window opener is another Piers Morgan brainfart. In 2012, he tweeted: "Who could replace Wenger? Guardiola & Redknapp both available, or we could prise Moyes out of Everton. All would be a breath of fresh air." What this tweet lacks in judgement – a Tottenham reject as 'breath of fresh air'? – it makes up for in originality: finally, someone mentions Guardiola and Redknapp in the same breath! Redknapp's currently testing the strength of his fingernails at Loftus Road.
Michael Laudrup
No. Just no.
Jurgen Klopp

Should Europe ever be destroyed in a nuclear war, just two entities will survive: cockroaches, and demands that Klopp become Arsenal boss. Advocates of the German won't be deterred. Earlier this season, as the Gunners lay in sixth place, fans called for Klopp to come and save the club, despite the fact that his own club, Borussia Dortmund, was at that stage bottom of the Bundesliga. (A side note: the loyalty of Dortmund fans, who continued to back the manager even as the club propped up the league table, was a lesson to us all. Perhaps Arsenal don't need Dortmund's manager, but Dortmund's fans.)
Dennis Bergkamp
The Gunners legend is shy, managerially inexperienced and won't fly. But, hey, there's always Skype for those Champions League trips.
Paul Clement
Is it time for the serial bridesmaid to become the bride at the Emirates? Some fans have suggested so. It's true, they concede, that they don't really know much about him, but then who had heard of Wenger when he arrived? Let's hear it for anonymity!
Martin O'Neill

Strange to think now that this Northern Irishman was once seen as the answer to prayers of a club as distinguished as Arsenal. The O'Neill bandwagon lost its momentum about the same time as his reign at Sunderland unravelled.
Roberto Martinez
The Spaniard is another chap the 'Wenger Out' brigade periodically flutter their eyelashes at. When Everton are flying high, he is flavour of the month among disgruntled Gooners. When the Toffees slip into the bottom half of the table, less so. The fact his Wigan side were relegated in 2013, at the hands of Arsenal no less, is generally overlooked by the flirtatious minxes.
Thierry Henry
Henry is the most recent Alternative Candidate, with some Gunners openly grieving that he joined Sky Sports rather than replacing his old boss. He's good at playing football! He's the club's all-time leading goalscorer! OK, so he has no managerial experience and was famously temperamental as a player, but it would definitely work!
Ultimately, we return to the first name in this hall of shame: David Moyes. The Scot's disastrous spell at Old Trafford shows the danger of getting regime change wrong, particularly at a big club where the outgoing regime has been around for a long time.
Eventually, the board will have to take the plunge and usher in a new boss. But the various flavours of the month put forward by Wenger's critics have almost exclusively turned out, on reflection, to be unpalatable. Thank goodness the board didn't listen, and instead stood by their man.
Thank you for reading 5 articles this month* Join now for unlimited access
Enjoy your first month for just £1 / $1 / €1
*Read 5 free articles per month without a subscription
Join now for unlimited access
Try first month for just £1 / $1 / €1
Quizzes, features and footballing fun
Get the best features, fun and footballing frolics straight to your inbox every week.
Thank you for signing up to Four Four Two. You will receive a verification email shortly.
There was a problem. Please refresh the page and try again.