What the 2015 Women's World Cup can do for football
More countries, better teams and bigger interest makes this the best female tournament ever, writes Catherine Etoe...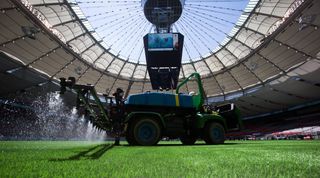 On Saturday, the seventh Women's World Cup kicks off in Canada. With 20 cameras capturing the action at each game, Hawk-Eye technology marshalling the goal-lines, Panini stickers to be collected and swapped, and a record 24 nations battling to get their hands on the trophy, this is set to be the biggest Women's World Cup yet.
It's certainly a far cry from the inaugural tournament in China in 1991, when the 12 nations were only permitted to play 80 minute-long matches and the cynics folded their arms and waited for it all to end badly. It didn't. Rather, footballers such as player of the tournament Carin 'Crazy Legs' Jennings showed enough quality to convince the doubters and around half a million spectators cheered them on their way.
"Seldom have there been as many questions in the air before a world championship as there were preceding this first women's event," a FIFA report noted. "As it turned out, expectations were more than fulfilled, and the sceptics were convinced by the skills of the young ladies playing."
ALSO ON FFT.COM
Global game
The case for a four-yearly Women's World Cup had been made and today we can look back on six successive tournaments that have inspired generations of women and girls, with 30 million now said to play the game worldwide.
There are other legacies too; in America a professional league was born off the back of a gripping 1999 tournament, while midfielder Homare Sawa has said that winning the title in 2011 took women's football to a new level in Japan.
ALSO ON FFT.COM
Simply qualifying for Canada 2015 has already raised the profile of the tournament's eight debutants, particularly Thailand, who became instant heroines after securing their country's first senior World Cup berth, male or female.
Despite the progress, this edition will probably have its knockers, especially if those debutants falter in the face of more experienced sides and the glare of worldwide attention.
Yet if football has learnt anything since 1991, it's that women can play. And with nations on show in Canada like Germany, Norway, Japan and Brazil, all of whom contested the inaugural world tournament 24 years ago; plus a Group of Death featuring three top-10 teams, as well as a duel between old adversaries France and England, this latest edition should do the game proud.
"Women's football as a whole is in a very strong place at the moment," said women's football commentator Jacqui Oatley when the England squad for Canada 2015 was announced. "There is a real opportunity for the tournament to have a wider impact across the whole of the women's game."
Roaring Lionesses
England supporters would love to see head coach Mark Sampson's side among those making an impact, particularly if they can build on the success of the London 2012 Olympics.
Indeed, women's football in England has been in rude health since Team GB wowed the nation with a stunning 1-0 win over Brazil in front of a record crowd of 70,000 at Wembley in the summer of 2012.
"Hope Powell's marvellously composed and committed team outplayed, out-thought and outfought Brazil," wrote Henry Winter in the Daily Telegraph. "No mistake. No hype. Team GB were that good... this was a huge victory for women's football in this country."
Team GB fell at the quarter-finals but other nations, including Canada, carried the baton on with even greater displays of skill and 90,000 packed into Wembley for the final between the USA and Japan.
England faltered in the Euro 2013 tournament that followed, with head coach Powell losing her job after they crashed out at the group stage, but the women's game kept calm and carried on.
ALSO ON FFT.COM
In 2013/14, more than 20,000 females took part in a new coaching scheme, while the FA Women's Super League expanded to two tiers and most WSL1 clubs went on to offer professional terms. A record 55,000 tickets were snapped up (sales were capped) for England's friendly with Germany at Wembley in November 2014, and 86,000 have attended WSL matches since the league's inception in 2011. Now, with England set to appear at the Women's World Cup, the BBC are about to give the tournament a level of coverage more usually associated with the men's game by showing all 52 matches.
"It's not that long ago when it would've been unimaginable to be watching all the games across the BBC," said FA board member Heather Rabbatts at the squad announcement, before adding that England's unbeaten qualification for the tournament "sends out a message to other women and girls that says football belongs to all of us".
Playing the game
Football has not always done so. The FA banned women's football on affiliated grounds in 1921, all but killing off a thriving game that had boasted 150 teams and thousands of supporters.
Interest was resurrected after England men's glorious 1966 World Cup triumph, and within six years a Women's FA was launched, the ban rescinded and a national team created.
Success only really came after the FA brought women's football under its umbrella in 1993, though, and former England boss Powell deserves credit for creating a national setup that is starting to bear fruit.
Today 2.5 million women and girls play football in England, almost 150,000 as registered players compared to fewer than 10,000 in 1991, and FA contracts mean there is even a career path for them to follow.
An Olympic-style display in Canada by England, now under the charge of 32-year-old Sampson, could take women's football to another level again. "The England team are huge role models on and off the pitch," adds Oatley, the BBC's anchor for Canada 2015. "So any success they have in Canada has the opportunity to inspire a whole new generation of players." There is still progress to be made, but with an eye on building the talent pool as well as their own reputations, every nation will have high hopes for four weeks of entertaining, skilful and, ultimately, inspiring football in Canada.
More good stuff like this on the Women's World Cup 2015
Continental continues to support the growth of women's football in England. From grassroots sponsorship and community programmes, to the FA WSL, women's FA Cup and England Women's team, Continental is committed to providing a pathway for the next Duggan, Aluko or Carney.
Quizzes, features and footballing fun
Get the best features, fun and footballing frolics straight to your inbox every week.
Thank you for signing up to Four Four Two. You will receive a verification email shortly.
There was a problem. Please refresh the page and try again.