Why this looks like the end for Thomas Tuchel at Borussia Dortmund
In 2016, talk was all about how Dortmund could keep hold of Europe's hippest young coach when the continent's super-rich clubs came calling. Now, public disagreements mean he's on the verge of a brisk departure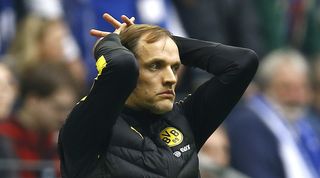 Borussia Dortmund are facing the very real possibility of needing a new head coach in the summer - and not because they can't keep other clubs at bay. The relationship between Thomas Tuchel and the club from North Rhine-Westphalia is strained to the point of no return as months of sparring finally approaches a knockout decision.
Brought in to take a stagnating Dortmund team to the next level in 2015, Tuchel broke records in his first season in charge. The now-43-year-old guided BVB to the best runners-up finish in Bundesliga history; his team scored more goals than any other while going unbeaten at home in the league (still the case as his second season ends). They also made the German Cup final.
It was a start beyond expectations. Dortmund were building something.
The first sign of choppy waters can be traced back to the relationship between Tuchel and chief scout Sven Mislintat, the man who discovered Pierre-Emerick Aubameyang and Robert Lewandowski.
An article in German magazine Spiegel documents a fall-out over the recruitment of Spanish talent Oliver Torres. Mislintat negotiated the deal, Tuchel then changed his mind and Torres never signed. Though played down externally, it seems internally that both Borussia chief executive Hans-Joachim Watzke and sporting director Michael Zorc effectively sided with their chief scout. Since then, Tuchel and Mislintat seem to have had a strained working relationship.
Then three cornerstone players – Mats Hummels, Ilkay Gundogan and Henrikh Mkhitaryan – all departed. Watzke had previously made it clear that all three would not leave together. Tuchel's frustration over this reversal has been well documented – he called the decision risky, a word sure to displease any chief executive.
Unknown arrival
Further frustrations over transfers have bubbled under the surface, most bizarrely this season over the arrival of Alexander Isak. German media claimed Tuchel only found out that the Swedish teenager was arriving after he'd signed, which Tuchel awkwardly confirmed in a press conference the following day. Curiosity over communication grew.
Journalists covering the team daily have long felt a tension building. In German, reibungspunkten are 'points of friction' and a collection of these – some minor, some major – has started a fire just three games before the end of the season.
The decisive spark came when Borussia Dortmund's team bus was attacked on April 11. Cast in the shadow of predecessor Jurgen Klopp, Tuchel was often seen as lacking emotion, but his humane reaction to the decision that his team would play just a day after the attack won him sympathy with many.
The coach's criticism of UEFA's decision was, however, also a criticism of Watzke, and so contrasting statements appeared. The pair's disagreement spilled out in public over the ensuing week. Tuchel's disappointment in how the situation was handled continued, yet Watzke insisted that Tuchel had the chance to say he didn't want to play the game, but never did.
A day before Dortmund's crucial Bundesliga game against Hoffenheim to effectively decide who would take third (and therefore an automatic Champions League qualification spot), Watzke admitted in an interview with local German media that there had been a disagreement between himself and the head coach about the decision whether to play the Monaco game or not.
Dortmund won the game against Hoffenheim, but it was an ill-tempered, distracted affair. Die Schwarzgelben delivered, but what happens when the fixtures runs out?
Many head coaches rallied round Tuchel, and it was actually former boss Klopp who said: "I'm pretty sure that if any of the people who made that decision had been sitting on the bus, that match would not have been played."
Whatever the rights and wrongs of that call, the fact remains: if a team doesn't stand together around such an incident, it provides little hope of a united front in calmer waters.
The complete truth remains elusive. Communication and trust appear to be at less than ideal levels, though – the media attention surrounding much more than the club's sporting aspects is evidence enough of that. Most of the headlines have centered around the idea of a failing marriage, and it's fair to say if there are arguments on a weekend, that is hardly a good sign.
Tuchel's fastidious nature has lead some to believe he's not an easy man to work with. He has called out his squad before, notably after February's 2-1 defeat to bottom side side Darmstadt. Then the head coach talked about a "collective deficit" and how the loss might help achieve the realisation, internally, that perhaps this performance was where the club was.
A quietly remarkable year
Although it might not look like it on the surface, Dortmund are actually on the verge of a pretty remarkable season. With a squad heavy in attack, light on defensive quality and in the very early stages of development and maturity, Tuchel might end up guiding this group to third in the league and German Cup glory.
That's even before considering the psychological effects of the bomb attack. And yet, before there's even time to really acknowledge that, Tuchel's departure looms.
A less-than-favourable profile of Tuchel in Süddeutsche Zeitung contained, in the final paragraph, a quote from "someone inside the club's inner circle". It states that: "We were warned by [Tuchel's former club] Mainz that it would likely become difficult. We didn't listen. For a year-and-a-half everything was great. Then everything was just as Mainz said it would be."
Klopp left Dortmund because he wasn't the right coach for them anymore. The message had stopped getting through – cup final defeat to Wolfsburg in his final game proved not all fairy tales have happy endings. But in Tuchel's case, even a cup win doesn't look like it will save him.
Looking back, it's clear that tiny cracks have been forming for a while. Tuchel's reaction after defeat to Bayern Munich in the 2016 German Cup Final, stating that Mats Hummels could have been better, seems to have struck wrong chord with his team.
Fan favourite Jakub Blaszczykowski's departure led to contrasting statements from player and head coach, and the captaincy became a debate for too long. Tuchel has certainly got Dortmund playing better football, but there are signs he's fallen out with too many at the club.
A difficult task
These are uneasy times for Dortmund fans. There's no denying that without Watzke the club wouldn't be where they are now – internationally relevant; a brand. But a chief executive is only ever as good as the men he employs. Finding both the right man and the right coach is an extremely difficult task – especially when the stakes are as high as they are at Dortmund.
Tuchel has taken the team forward in a way Carlo Ancelotti has not quite managed with a more talented Bayern Munich squad in his first year, but there's still a feeling among BVB fans that he's never really arrived. The Südtribune (the south bank of the Westfalenstadion) has an effect any head coach would appreciate. Tuchel undoubtedly knows this, but he rarely stands in front of the Yellow Wall. That sort of thing matters in Dortmund.
A piece in Dortmund's most famous fanzine, Schwatzgelb, states the view that, effectively, three alpha males incapable of working together have tried – and failed – to do just that.
Read this...
The heartwarming tale of Radamel Falcao's spectacular rebirth
15 best football documentaries you need to watch
While Watzke and Zorc took the club to the Far East and brought in France's best young talent over the summer, Tuchel continued furiously with on-pitch matters. Yet there is seemingly far too little communication here.
Bbefore the headlines turn into microscopic investigations of Dortmund's long-term future, though – and whether Hoffenheim hotshot Julian Nagelsmann or current Nice boss Lucien Favre are best placed to lead BVB – it is the club's next month that will provide the most concrete answers.
A trip to Augsburg, a home game against Werder Bremen and a cup final in Berlin against Frankfurt is all that remains on the pitch. Off it lies a seemingly inevitable decision that will create ripples across Europe.
Thank you for reading 5 articles this month* Join now for unlimited access
Enjoy your first month for just £1 / $1 / €1
*Read 5 free articles per month without a subscription
Join now for unlimited access
Try first month for just £1 / $1 / €1