Why Zlatan's suspension will work in Man United's favour against Arsenal
The Swede's ban might mean that Marcus Rashford can unleash terror on the Gunners' backline again, explains Thore Haugstad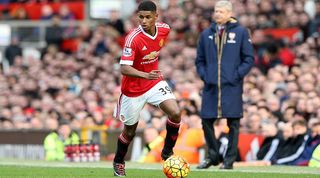 On the face of it, Manchester United seem certain to miss a £200,000-a-week top scorer who is their free-kick taker, penalty specialist and focal point in open play. And yet the suspension of Zlatan Ibrahimovic for this weekend's clash with Arsenal brings with it a silver lining: assuming Wayne Rooney won't recover from his injury and/or midweek booze-up, the scene is set for Marcus Rashford to play up front on Saturday. That could yield numerous benefits for Jose Mourinho.
The backdrop is the equivalent fixture of last season. Back in February, Louis van Gaal was rewarded with two goals after giving Rashford his debut at home to Danish side Midtjylland in the Europa League. Just three days later, Van Gaal started the academy product against Arsenal and saw the youngster deliver another brace and an assist in a 3-2 win.
That display hasn't been forgotten by Arsene Wenger, who's sounded anything but relaxed about the change up top. "The guy who killed us last year was Rashford," he said on Thursday. "I watched him against a Danish team [Midtjylland] in midweek and he scored, and I thought this guy could be dangerous. His movement was good and he was strong. He took everyone by surprise."
Arsenal optimists may say Rashford has so far failed to hit the heights of last season, but that may be about to change.
Rash finishing
When assessing Rashford's recent form, it's hard to overestimate the influence of his positioning. Mourinho has used him on the wing so far, often on the left, with Ibrahimovic still the only United outfield player to have featured in every minute in the league. One tricky aspect to examine is how this will affect the 19-year-old's personal development in the long term. A more straightforward observation is that his natural game is being compromised.
The adaptation has certainly not been as smooth as, say, that of Anthony Martial last season. Rashford's not played out wide since he was 12 or 13 years old and remains, in his own mind, a goalscorer above all else. He's yet to record an assist for United this season, while his three league goals – at Hull and Watford, and at home to Leicester – have all been from close range. When you see him track James Milner as if he were a right-back, it's difficult to escape the feeling that United are wasting his talents.
What is certain is that his finishing ability is best used in the centre, as Wenger will know. Counting players who scored more than twice in the league last season, Rashford emerged with the highest conversion rate of all (31.3%). Particularly encouraging was his finishing in big matches. At home to Arsenal and away to Manchester City, where he hit the winner, he needed just four efforts to score three times.
Impressively, his rate hasn't been completely ruined by playing out wide. Rashford's currently on 21.4%, which is similar to the best finishers of last season, such as Sergio Aguero and Jamie Vardy. He remains the most efficient striker or midfielder at United and, compared to Ibrahimovic he's twice as sharp, the Swede having scored six times from 59 shots for 10.2%.
Touchline terror
Yet that's not all Arsenal will have to be wary of. Beyond goals, Rashford's movement could alter the way in which United attack. The contrast between him and Ibrahimovic could hardly be greater: particularly in big games, Rashford tends to operate almost exclusively out wide, whereas Ibrahimovic, at 35, is more static and wants the ball to feet.
With Rashford, Mourinho would in some ways return to the dynamic provided by Diego Costa at Chelsea. He'll have a lone striker working the channels, testing the offside trap, stretching play and destabilising the defence, particularly by drawing centre-backs towards the touchline. This aspect was on show when Rashford last faced Arsenal, with Gabriel forced out of position to close him down.
Just a month later, Rashford did something similar to Martin Demichelis, the slowest member of the City backline. Though the experienced Argentine often got the better of him, he was outdone for the goal that won the game.
Rashford's movement will surely be similar on Saturday and it will be interesting to observe Shkodran Mustafi, Arsenal's right-sided centre-back, who was at one point fooled out wide by Son Heung-min for a dangerous Tottenham chance two weeks ago.
Another potential duel could pit Rashford up against the visitors' makeshift right-back, with Hector Bellerin injured. Mourinho knows this is a potential weak spot: Mathieu Debuchy is out with a calf injury and Carl Jenkinson has just returned from a cruciate ligament damage, leaving Wenger to concede he has no natural or fully fit option in this position.
Mind the gaps
Still, perhaps the key aspect is the knock-on effect in the United team. With Rashford tracked out wide, gaps may appear for the central midfielders to exploit. This is particularly good news for Paul Pogba, who got his first United league goal from open play at Swansea a fortnight ago, and who is the league's fourth-most-frequent shooter from midfield, with 3.3 efforts per game.
Other potential beneficiaries include Juan Mata and even Martial, who thrives on cutting inside from the left. The French forward has scored only once in seven appearances this term, with Ibrahimovic taking up space near the box.
Should Rashford be accompanied by Mata, it will represent quite a change to the staler dynamic offered by Ibrahimovic and Rooney, who started the season in the two central attacking positions. United have often lacked fluency and flair this season, and Rashford's movement could well help solve such issues. Even with Ibrahimovic out, Wenger has every right to be worried.
Thank you for reading 5 articles this month* Join now for unlimited access
Enjoy your first month for just £1 / $1 / €1
*Read 5 free articles per month without a subscription
Join now for unlimited access
Try first month for just £1 / $1 / €1