World Cup 2022: Japan didn't just clean up the stadium after beating Germany – they left a gift in the dressing room
Japan stunned World Cup 2022 by beating Germany before being the most gracious guests of the tournament thus far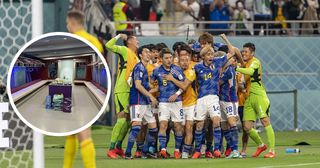 (Image credit: Brad Smith/ISI Photos/Getty Images)
Japan's fans stayed in the stadium long after their side's famous World Cup 2022 win over Germany yesterday – but not to party. Quite the opposite.
Japanese fans are well-known for staying after the match to tidy up the ground, having done the same thing at the 2018 World Cup, too. Yesterday was no different despite the euphoria of the win over the Germans, with Blue Samurai fans containing their joy to soberly pick up rubbish from the seats of the Khalifa International Stadium.
Perhaps, though, what gets forgotten is how much mess professional footballers can actually create. While most nations let someone else tidy up after themselves, Japan are different.
Los jugadores y el personal de Japón dejaron el vestuario limpio e hicieron 'grullas de origami' como símbolo de honor. Esto es maravilloso./ Japan 🇯🇵 team left the dressing room spotless and left origami as a thank you. Wonderful. #FIFAWorldCup2022 pic.twitter.com/JzUqptrX5BNovember 24, 2022
Japan cleaned up the dressing room a treat, leaving it absolutely spotless, as if no one had even been there in the first place. What's more, they left a gift for Qatar.
The Japanese players left 11 origami paper cranes behind. In Japanese culture, cranes are mystical animals that symbolise long life and healing, with each of the starters on the pitch giving a crane to represent their thanks to their hosts.
This year, Adidas' shirts for Japan are perhaps inspired by the crane. The graphic that's printed over the entirety of the top looks reminiscent of the shape, while having the dynamism to look like it's travelling.
Of course, FFT ranked this as our No.1 shirt of the tournament – before the shock result over Die Mannschaft, 'n' all. Nice one, Japan – now the team can all but qualify for the next round of the competition with a victory over Costa Rica…
Thank you for reading 5 articles this month* Join now for unlimited access
Enjoy your first month for just £1 / $1 / €1
*Read 5 free articles per month without a subscription
Join now for unlimited access
Try first month for just £1 / $1 / €1