Calderon confirms Real resignation
MADRID - An emotional Ramon Calderon confirmed media reports that he had resigned as president of Spanish champions Real Madrid in a news conference at the Bernabeu on Friday.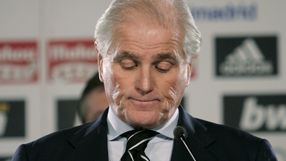 Calderon, who was elected to the post in 2006, had been under pressure to go since Marca newspaper published allegations earlier this week of irregularities at the club's general assembly last month.
"Against the recommendations of my board I have decided to step down from the presidency," Calderon said.
"I have committed errors but not irregularities. I go with my head held high."
The 57-year-old lawyer will be replaced by Vicente Boluda, who takes charge until a presidential election can be held in the close season.
Former vice-president Boluda, a 53-year-old businessman, said: "It is a responsibility and an obligation I could not refuse because at an institution like Real Madrid you cannot have a power vacuum until the elections that will be held in the summer.
"I only ask everyone for unity and responsibility, and ask for trust in the board to manage the club in this time."
Boluda's first game in charge will be at home to basement side Osasuna on Sunday, when second-placed Real Madrid will try to cut Barcelona's 12-point lead at the top of the standings.
MORAL CODES
With tears in his eyes and struggling to hold his emotions in check, Calderon read from a pre-prepared speech.
"I am not a coward and have nothing to hide," he said. "I hope that by offering up my head my going will help placate the wider Real Madrid public.
"They have been convulsed by daily stories put together and sent out from the media that show absolute contempt for all known moral codes."
He defended his record at the helm which included two consecutive league titles, and two trophies with the basketball section, and reiterated that he knew nothing about the events that had occurred at last month's assembly.
The allegations in Marca said unauthorised persons had gained access to the club's assembly on December 7 and their presence had helped to swing votes on key issues in favour of the management.
At a news conference on Wednesday, Calderon said two Real officials involved in organising the assembly had resigned and he would probably not stand for re-election when his four-year mandate ended in 2010.
Spanish media reported on Friday that three club delegates who attended the general assembly had started legal proceedings to have the agreements passed at the event annulled in the light of recent developments.
Thank you for reading 5 articles this month* Join now for unlimited access
Enjoy your first month for just £1 / $1 / €1
*Read 5 free articles per month without a subscription
Join now for unlimited access
Try first month for just £1 / $1 / €1