Manager Herve Renard hailed Saudi Arabia's historic victory over Argentina: "All the stars in the sky aligned for us"
The Frenchman still believes Argentina have the potential to win the World Cup, though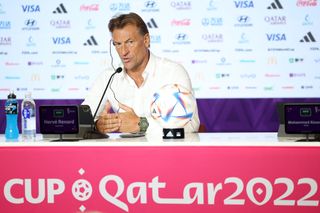 (Image credit: Getty Images)
Herve Renard hailed Saudi Arabia's historic victory over Argentina - but insisted that Lionel Messi's men are still capable of winning World Cup 2022.
Argentina were heavy favourites to clinch three points in their opening game of the tournament, having won Copa America last year and gone 36 matches unbeaten.
They looked to be cruising to victory when Messi put them in front early on from the penalty spot, but they then had three goals disallowed for offside, before Saudi Arabia stunned them with two goals in the space of five minutes shortly after half time.
"They came here without losing in 36 games, they are South American champions, they have amazing players but this is football, sometimes completely crazy things can happen," Renard said post-match.
"Tactically we were not good in the first half. If we'd conceded a second goal, I think the game was finished, and at half time I was not happy because our pressure and determination was not good.
"But today all the stars in the sky aligned for us. Everything can happen in football - sometimes your opponent is not at their best. Imagine that for Lionel Messi to play against Saudi Arabia, you know the motivation is not like you are playing Brazil, this is normal.
"We made history that will stay in Saudi football forever, but we still need to look forward - we still have two games that are very difficult for us.
"With three games you can win the first game and not qualify, and you can lose the first game and be world champions as Argentina. It's possible."
Argentina boss Lionel Scaloni was disappointed that his side's long unbeaten run had come to an end.
"We owned the first half, and those offside situations maybe would have been a goal in other situations," he said.
"The game was strange - a goal could turn things around and that's what happened. The players are in pain, thinking of how we can turn things around. It's about winning the next games.
"Losing is never good, when it feels that the game slips from your control. You would never choose when to lose, especially when we had good momentum. It was maybe in the worst moment for us, but we need to bounce back, there's nothing else we can do.
"We always said that momentum would stop at some point, but we have two games now and we're going to play them to our best."
Thank you for reading 5 articles this month* Join now for unlimited access
Enjoy your first month for just £1 / $1 / €1
*Read 5 free articles per month without a subscription
Join now for unlimited access
Try first month for just £1 / $1 / €1