Sergio Aguero expects Romelu Lukaku to pose Manchester City an enormous threat in Champions League final
The Belgian striker hasn't been starting frequently this season, but the former Manchester City man believes he could pose Pep's team problems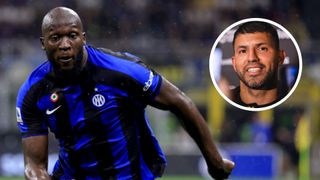 (Image credit: Getty Images)
Former Manchester City striker Sergio Aguero believes that Inter Milan striker Romelu Lukaku will pose Pep Guardiola's side a huge threat in the Champions League final on Saturday.
Manchester City are hoping to secure the treble with victory against the Nerazzuri on Saturday at the Ataturk Stadium in Istanbul, with just one game remaining in their season to immortalise themselves in English football history.
However, Aguero doesn't expect the game to be easy, suggesting Inter's forward line is one of the best in Europe. As well as Edin Dzeko and Lautaro Martinez, both of whom are former team-mates of the Argentine's and are likely to start in the final, Aguero also highlights the attributes Lukaku possesses in his all-round game to indicate what City have to contend with.
"Inter have a great forward," Aguero told Stake.com. "We are talking about Edin, but we must talk about Lautaro who, having overcome his physical problems after the World Cup, has been key for the Italian club, and if we add Lukaku we see the power they have.
"Lukaku brings a lot of physical play, holds the ball very well and in addition to being a goalscorer, he posts up to leave his teammates to define. In short, one of the best firepowers in Europe."
Aguero continues, reminiscing on his former City strike partner Dzeko and the role the 37-year-old plays in Inter's team.
"We all know that Edin is a true goal scorer and a player who is very committed to the team," Aguero addded. "He demonstrated it with us [City].
"I always give great value to the goal that he scored in 2012 because that later allowed us to complete the comeback and win that important game. It was a key goal that I always remember and gave it the dimension it had.
"Today he is still that dangerous player who can score at any time. No wonder he had such a good season at Inter. He always demands, he is very important in the passing game. Surely he will be one of those that City have to be especially careful of."
Thank you for reading 5 articles this month* Join now for unlimited access
Enjoy your first month for just £1 / $1 / €1
*Read 5 free articles per month without a subscription
Join now for unlimited access
Try first month for just £1 / $1 / €1