'We need players who run': Vincent Kompany's hilarious response when asked if he'd take Cristiano Ronaldo at Burnley
Cristiano Ronaldo is unwanted by Burnley boss Vincent Kompany, who joked about him on the BBC World Cup coverage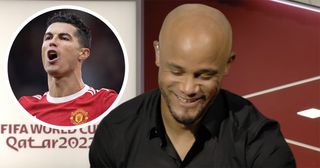 (Image credit: BBC Sport)
Burnley manager Vincent Kompany has delivered a stunning put-down of Cristiano Ronaldo, hours after the Portuguese legend had his contract terminated by Manchester United.
Ronaldo notoriously gave an interview with Piers Morgan recently to tell the world how he felt "betrayed" by his employers and went into the World Cup with an uncertain future hanging over him. Days before Portugal's opener against Ghana, the club reached a mutual termination of his contract with immediate effect.
The drama was discussed in the studio by Gary Lineker and the BBC pundits during France's fixture against Australia when Vincent Kompany made a quip about the 37-year-old.
"It is a sad end to his Manchester United career," Alan Shearer lamented. "He has got his wish, it is what he did the interview for. It was inevitable it was going to happen after that.
"I think it will be really interesting if a Champions League club comes in for him. Maybe Man United are not that disappointed either as it was never going to be a match between Ten Hag and him."
Kompany, who is now managing Burnley in the Championship, came up against CR7 in the Manchester Derby when the pair were on opposite sides of the city.
"I think in the end everyone loses except perhaps the Manchester United manager," the Belgian added. "I think it is a problem that is now resolved and they will now move on from this."
Lineker couldn't resist touting the Portuguese's services to another club in the northwest – but Kompany was quick to throw water over the proposal.
"We need players who can run," the City legend responded to Lineker asking if he'd take the forward at Turf Moor.
Burnley are top of the Championship having lost just twice all season in Kompany's first season in charge.
Thank you for reading 5 articles this month* Join now for unlimited access
Enjoy your first month for just £1 / $1 / €1
*Read 5 free articles per month without a subscription
Join now for unlimited access
Try first month for just £1 / $1 / €1