World Cup 2022: BBC reveal psychedelic opening title sequence for Qatar
The BBC World Cup 2022 opening titles are bright, kaleidoscopic and feature Guy Mowbray chanting along to the music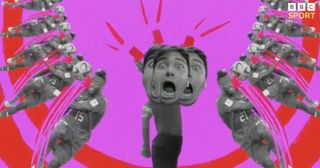 (Image credit: BBC)
The BBC have unveiled the opening titles for their World Cup 2022 coverage.
The Beeb usually boast an iconic opening sequence for major tournaments, with the likes of Nessun Dorma by Pavarotti used for the iconic titles of 1990 and Another Star by Stevie Wonder featuring in 2014's sequence for the tournament in Brazil. But with the World Cup in Qatar, the BBC have gone for something completely different.
Instead of drawing on the cultural aspects of the host nation, like the titles usually do, the BBC have instead opted for a kaleidoscopic animation incorporating iconic players and figures from World Cups past, including Ronaldinho, Johan Cruyff and Roger Milla. The titles are bound to polarise viewers with bright colours and commentators appearing to chant along to the backing track used.
🧵 Every World Cup and Euros opening titles since 1990 🤩What was your first?What was your favourite?Which one of these have you suddenly just remembered?August 3, 2022
Studio Something, who created the film, say the title sequence "celebrates the rhythm of the World Cup – the set pieces, iconic moments, fan celebrations and skill on the pitch."
"Now, via TikTok and other social channels, there is a culture of remixing, reattributing and resharing, and we wanted to play into this with a 'memeable' scrapbook style treatment, looping visuals and audio in a hypnotic 42 seconds of football fandom," the company's head of production, Andy Maas, claimed. "A jamboree to celebrate the 2022 tournament."
You can watch the titles here. (opens in new tab)
A full list of every player featured in the BBC's opening title sequence for World Cup 2022
Swipe to scroll horizontally
Every player featured in the BBC title sequence for World Cup 2022

| Player | Nation - Tournament/s |
| --- | --- |
| Aaron Ramsey | Wales - 2022 |
| Achraf Hakimi | Morocco - 2018, 2022 |
| Alphonso Davies | Canada - 2022 |
| Andres Iniesta | Spain - 2006, 2010, 2014, 2018 |
| Asamoah Gyan | Ghana - 2006, 2010, 2014 |
| Bebeto | Brazil - 1990, 1994, 1998 |
| Bobby Moore | England - 1962, 1966, 1970 |
| Bukayo Saka | England - 2022 |
| Carles Puyol | Spain - 2002, 2006, 2010 |
| Christian Eriksen | Denmark - 2010, 2018, 2022 |
| Christian Pulisic | USA - 2022 |
| Cristiano Ronaldo | Portugal - 2006, 2010, 2014, 2018, 2022 |
| Darwin Nunez | Uruguay - 2022 |
| David Beckham | England - 1998, 2002, 2006 |
| Davor Suker | Yugoslavia - 1990; Croatia - 1998, 2002 |
| Diego Maradona | Argentina - 1982, 1986, 1990, 1994 |
| Fabien Barthez | France - 1998, 2002, 2006 |
| Franz Beckenbauer | West Germany - 1966, 1970, 1974 |
| Gareth Bale | Wales - 2022 |
| Harry Kane | England - 2018, 2022 |
| Helmut Rahn | West Germany - 1954, 1958 |
| Hugo Lloris | France - 2010, 2014, 2018, 2022 |
| Jan Vertonghen | Belgium - 2014, 2018, 2022 |
| Jens Lehmann | Germany - 1998, 2002, 2006 |
| Johan Cruyff | Netherlands - 1974 |
| Juan Sebastian Veron | Argentina - 1998, 2002, 2010 |
| Jurgen Klinsmann | West Germany - 1990; Germany - 1994, 1998 |
| Kasper Schmeichel | Denmark - 2018, 2022 |
| Kylian Mbappe | France - 2018, 2022 |
| Laurent Blanc | France - 1998 |
| Lionel Messi | Argentina - 2006, 2010, 2014, 2018, 2022 |
| Luís Figo | Portugal - 2002, 2006 |
| Manuel Neuer | Germany - 2010, 2014, 2018, 2022 |
| Mario Kempes | Argentina - 1974, 1978, 1982 |
| Mazinho | Brazil - 1990, 1994 |
| Michael Owen | England - 1998, 2002, 2006 |
| Michel Platini | France - 1978, 1982, 1986 |
| Michy Batshuayi | Belgium - 2018, 2022 |
| Neymar | Brazil - 2014, 2018, 2022 |
| Papa Bouba Diop | Senegal - 2002 |
| Paul Gascoigne | England - 1990 |
| Pedri | Spain - 2022 |
| Pele | Brazil - 1958, 1962, 1966, 1970 |
| Peter Shilton | England - 1982, 1986, 1990 |
| Philipp Lahm | Germany - 2006, 2010, 2014 |
| Raheem Sterling | England - 2014, 2018, 2022 |
| Robert Lewandowski | Poland - 2018, 2022 |
| Roberto Baggio | Italy - 1990, 1994, 1998 |
| Robin van Persie | Netherlands - 2006, 2010, 2014 |
| Roger Milla | Cameroon - 1982, 1990, 1994 |
| Romario | Brazil - 1990, 1994 |
| Ronald de Boer | Netherlands - 1994, 1998 |
| Ronaldinho | Brazil - 2002, 2006 |
| Ronaldo | Brazil - 1994, 1998, 2002, 2006 |
| Sergio Busquets | Spain - 2010, 2014, 2018, 2022 |
| Son Heung-min | South Korea - 2014, 2018, 2022 |
| Stephen Tataw | Cameroon - 1990, 1994 |
| Uwe Seeler | West Germany - 1958, 1962, 1966, 1970 |
| Virgil van Dijk | Netherlands - 2022 |
| Xherdan Shaqiri | Switzerland - 2010, 2014, 2018, 2022 |
| Zinedine Zidane | France - 1998, 2002, 2006 |
Thank you for reading 5 articles this month* Join now for unlimited access
Enjoy your first month for just £1 / $1 / €1
*Read 5 free articles per month without a subscription
Join now for unlimited access
Try first month for just £1 / $1 / €1