World Cup 2022 presenter Gary Lineker responds to fan who ordered a Pirates of the Caribbean Blu-Ray with his face on
Gary Lineker is spending his winter presenting World Cup 2022 and appearing on the cover of Pirates of the Caribbean: At World's End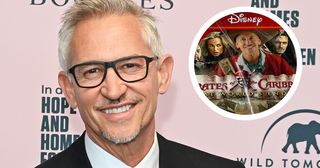 (Image credit: David M. Benett/Dave Benett/Getty Images for Boodles)
We've always thought of World Cup 2022 presenter Gary Lineker as a potential leading man of a Hollywood movie. We're not alone.
One World Cup fan was in for a surprise when he ordered a copy of popular swashbuckling blockbuster Pirates of the Caribbean: At World's End and found the BBC presenter somewhere that he didn't expect.
We thought that Gary was only going to be turning up in Qatari stadiums this winter. Oh, how we were wrong – as online joker and self-professed "great tweeter" Jonny Sharples (opens in new tab) found, too.
"There's an issue with my copy of Pirates of the Caribbean: At World's End that I ordered from you," Jonny tweeted directly to the official Amazon account on Twitter.
"Hello and thank you for reaching out. Have you had a chance to check out your return and refund options?" a kind fellow named Ben responded directly from the account.
"It has Gary Lineker on the cover???" Jonny asked, posting a photo of the cover. And sure enough, there was Linksy, stood in between the likes of Keira Knightly and Orlando Bloom, dressed as the lead character, Captain Jack Sparrow.
Newcastle United fan Jonny was in for another surprise when Lineker himself, in between presenting coverage of the football, took time out to respond. "Urghhh," the former Leicester City striker replied (opens in new tab), with an emoji of eyes looking sidewards, suggesting that it was indeed not a mistake to put him on the cover of the movie.
Jonny did not confirm – but it seems likely that he Photoshopped the image and placed it onto the Blu-Ray.
Thank you for reading 5 articles this month* Join now for unlimited access
Enjoy your first month for just £1 / $1 / €1
*Read 5 free articles per month without a subscription
Join now for unlimited access
Try first month for just £1 / $1 / €1