"You want different options for different stages of the tournament" - Gareth Southgate explains reasoning behind England World Cup squad
The England manager announced his picks for the 26 players heading to Qatar for the tournament, providing thought behind his selections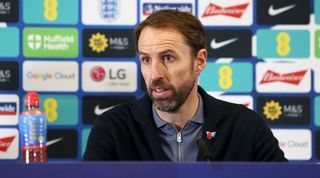 (Image credit: Getty Images)
Gareth Southgate has explained the reasoning behind his decisions for the announcement of the England World Cup 2022 squad, suggesting he has selected players with a view to different, key moments during the tournament.
Speaking during the press conference after unveiling his squad heading to the Qatar World Cup, Southgate suggests only picking the best players isn't the correct way to go about selecting a squad capable of going all the way to the final.
Instead, the England manager has chosen players and characters based on different requirements of the squad, starting with England's first World Cup matches against Iran, USA and Wales in Group B.
"We've wanted to make sure we've got the balance of the squad right," Southgate explained. "I think in this day and age the squad is more important than ever. You want different options for different moments of matches and stages of the tournament.
"We're excited by the group. We think there's a lot of exciting talent in it, but we've got to adapt better than everybody else in this coming period."
A large amount of the England squad will certainly need to adapt to the physical demands placed on them, especially considering the majority of them have been playing every three or four days for the past two months, when the European competitions started.
With leagues across Europe still scheduled to play fixtures at the weekend, there are also concerns from players and fans alike that injuries will curtail any chances of going to Qatar.
However, Southgate doesn't seem to concerned with the risk games at the weekend poses his players, suggesting every team is faced with the same situation, and adapting is the name of the game.
"We've got to be fluid, adaptable and ready for anything," he added. "Watching the matches unfold you're always intrigued, but we can do nothing about the injuries. We've already been hit in that way, but we've got to adapt."
Indeed, Reece James is the most notable player to be missing the World Cup through injury, with his Chelsea teammate Ben Chilwell also being ruled out of the squad after suffering a thigh injury last week during the Champions League.
While he is blessed with options at right-back, with Kieran Trippier, Trent Alexander-Arnold and Kyle Walker all making the squad, Southgate has chosen just one left-back by trade, in the form of Luke Shaw. Trippier is adept at playing in either full-back position, though, while Bukayo Saka has proven he can fill in in that position in the past as well.
Thank you for reading 5 articles this month* Join now for unlimited access
Enjoy your first month for just £1 / $1 / €1
*Read 5 free articles per month without a subscription
Join now for unlimited access
Try first month for just £1 / $1 / €1