Harry Winks: Passing, pressing and five-a-side
Harry Winks talks to FourFourTwo about adjusting to the pressing game, the benefits of 5-a-side and the art of the pass.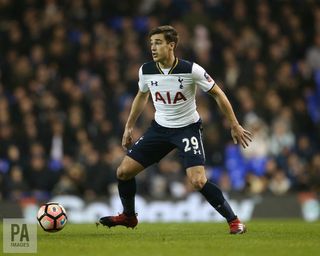 What attributes do you need to become a top Premier League midfielder?
You need to be quick on the ball, have awareness of when players are pressing you and where your team-mates are around you. You also need the ability to pick out a pass, long or short. Ultimately you need to have a quality first touch as well. The Premier League is played at such a fast pace, that you need to have a good touch to set yourself going and be quick in your thinking. Having a good football brain, in terms of vision, understanding of the pitch and positioning is important because the more time you can get on the ball the better, and picking up certain positions which will allow you to bide yourself a bit of time is very important.
How do you develop those areas of your game?
In training I like to put myself in positions where it's tight and I'm pressed all over the place and it's intense because it mirrors being in a first team match in the Premier League. I like to get myself in and around players and get it as tight as possible so I work on my first touch and getting on the ball quickly.
What drills would you recommend any drills to improve your first touch in tight spaces?
I think small-sided games – 5 v 5, 3v3, 2v2, where you have to be sharp on your feet and with your decision making are perfect for developing a quality first touch. In these games you're always being pressed and people come at you from different angles so you have to be quick in what you do.
What are the biggest differences between academy and first team football?
The intensity and quality are the two biggest differences. Players have so much quality on the ball that if you make mistakes and give the ball away, you get punished. The speed is so fast and there are so many players who are quick and have different types of physiques and physical qualities. Some are big and tall, others are agile, and they all have different ways of pressing you from different angles. You have to be very quick in your thinking and decision-making.
What drills do you do to work on your passing range?
After training sessions I like to work on my passing with other players. That can be long range, short range, and it's all about hitting the sweet spot all the time so that in a game it's second nature. I just hit the ball in the way I want to so it reaches my team-mate in the best possible fashion.
Related stories
Marco Verratti: How to be a deep-lying playmaker
Michael Carrick: Protecting the back four
Patrick Vieira: How to be a midfield destroyer
Thank you for reading 5 articles this month* Join now for unlimited access
Enjoy your first month for just £1 / $1 / €1
*Read 5 free articles per month without a subscription
Join now for unlimited access
Try first month for just £1 / $1 / €1