Elseid Hysaj: The reported Arsenal target preparing to take the next step for club and country
Albania's star is their 22-year-old right-back who enjoyed such a promising debut campaign with Napoli in 2015/16. Nick Ames explains his story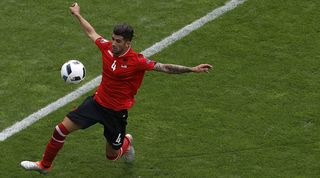 Amid the emotionally charged and ultimately self-destructive start Albania made with their first-matchday defeat against Switzerland, one cool head stood out.
In the first half he could be seen sliding a sublime ball through for Armando Sadiku to miss their first clear chance; in the second, he created another opening for the striker with a neat pass down the inside-right channel. Elseid Hysaj was a picture of composure throughout, and all of a sudden the hype machine began to step up a notch or two.
Hysaj, Albania's right-back, has been linked with a move to Arsenal in recent days and it's not hard to see why. Relatively unknown beyond keen-eyed Serie A watchers until last summer, when he joined Napoli from Empoli, the 22-year-old has got better and better.
His performance against the Swiss was a snapshot of everything that has caught the attention of Europe's giants; Hysaj is a commanding enough presence at 6ft, and first and foremost defensively sound. But he is also wonderfully efficient and crisp in his use of the ball.
Hysaj puts one on a plate for Gonzalo Higuain
Romantic rise
Arsenal's interest would therefore seem logical – Hysaj's international coach, Gianni De Biasi, describes him as "very intelligent, very balanced". The player has certainly had the kind of route to the top that shapes a personality.
Hysaj is the son of Gzim, an Albanian who worked illegally in Italy as a bricklayer to earn money for his family. Gzim came to work on the house of a football agent, Marco Piccioli, and set about pestering him to take a look at Elseid – who was showing considerable promise at a young age.
That didn't happen until Elseid was 14, until which time Hysaj had played junior football back in Albania. Then, Gzim brought him to Italy from their hometown of Shkoder and, after a move to Fiorentina fell through, Hysaj eventually joined Empoli's academy. He graduated to the first team in 2011 at the age of 17 and made more than 100 appearances.
It was a triumph of perseverance, mixed with a happy bit of fortune on Gzim's part, and Hysaj has grown in stature since. He made his senior debut for Albania in February 2013, becoming the Eagles' third-youngest player, and within months proving integral in their remarkable – sometimes stormy – qualification for Euro 2016.
Laying the groundwork
Considerable money will be required to prise Hysaj from Napoli, for whom he played 43 times last season and missed just one Serie A match under Maurizio Sarri. He cost €5m last summer but that figure could comfortably be quadrupled now after a set of wonderfully consistent performances. There is a degree of urgency for his club to – if nothing else – protect his value by fastening him into a new contract.
"He needs to be put on a par with his team-mates on an economic level," said his current agent, Mario Giuffredi, last week, who added that they were "not asking for anything" but stressing that "certain things need to be re-evaluated".
Although he suggested that Hysaj should stay at Napoli for another year and benefit from regular Champions League football, it doesn't take a great leap of the imagination to assume the ground is being prepared for an exit sooner rather than later.
Onwards and upwards
If Hysaj's all-round potential needed further underlining, then it came in May when he captained Albania – becoming their youngest-ever skipper – in a friendly win over Qatar. He could yet receive the armband for Wednesday evening's match against France with Lorik Cana suspended; either way, he has quickly become recognised as a top-quality performer who leads by example.
He certainly did that against Switzerland but it will be a tall order for Hysaj to keep his team in this summer's competition. France's pace and agility should be too much for Albania and it will probably require a healthy win against Romania on Sunday to give them any chance of progress.
Yet if Hysaj can find the same kinds of angle that, on another day, would have carved a point out for his team on Saturday, they might just pull off a shock. And even if not, it seems a safe bet that his gifts will be seen at the highest level on a regular basis before long.
More features every day on FFT.com • Football's hottest prospects scouted
Quizzes, features and footballing fun
Get the best features, fun and footballing frolics straight to your inbox every week.
Thank you for signing up to Four Four Two. You will receive a verification email shortly.
There was a problem. Please refresh the page and try again.