Predicted! How we think the 2017/18 PFA Team of the Year will look
How badly wrong can we get this? Warm up your bookmarking finger as Nick Miller opens himself up to post-season ridicule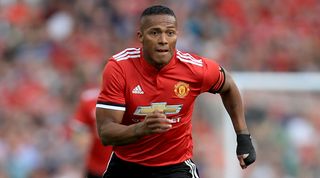 Joe Hart 
It's important to make clear that this team does not necessarily reflect FourFourTwo's opinion of who should be in the 2017/18 PFA Team of the Year (after all, how could it: the season hasn't started yet), nor necessarily who we think are currently players of the requisite quality. This is what we think will happen, so on that basis Joe Hart's inclusion does seem like something of a shoo-in.
The England glovesman will have gathered some sympathy from his peers after being cruelly victimised/quite reasonably deemed not quite good enough by Pep Guardiola. Thus, after returning from his Italian exile, Hart will have a perfectly acceptable season for West Ham, where he will play quite well, a few alarming gaffes will be glossed over and his pals will dish out the back-slap that is inclusion in their end-of-year self-congratulatory gala. 
Antonio Valencia 
Valencia's transformation from decent winger to excellent right-back is an encouraging tale, proof that problems are not only solved in the transfer market. The Ecuadorian has quietly made Manchester United's right-back slot his own over the last couple of years and become a reliable constant in a side that, given who their manager is, seems in an otherwise constant state of flux.  
Valencia made the PFA team in 2009/10 during his days as a winger, but perhaps another season of consistency in defence will see him elected in his new position.
John Stones
Perhaps the most salient criticism of Guardiola's first year at Manchester City is that he tried to enact change too quickly; that he attempted to get this side playing in his own image before they were ready. And perhaps the main victim of this haste was Stones, a clearly talented, ball-playing defender who might have been rushed into playing a style that requires skill, patience and practice.  
But the talent is most certainly there, so perhaps after another season working with Guardiola, and perhaps with a reliable regular partner like Vincent Kompany, he could flourish and realise his potential. Admittedly, there are a few too many instances of the word 'perhaps' in this one. 
Toby Alderweireld
The short version of this selection is that Alderweireld has probably been the best centre-back in the Premier League for a couple of seasons now, and while it's employing 20:20 hindsight to say that other clubs should have bought him when Spurs did, it's remarkable that he cost a 'mere' £11m.
It's no coincidence that Tottenham have been title contenders in the two seasons that Alderweireld has been at the club, and it's rather surprising that he's only been selected for this team in one of them. He'll be there or thereabouts again.
Alex Sandro
Admittedly this is something of a flyer given that Alex Sandro is a Juventus player, and due to the sort of red tape and PC-culture-gone-mad rules that we all have to put up with these days, not technically eligible. But still, there's strong talk that Chelsea will eventually pony up and purchase the Brazilian left-back/wing-back from Turin, and if so we could see something pretty special.
Sandro has excelled with every move of his career, from his debut for Santos in Brazil, to his European move with Porto, and then Juventus, so there's little reason he wouldn't do so again in England. Now all Chelsea have to do is actually buy him... 
N'Golo Kante
The praise, and indeed accolades for Kante may have been a little over the top last season – at least in the respect that plenty seemed to think he was more important to Chelsea's success than Eden Hazard.
But Kante is perhaps the ideal modern midfielder, one who can speed around the pitch and perform the roles of at least two players, making Antonio Conte's favoured 3-4-3 formation not just viable but extremely effective. And after turning in two superb, title-winning seasons, it would take a brave or foolish individual not to back him again.
Dele Alli
It still seems slightly surreal that Alli was playing in League One less than two years ago. Since then he has smoothly risen to every challenge placed in front of him, becoming one of the best midfielders in the Premier League and a mainstay for England too.
You wouldn't bet against him continuing this progression either, and if so he will almost certainly get the votes of his peers again. He'll also still be eligible for the young player of the year award, and will be for the next three seasons – an absurdity that the PFA could do with fixing.
Paul Pogba 
Pogba seems to be a player that people can only talk about in extremes. Last season, in the rather quaint days when £89m was a world record transfer fee, the Frenchman was regarded either as a modern football icon or a complete waste of time and money. The reality, of course, was somewhere in the middle.
But now, with a year of getting used to Jose Mourinho's Manchester United behind him, hopefully both he and the team have worked out how to get the best from each other. And if that happens, we could be in for something pretty special.
Mohamed Salah
The PFA can be quite conservative when it comes to new boys, but perhaps Salah's brief previous spell in England with Chelsea disqualifies him from that tag. There will always be question marks over Liverpool's defence, but they could be a fearsome attacking force with Salah joining Roberto Firmino, Sadio Mane and Philippe Coutinho.
The new signing from Roma could turn out to be the most threatening of them all, zipping in from the right and causing havoc, cutting in on his trusty left foot. Alternatively he could be a colossal flop, but you've got to be optimistic, right? 
Gabriel Jesus
It's tricky to remember a player arriving in England from another country – another continent – at such a young age and taking to the division instantly. Gabriel showed from the earliest minutes of his Manchester City career that he is a serious talent, and that Guardiola's faith in him – apparently ahead of Sergio Aguero – was entirely justified.
An injury curtailed last season, but assuming he stays fit and City's other assorted attackers thrive around him, he could be utterly dazzling.
Harry Kane
Thirty-five goals last season; 28 the season before that; 31 the season before that. Kane has long since established himself as England's finest centre-forward, and is probably the best in the Premier League now too.
He's been in the PFA team for the last three seasons (only he and David de Gea have managed that), so unless some rather befuddling calamity afflicts him over the coming months, there's little to suggest he won't make it four in a row. Not an especially imaginative choice, but then again… well, you can make your own jokes there.
Predicted PFA Player of the Year shortlist: Joe Hart, Dele Alli, Paul Pogba, Harry Kane, N'Golo Kante and Gabriel Jesus.
Quizzes, features and footballing fun
Get the best features, fun and footballing frolics straight to your inbox every week.
Thank you for signing up to Four Four Two. You will receive a verification email shortly.
There was a problem. Please refresh the page and try again.