10 of football's funniest technology fails (and the odd win)
Victor Anichebe accidentally revealed that footballers might not actually tweet everything that comes from their social media accounts (who knew?). Tim Ellis unearths some more online anomalies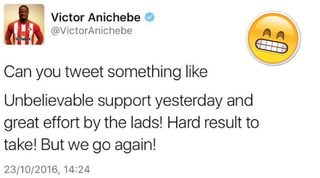 1. Felipe Melo's app attack
Cristiano Ronaldo's mobile game features a skateboarding troll named Hugo that helps CR7 escape the Paparazzi. Inter's Felipe Melo took the app concept to a more brutal level with the release of FelipeMeloZ, where "the world of football has been subjected to a zombie apocalypse and the world leaders decided to call the general Felipe Mepo to kill them all". A natural first port of call.
With only training cones and footballs for weapons, the undead must be defeated to unlock the midfielder's goal celebrations. Kicking enemies in the neck, as the Brazilian did to Lazio's Lucas Biglia in December 2015, probably isn't allowed. Which seems remiss.
RECOMMENDED The 23 best football games ever made: FIFA, PES, FM, Sensi and more
Defensive tactics?#FelipeMeloZpic.twitter.com/WwhFR64JHP
— Felipe Melo Z | Game (@FelipeMelo_Z) August 5, 2015
2. Brentford's Blackberry book
Now-retired Bees keeper Richard Lee wrote a book about his football journey on a Blackberry, mainly during his daily commute to Osterley from Cockfosters.
The 34-year-old has also appeared on Dragons'Den, and won a cash prize with the missus on ComeDine withMe. When a fellow contestant suggested footballers aren't very bright, Lee retorted: "I have a master practitioner award in neuro-linguistic programming."
His subsequent loan move to Fulham for the final months of his career in 2015 caused a Twitter spat between the two London clubs, after Brentford described their London rivals as "Championship strugglers". The Cottagers' official feed replied: "Bless." Miaow!
@BrentfordFC Bless.
— Fulham Football Club (@FulhamFC) March 27, 2015
3. Hargreaves' YouTube shorts
Released by Manchester United, Owen Hargreaves came over all Davina McCall as he made a series of fitness videos on YouTube in 2011 in a bid to revive his injury-hit career. The clips showed the former midfielder doing strength and conditioning exercises in a pair of tight-fitting bicycle shorts, and only one of him actually kicking a ball.
Hargreaves subsequently signed a one-year contract at Manchester City but made just one league appearance, later suggesting Sir Alex Ferguson's medical team may have tampered too much during his time at United. "After the injections, I tried to get back on my feet and they said my tendon was good, but it felt like I was made out of glass," he grumbled.
RECOMMENDED Proper fitness advice with FourFourTwo Performance
4. Arsenal rocked by Socco tweet
After being the only club in Europe's top five divisions not to sign an outfield player in the summer of 2015, Arsenal fans were vulnerable to any form of gossip. When Twitter suggested the Gunners had spent £34m on a 16-year-old called Rex Socco, the club's social media following went into panic mode (very uncharacteristic unbehaviour, we know).
Video clips of the player scoring wonderful goals were suddenly unearthed from nowhere, with comparisons made to fellow teenage sensation Anthony Martial, who had just moved to Manchester United for £36m. It was later rumbled as a hoax, however, with marketing agency Social Chain taking responsibility for creating the prank in the lead-up to the Soccerex Global Convention in Manchester. Soccerex… Rex Socco. Anagram, innit.
Seen Rex Socco play a few times, lad reminds me of a prime Henry. Already world class imo. Brilliant signing for us.
— Islington Matt. (@RosickyBall) September 6, 2015
5. Poldi's Facebook nuptials
On Valentine's Day 2015, Lukas Podolski received a message from a Brazilian woman, Santana Sontos, confirming she had met a German man through the Arsenal star's Facebook page and that the two were getting married.
Podolski, on loan at Inter, was bereft of goals but not the spirit of romance. "I'm glad for being the Cupid of this beautiful relationship," he gushed on his Instagram page. "I wish you two lots happiness, joy and longevity. Enjoy your love for the rest of your lives."
6. Essandoh, the analogue hero
Ahead of an FA Cup quarter-final clash with Leicester in 2001, Wycome Wanderers boss Lawrie Sanchez was desperate to find a striker to boost his injury-ravaged squad. Roy Essandoh, who had plied his trade in Finland for a few quid and Rushden and Diamonds for free, ran to Wycombe's aid after his agent saw Sanchez's plea on BBC's now-redundant Ceefax news service.
The Northern Irishman, who signed a two-year contract, duly headed an injury-time winner to secure the Chairboys a semi-final berth against Liverpool. Essandoh later cast doubt on parts of the fairy tale by admitting: "I guess the version that everyone knows makes for a better story." Spoilsport.
7. De Bruyne becomes royal search
When Prince Harry lookalike and Belgium international Kevin De Bruyne scored against the United States at the 2014 World Cup, the internet went into a frenzy as searches for His Royal Highburyness rose 44-fold.
Good Morning America also joined in the fun by tweeting: "Prince Harry is out to destroy America. He plays in Lukaku and it's 2-0. Sad, instrumental Barry Manilow music plays." The Belgian's real royal, King Philippe, came out to support the national team in Brazil. Come to think of it, he looks a bit like Sven…
8. Berba's Q&A with… er, Berba
The languid striker took the unusual step of conducting an interview with himself in January 2016 after being sent off for PAOK in their 1-0 defeat to AEK Athens in the Greek Super League, taking aim at the journalists who were coming up with "stupid things" such as questioning his commitment to his team's cause. Imagine...
In his Facebook interview, the Bulgarian took the guise of both a reporter, unimaginatively titled JDB (Journalist Dimitar Berbatov), and himself (DB). The exclusive was hardly memorable for its content, although the 34-year-old was civil to his hosts as he noted: "They are paying me good money amid all that is happening in Greece."
9. "Hi Barça!"... "Bye Barça!"
Barcelona signed Sergi Guardiola for their B team on the afternoon of December 29, 2015 but cancelled his contract on the same evening after some derogatory messages dating back to 2013 were discovered on his Twitter account. Among the the 24-year-old's social media musings were "I wouldn't have Messi in my team; he spoils the way the team plays" and the even more inflammatory "Up Real Madrid, and to hell with Catalonia".
Guardiola, no relation to Pep, pleaded his innocence. "I want to make clear I didn't write those tweets. A friend took my phone and did it. It's a misunderstanding. The tweets are from 2013, a joke from a friend."
Never mind – Guardiola can post "Hala Cristiano!" to his heart's content now.
10. Mutu's Photoshop faux pas
Adrian Mutu's colourful career took a farcical turn when he was left out of Romania's World Cup qualifier against Greece in November 2013, with the irate striker taking to Facebook to post an image of coach Victor Piturca as Mr Bean.
The picture was soon deleted – but not before the Romanian Football Federation had got a glimpse of the bumbling movie star in national colours. The former Chelsea player was told he would never represent his country again, but new coach Anghel Iordanescu has since thrown the 37-year-old a lifeline for possible selection at Euro 2016.
"It's a huge motivation for me to keep going and I am taking it very seriously," said the striker. More seriously than the French-inspired MrBean'sHoliday, we hope.
#ImagenAlaCancha Adrián Mutu publicó en Facebook una foto del entrenador de Rumania con la cara de Mr. Bean pic.twitter.com/EhuZlq4l3s
— Carlos Luis Uvidia (@cluvidia) November 24, 2013
Thank you for reading 5 articles this month* Join now for unlimited access
Enjoy your first month for just £1 / $1 / €1
*Read 5 free articles per month without a subscription
Join now for unlimited access
Try first month for just £1 / $1 / €1