12 footballers who scored (or threatened) deliberate own goals – and why
It's the ultimate act of betrayal, but a small number of players have done the unthinkable and put the ball into their own net on purpose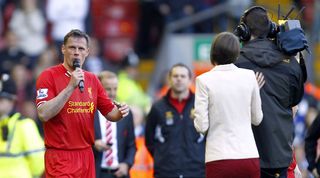 1. Steve McMahon (England)
England warmed up for Italia 90 with a friendly in Sardinia against a local XI which featured a young Gianfranco Zola. The purpose of the game was twofold: get Bobby Robson's squad some match practice before the tournament, and build bridges with the local community on the island where England would be based for the duration of the group stage.
At the time, English fans were feared across Europe and tensions were high, so the FA made clear to travelling supporters that acts of hooliganism could hurt the Three Lions' prospects. With that in mind, Liverpool's McMahon was instructed to collect the ball from kick-off, dribble the wrong way up the pitch and score in his own net.
The journalists present had been given a press release explaining the stunt, which stressed that "hooliganism was an own goal". But as Pete Davies explains in All Played Out, his seminal book on the tournament, the message was completely lost on the watching fans who wondered: "Had the heat got to McMahon here, or what?"
2. William Gallas (Chelsea)
Chelsea defender Gallas forced through an acrimonious move to Arsenal on transfer deadline day in 2006. The Blues hadn't wanted to sell, and took the unusual step of issuing a statement to claim their hand was forced by the player himself. The key paragraph read: "He went on to threaten that if he was forced to play, or if he was disciplined and financially punished for his breach of the rules, that he could score an own goal or get himself sent off, or make deliberate mistakes."
Gallas admitted wanting to leave, but denies going as far as threatening to score against the Blues. For neutrals at least, it's a shame it never came to that.
3. Ernst Happel (Austria)
He was the first man to win the European Cup with two different clubs as a manager, and collected a host of domestic honours in his native Austria, but Happel could be a nightmare to play with. According to the Guardian, the centre-back would deliberately unleash attempts at his own goal when his Rapid Vienna side were dominating games, telling close friend and keeper Walter Zeman: "Lucky for you I didn't hit you in the head or else you'd be dead."
He repeated the feat at international level, too: Austria were winning 15-0 in a warm-up game before the 1954 World Cup when Happel unleashed a 25-yard drive into his own net. The defender wanted, he explained after the game, "to show the opposition how to score". Charming.
4. Mursyid Effendi (Indonesia)
Like a US draft-dodger, Indonesia defender Effendi went to extraordinary lengths to avoid Vietnam. In the 1998 Tiger Cup, the winners of a group game between Indonesia and Thailand were set to play hosts Vietnam in the next round, while the losers would face unfancied Singapore.
With a low-intensity game on a horrifying pitch deadlocked at 2-2, Effendi rolled the ball into his own net while the Thailand players tried in vain to stop him. He was banned from international football for life, and Indonesia went on to lose to Singapore anyway. Justice.
Own goal at 0:57
5. Andrea Masiello (Bari)
Masiello isn't going to be winning an Oscar any time soon. In 2011, the defender was playing for Bari, who had already been relegated from Serie A, against Lecce – who desperately needed a win in the penultimate game of the season to secure their own safety. With his side already a goal down in front of 19,000 fans, Masiello clumsily poked a cross into his own net from close range, before collapsing on the goalline in mock anguish.
He later admitted that he'd been offered more than €50,000 to fix the game, and was duly given a 22-month suspended sentence. Masiello was one of nine players arrested in a wide-reaching operation which saw Bari docked seven points the following season, with Lecce eventually relegated to the third tier of Italian football. Masiello remains without a club and, unsurprisingly, his acting career hasn't yet taken off.
Own goal at 3:30
6. Mick Harford (Derby)
Club legend Harford headed plenty of goals for Luton in a six-year spell with the Hatters, before leaving for Derby in January 1990. Eighteen months later, the already-relegated Rams side travelled to Luton's Kenilworth Road on the final day of the season, with the home side needing a win to ensure top-flight survival.
While defending an inswinging free-kick, Harford rose in trademark fashion to flick a header over Peter Shilton and into his own net, "with great irony" according to the commentators. No one cried foul at the time, but the goal probably helped smooth things over when Harford returned to Luton a few months later. It took until 2011 for him to finally come clean in a radio interview and admit he'd scored the own goal on purpose.
Own goal at 5:05
7. PSS Sleman and PSIS Semarang
In 2014, Indonesian second division sides PSS Sleman and PSIS Semarang scored five own goals between them in the space of a few minutes, as they desperately tried to avoid a play-off semi-final clash with Borneo FC, who were rumoured to be backed by the local mafia.
Video footage shows the goalkeepers deliberately letting the ball roll past them into unguarded nets. The match ended 3-2 to Sleman, but both teams ended up being disqualified from the competition, which is one way of successfully avoiding a tricky tie.
Own goal at 0:22
8. Choi Eun-sung (Jeonbuk Motors)
South Korean forward Lee Dong-gook failed to score in 23 appearances for Middlesbrough, so there were more than a few raised eyebrows on Teesside when he accidentally unleashed a 40-yard screamer into the top corner (he was supposed to be returning the ball to the opposition keeper after an injury stoppage).
The incident took place in a K-League fixture in 2013, when Dong-Gook's Jeonbuk Motors side levelled the scores against Seongnam thanks to his inadvertent goal. After a heated discussion, the Jeonbuk players reluctantly decided to do the sporting thing: goalkeeper Choi Eun-sung booted in the winner from a few yards out.
Own goal at 1:50
9. Jamie Carragher (Liverpool)
Carragher was no stranger to own goals – the boyhood Everton fan scored seven against Liverpool in the Premier League, putting him joint-second on the all-time Premier League list behind Richard Dunne.
His only deliberate effort came in his testimonial, when the defender impatiently smashed a penalty past his own goalkeeper before departing to a standing ovation. In truth, though, referee Mark Halsey bottled it: the rules state he should have given a yellow card and ordered a retake.
10. SO l'Emyrne
The biggest defeat in football history started out as a childish protest. SO l'Emyrne, the defending champions of Madagascar, failed to retain their crown in 2002 after a contentious late penalty in a 2-2 draw. AS Adema were crowned champions as a result – and later that week, the two sides met in Toamasina on the island's east coast. Instead of the traditional guard of honour, SOE embarked on an ill-thought out (but admittedly well-executed) protest against the division's refereeing standards, orchestrated from the stands by coach Zaka Be.
Their plan? Knock in 149 deliberate own goals. As the opposition players stood bemused and fans besieged the ticket office in search of a refund, the protesting team continually kicked off by sending the ball towards their own net. They did somewhat labour the point, although the logistics of the effort remain impressive – it works out as an own goal every 36 seconds, barely enough time to pause for breath.
Inevitably, they were punished for their actions: the coach was suspended for three years, while four players including national team captain Manitranirina Andrianiaina were also banned. And, to add insult to injury, SOE ended up finishing third in the final group – on goal difference.
11. Dennis Evans (Arsenal)
It might shock you to learn that Lee Dixon's glorious floated chip over David Seaman is not the most ridiculous own goal scored by an Arsenal full-back. That honour goes to Evans, who played on the left of the defence for the Gunners in the 1950s.
At the end of a 4-0 home win over Blackpool in December 1955, Evans was in possession in his own penalty area when the whistle went. As Arsenal goalkeeper Con Sullivan turned to collect his cap and head back to the dressing room for a post-match cigar (or whatever players did in the '50s), Evans exuberantly booted the ball into his own net.
Only the match wasn't actually over – the whistle had come from the crowd and the goal stood, with the game ending 4-1 shortly afterwards. Oops.
12. Terry Sealey (Barbados)
Preparing for every eventuality is the key to sporting success, so kudos to Barbados coach Keith Griffith for doing just that and masterminding what may be the most farcical end to a football match in history.
The organisers of the 1994 Caribbean Cup, which began with a three-team qualifying group stage, decided that all draws would be settled with golden goal extra time. It was also, for some reason, decided that said golden goals would count double when it came to adding up goal difference at the end of the group.
Barbados faced Grenada in the last group game, needing to win by two clear goals to top the group and progress to the next round. Pegged back to 2-1 in the final few minutes, they gamely tried to re-establish a lead against a stubborn Grenada defence, before settling on a better plan.
With 87 minutes played, defender Terry Sealey and goalkeeper Horace Stoute passed the ball back and forth in their own area, before Sealey smashed it into his own net. It was 2-2, which meant the game was going to extra time, where Barbados would have the opportunity to score the double golden goal they needed to knock Grenada out.
Unless, that is, Grenada could score a goal in the remaining minutes of normal time – at either end of the pitch. But according to Stoute, Griffith had even prepared his team for this absurd scenario; Barbados duly split their team in half, with five players defending each end.
"We had a short discussion before the game on what to do if Grenada suspected it," the goalkeeper said in an interview with The Cauldron. "Our attackers would defend the Grenada goal, and our defence would maintain our defending, you know?"
Barbados succeeded, successfully keeping their opponents at bay at both ends until the end of normal time, before scoring the golden goal to win the group a few minutes into extra time. "I feel cheated," fumed Grenada boss James Clarkson after the game. "The person who came up with these rules must be a candidate for a madhouse."
Quizzes, features and footballing fun
Get the best features, fun and footballing frolics straight to your inbox every week.
Thank you for signing up to Four Four Two. You will receive a verification email shortly.
There was a problem. Please refresh the page and try again.