Footballers' official websites: 11 of the good, bad and (very) ugly
From the weird to wonderful and the downright woeful, Su-San Sit introduces a bizarre network of players' official websites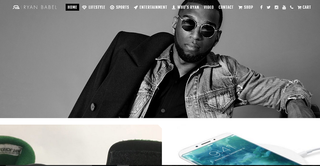 1. Kevin-Prince Boateng
If you expect to be dragged into the life of a super-rich footballer, Boateng's site caters for you nicely. It's a virtual tour of the Las Palmas man's cliff-side mega mansion, the Ghana international's avatar depicting him casually draped over poolside sunbeds and doing keepy-uppies in the kitchen.
Although bizarre, it's a spectacular display of online design. You're treated throughout to a hip-hop soundtrack – rapped by the man himself, no less – and a number of amusing virtual murals line most of the walls. Each room has different information about Boateng, including inspirational quotes and his advice on how to be the best; the main attraction, though, is the chance to watch his avatar take off like Superman into the sky.
2. Joey Barton
Barton has always been somewhat of an enigma: a divisive character prone to both violent outbursts and outbursts of enlightened opinions. Somewhat predictably, his website serves as a platform for the latter and casually ignores the former.
Admirably, his blog posts cut through the dull fog of PR-speak and offer up some valid questions and brutally honest opinions about issues in football. It's part interesting, part pretentious massaging of his ego, but it's always entertaining when the Burnley midfielder rants about some perceived injustice and aims barely veiled criticisms at colleagues. The biggest downside is the fact it hasn't been updated in a while. Perhaps he's got something more to elaborate on after his weekend antics against Lincoln.
3. Victor Wanyama
The Tottenham man is an avid Tweeter who occasionally serves up gems such as: "I had spaghetti and it was very nice I enjoyed it". You'd think, then, that Wanyama's official website features similar up-to-date insight into his life? Wrong.
Excitingly titled "MIGHTY KENYAN", it's quickly evident that the midfield enforcer hasn't put as much effort into his website. Still covered in Southampton crests, out-of-date information and a long-winded thank you to the site's creators, the domain has style but is lacking in substance. The opposite to Wanyama on the pitch, you might say.
4. Cristiano Ronaldo
Everything you'd expect from arguably the most famous footballer in the world: flamboyant, slightly narcissistic and featuring an entire section dedicated to pictures of him posing in his underwear (with an option to buy a pair or 20).
Besides those 'highlights', there's a video of Ronaldo explaining how to take selfies with a digital version of himself, suitably wrapped in bath towels while curling dumbbells. If you're a fan of the Real Madrid man and like being bombarded with close-ups of every angle of his face, this is the place for you.
5. Marouane Fellaini
If you've ever wondered what it would be like to go in for a 50/50 aerial clash with the big-haired brute, then make your way to Fellaini's official site. The homepage is a gigantic zoomed-in image of his head (which is, after all, mostly just his fuzz), but there's not much else to see here, save for a sidebar of his tweets and Facebook posts.
6. Marco Reus
Unlike many of the players on this list, Reus's team have put a lot of effort into creating an interactive website. Upon entering the page, you're greeted with 3D digital versions of the Borussia Dortmund star and given the opportunity to change his outfit while you find your way around (not into team colours of your choice, mind – so calm down Liverpool fans).
There's even a video explaining how multiple cameras were used to create the lifelike images of the Germany international, which is the same way actors are captured in animated films. Neat.
7. Sergio Ramos
Somewhat unnervingly, the first image on Ramos's website is of his face, which bobs up and down with your mouse until you agree to enter. The Real Madrid defender provides the usual stats, biography and pictures, but a random section on horses means this isn't just your average footballer's website.
That's right, horses. Ramos owns his own breeding farm in Spain, and there's a chance to take a journey with him via a documentary-style video in which the World Cup winner explains his passion for the heavy-hooved mammals. Sweet.
8. Raheem Sterling
Currently under construction – much like the player himself.
9. James Milner
If you were being harsh, you might declare that this site suits Milner's reputation for being a little dull, but there's plenty to admire in the Liverpool midfielder-cum-left-back's charity work. The foundation aims to help young people in need through sport, as well as raising money for other good causes. Hats off, Jimmy.
10. Juan Mata
Mata's offering may look much the same as the rest, but the diligent Manchester United schemer ensures his site is regularly updated with daily news, video blogs (imaginately named 'Mata TV') and pre- and post-match thoughts. The universally popular Spaniard is happy to interact with supporters, so don't be afraid to reach out.
11. Ryan Babel
Rather than opting for a mini-biography and some standard in-game photos, Babel's domain supplies everything from fashion news, to sport features, to celebrity shout-outs. There's even an online shop, where you can lose €25 for a black beanie emblazoned with the letters YNWA. Bargain.
Now read these...
Quizzes, features and footballing fun
Get the best features, fun and footballing frolics straight to your inbox every week.
Thank you for signing up to Four Four Two. You will receive a verification email shortly.
There was a problem. Please refresh the page and try again.