5 England managers who made bold calls by dropping big-name players – and where it got them
After Wayne Rooney was left out of the latest Three Lions squad by Gareth Southgate, Declan Warrington recalls other significant moves made by former bosses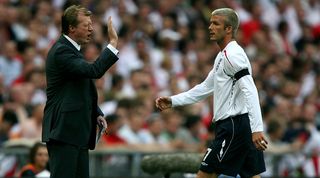 Even with Wayne Rooney omitted from the latest squad for this week's fixtures against Germany and Lithuania, it would seem premature to assume he will never play for England again.
The Manchester United man arguably remains one of the 23 best English players, and if he was to again play regular football in a competitive league there seems little reason why he wouldn't be recalled.
Regardless, Rooney's decline and plans to retire from the international game after Russia 2018 will pose Gareth Southgate a longer-term question. The 31-year-old will no longer be available for selection after the next major tournament, so should Southgate prepare for his eventual retirement by building a team that excludes him? Or will another 12 months in which he could slip further, while younger alternatives are simultaneously making progress, mean he will no longer have a place in his plans anyway?
Whenever it comes to pass, Southgate will almost certainly be the manager who oversees the end of Rooney's international career; given that he's England's record goalscorer and second-highest appearance-maker, the manager's decision surrounding Rooney could prove his biggest in the job.
To that end, FourFourTwo has revisited five other big personnel calls made by Southgate's predecessors...
1. Steve McClaren boots out Becks
After succeeding Sven-Goran Eriksson as England boss following the 2006 World Cup, McClaren dropped Beckham altogether for his first match in charge, a friendly with Greece.
The then-31-year-old had already resigned as captain at the end of that tournament, but there was little question he remained a quality player, as he consistently demonstrated when winning La Liga with Real Madrid the following year.
"I told David I was looking to change things, to go in a different direction, and he wasn't included within that," said McClaren, whose recent sacking at Derby was his second at Pride Park in less than 21 months.
He also spoke of his desire for England to play with "pace and penetration", but quite why he felt Shaun Wright-Phillips was a superior option as a squad player – particularly when Steven Gerrard started McClaren's first games on the right – was anyone's guess.
Observers felt McClaren was attempting to make a statement, which he certainly succeeded in doing, but England's performances and results began to decline after the 4-0 win against Greece, while the manager undermined the authority he'd tried to exert by recalling Beckham just nine months later.
McClaren was sacked in November 2007 after failing to reach Euro 2008; Beckham then remained a regular throughout qualification for the 2010 World Cup, often impressing under Fabio Capello.
2. Glenn Hoddle ends Gazza's international career
On the eve of France 98, amid concerns surrounding Paul Gascoigne's fitness, Hoddle took the unexpected call of dropping the midfielder from his squad for that summer's World Cup.
The midfielder was past his best at 31 and had been playing Division One football with Middlesbrough, though many felt his ability justified at least a squad place. Successor Paul Scholes excelled in his absence, impressing at perhaps the last competition in which England played consistently well.
It was how Hoddle handled the move – making each of the players included in his initial 28-strong squad queue to see him in a hotel room at allotted times – for which he was criticised, rather than the decision itself.
A raging Gascoigne responded by trashing the room, while Hoddle was sacked in February 1999 after making controversial comments about disabled people. Gascoigne never added to his 57 caps.
3. Sven subtly moves on from Seaman
A second costly error in three games ultimately ended Seaman's largely impressive run as England goalkeeper. In the Three Lions' second qualification fixture for Euro 2004, the Arsenal man was at fault when he allowed Macedonia's Artim Sakiri to score directly from a corner in a disappointing 2-2 home draw.
The 39-year-old had retained his place despite also being responsible for the long-range goal Ronaldinho scored against England in the 2002 World Cup two matches earlier.
"David hasn't lost his place," Eriksson said after the draw with Macedonia. "I've talked to him. He made a very good save in the second half. We have four months until our next game and we have a lot of time to go around to see players – and goalkeepers of course – and we will see what's happening."
The evidence offered by the remainder of the 2002/03 season, as David James reached his peak and Seaman continued to decline, ensured the latter's international career was over.
At his latest squad selection in May 2003, Eriksson said of Seaman: "I don't know if it's the end or not and it doesn't mean that I'm going to close the door. If he goes on playing well he's in competition with the others."
He never was recalled, though, and after an injury suffered at Manchester City following his departure from Arsenal, Seaman retired with 75 caps to his name.
4. Capello ruthlessly culls Owen
Even 18 months after Capello became England's second foreign manager, observers were predicting that Owen's transfer to Manchester United would lead to him becoming his country's record goalscorer. By that point, though, the Italian had given him only one cap, as a substitute in the 1-0 friendly defeat by France in 2008 – and that ultimately proved the last of his 89.
Having initially expressed understandable concerns about the striker's fitness, Capello told reporters: "If Michael Owen will play in the future, three or four games he will be with us."
But no recall ever came despite more regular appearances at United and a reasonable goalscoring record at a time when England's striking options were limited. It was perhaps little surprise that Owen, then 29, wasn't starting given Capello's long-term preference for bigger and more physical strikers, but vocal pundits – including Alan Shearer – couldn't understand why he wasn't at least in the squad.
Without him, Capello's side eased to qualification for the 2010 World Cup, where they performed appallingly. The Italian finally left as manager in February 2012, since when his once-great reputation has never quite recovered.
5. Sir Alf wins World Cup without Greaves
Even with Ramsey known to admire hard-working strikers such as Geoff Hurst and Roger Hunt – the pair who started the 1966 World Cup Final against West Germany – it was widely felt that Greaves's place in the starting XI at Wembley was guaranteed.
READ MORE
FourFourTwo's water-carrying XI: 11 quietly-brilliant stars who never really got the credit they deserved
The making of N'Golo Kante, by those who witnessed his incredible rise
Chelsea fans' taunts won't bother Jose Mourinho – he's only ever loved himself anyway
The widely respected inside forward had scored 21 goals in 29 games for Ramsey, and performed promisingly during the competition's group stage before suffering a gash on his leg against France.
Injury kept him from the respective quarter- and semi-final victories over Argentina and Portugal, in which Hunt and Hurst scored only once between them.
The fact that this was a time without substitutes increased the nature of Ramsey's gamble, but despite the prolific Greaves being available for the final, the manager had by then been convinced that the Hunt-Hurst partnership better suited his team.
The previously little-known Hurst – who'd earned only five caps and scored once before the competition began – justified what continues to be one of the biggest calls ever made by an England manager, netting the hat-trick that ensured a 4-2 triumph. Greaves, while still highly regarded, never really recovered his previous significance.
Thank you for reading 5 articles this month* Join now for unlimited access
Enjoy your first month for just £1 / $1 / €1
*Read 5 free articles per month without a subscription
Join now for unlimited access
Try first month for just £1 / $1 / €1