5 troubled Premier League stars who wish they were playing a decade ago
No one can choose when they're born, which must be frustrating for footballers who were catapulted into the wrong era. Declan Warrington picks out a handful of such unfortunates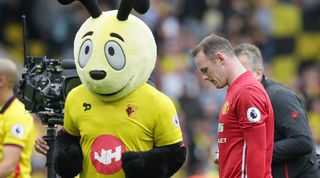 As Wayne Rooney comes to terms with the realisation that he no longer appears to have an obvious role for either club or country, he may well reflect on a time when he was the most exciting talent in English football.
That was during a time when most Premier League clubs still employed a 4-4-2 formation, including his two sides Everton and Manchester United. That soon changed, though: managers became more wary of being outnumbered in midfield and responded by pulling one of their strikers back into a deep role.
Rooney thrived when paired with a more orthodox centre-forward, which allowed him to put his creativity and explosiveness to good effect in a slightly withdrawn position. Fast forward to 2016, though, and the England captain is widely deemed a tactical burden whose presence unbalances his side.
Rooney's memorable 2003 goal against Arsenal
If 4-4-2 hadn't declined around the midway point of the 2000s, perhaps Rooney could have remained influential in a similar way to Teddy Sheringham, who didn't hang up his boots until the ripe old age of 42. Instead, he's been in decline for some years, and now struggles to find a natural place in the ubiquitous 4-2-3-1 configuration.
Here are four other players who would've been better off had they been born at different times...
1. Olivier Giroud (Arsenal)
Those players who have truly excelled as a lone striker in the modern game have most commonly been both prolific and fast. Fernando Torres, David Villa, Sergio Aguero, Didier Drogba and Robert Lewandowski are among the finest, with each member of the quintet possessing qualities Giroud lacks.
His touch, aerial ability and link-play make the Frenchman the most elegant of targetmen, however. An appropriate comparison can be made with Dimitar Berbatov, who became one of Europe's finest at Tottenham because of his Giroud-like qualities, before his career (eventually) declined after a big-money move to 4-3-3-playing Manchester United.
English football has always appreciated predatory strikers, and Giroud would probably have been considered the ideal partner for a clinical scorer like Michael Owen 15 years ago.
2. Cesc Fabregas (Chelsea)
Fabregas may still go down as one of the Premier League's greatest midfielders for his contributions at Arsenal and Chelsea, but it's hard to shake the feeling that he hasn't quite developed into the world-class star many thought he would. He was at his best at the Emirates Stadium, where he was afforded a great deal of freedom to create from deep and then storm forward to score goals.
Jose Mourinho demanded greater discipline at Chelsea, though: as one of the two deep-lying midfielders in a 4-2-3-1, Fabregas's exceptional creativity was constrained from the second half of his first season. His lack of mobility and poor defensive qualities proved costly in 2015/16, when both player and club endured underwhelming campaigns.
Antonio Conte demands similar discipline – as well as energy and tenacity – from his midfield players, and Fabregas's talents are again going to waste.
3. James Ward-Prowse, Southampton
Comparisons between Ward-Prowse and David Beckham may be premature, but it's clear that the two are similar stylistically. The Southampton man is an excellent passer with great vision, while his ability from set-pieces is reminiscent of the former England captain.
Ward-Prowse's biggest problem is that there's no obvious role for him in Claude Puel's 4-4-2 diamond, just as there wasn't in Ronald Koeman's 4-3-3. He's been tried on the right wing with an expectation that Saints' striker(s) can feed off his pinpoint deliveries, but he lacks the pace for a role in a front three and struggles to beat his man if he's closed down quickly.
There's still plenty of time for the technically terrific 21-year-old to nail down a position, but it's to be hoped that his career doesn't decline in a similar way to David Bentley's, another fine footballer with similar qualities.
Ward-Prowse scores against West Brom
4. Alberto Moreno, Liverpool
It's no secret that Moreno has severe defensive limitations – indeed, a midfield is being preferred to him right now – though his ability in the opposition half is a clear plus point in his game. He can dribble, pass, shoot and cross – all at signifcant speed – but a lack of awareness at the other end of the field has often proved costly.
Width is provided further forward in Jurgen Klopp's system, moreover, which means Moreno's yet to find his natural place. It's in recent years that full-backs have been given greater responsibility in the absence of two ground-covering central midfielders who used to protect them; as a result, Moreno's flaws are often exposed by Liverpool's strengths.
Thank you for reading 5 articles this month* Join now for unlimited access
Enjoy your first month for just £1 / $1 / €1
*Read 5 free articles per month without a subscription
Join now for unlimited access
Try first month for just £1 / $1 / €1
Get the FourFourTwo Newsletter
The best features, fun and footballing quizzes, straight to your inbox every week.