8 things Jurgen Klopp must do to win the Premier League this season
Liverpool haven't tasted league glory for 26 years, but hopes are higher under their popular German chief. Tim Ellis explains what the German needs to do to end the Reds' barren run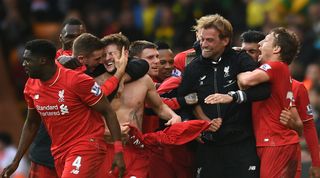 For Liverpool fans, the past quarter-century hasn't been entirely joyless. With three FA Cups, four League Cups, one UEFA Cup and a Champions League triumph that would have looked farfetched in a Roy of the Rovers cartoon, the Reds have a recent trophy record that most clubs in the country would crave.
However, it's the prospect of another year without English football's crowning glory, the Premier League title, that frustrates those at Anfield.
Rafael Benitez's side went close in the 2008/09 season, losing just twice and finishing as runners-up to Manchester United. Brendan Rodgers' class of 2013/14 went even closer, falling just two points short of Manchester City after a superb spring-time title battle.
So what are the chances Jurgen Klopp could go one better? It's possible, but there's plenty of work to do.
1. Capitalise on a lack of European football
During Liverpool's title tilt of 2014, Jose Mourinho couldn't help himself: "Liverpool keep going in their perfect season while we have no time to prepare matches like they have. When you have six days a week to prepare a match [like Liverpool] and maybe train twice a day, you have conditions to improve that nobody else has."
Finishing eighth last season was a direct result of trying to manage an ultimately unsuccessful Europa League campaign on Thursday nights. Now Jurgen Klopp has the time to implement his high-octane demands with a bit of breathing space for his players.
2. Foster that team spirit
Klopp's two titles at Borussia Dortmund were based on the idea of slaying a behemoth, namely Bayern Munich. The former Mainz boss has always thrived on beating teams that look better than his on paper. Currently, the Premier League hosts some monster teams with monster managers that will test this theory to the limit.
When the 49-year-old was appointed in October, he said: "If it's possible, can we be the hardest team to beat in the world? Let's try to be this. First of all, we have to talk to all Liverpool fans about what our expectations [are]. Expectations can be a big problem." He may feel the burden of those this season.
3. Forge a strikeforce in the image of Suarez and Sturridge
In 2013/14 there was the SAS, Luis Suarez and Daniel Sturridge, whose primary job was to score heavily and ensure the goals leaked at the other end weren't so damaging. The SAM – Sturridge and Sadio Mane – doesn't sound as nifty, but it might just work.
Mane has a great desire to win back possession and break on the counter-attack, attributes which will suit Klopp's needs as well as the pace of his strike partner. On the other hand, he's prone to going for long periods without finding the net: eight of his 11 Premier League goals last season came in the last eight games.
4. Embrace the pressure of achievement
If Liverpool find themselves in a position where there's something to play for at the end of the season then they'll have to overcome the fear that has hindered them over the last decade. Since the Champions League final defeat in Athens nine years ago, the Reds have seemingly learned how to lose when the heat is on, losing last season's Europa League final against Sevilla, the 2015 FA Cup semi-final to Aston Villa and all but conceding the Premier League title to Manchester City after losing to Chelsea in 2014. The Anfield unit need to create a mentality where pressure is a friend rather than a foe.
5. Sort the defence as a priority
Liverpool's ability to navigate a game, either in holding on to a narrow lead or putting a game to bed when on top, has been a severe problem for some time. Last season the Reds dropped a monumental 19 points from winning positions; contriving to lose to Southampton 3-2 (for whom Mane bagged a brace) having been 2-0 up was a prime example.
Joel Matip, a man well-known to Klopp from Schalke, should add some steel in the centre with Dejan Lovren a more solid prospect than under Brendan Rodgers. It remains to be seen where Alberto Moreno lies in the pecking order. A fit Jon Flanagan will be a welcome sight for red-blooded fans who remember his star turns during Rodgers' near miss.
6. Find the team's next Steven Gerrard
Every great team has a leader, but it was difficult to decipher who was driving Liverpool during their difficult periods last season. The collapses against Sevilla and Southampton were endemic of a side that had little or no idea of how to ride a storm when the momentum shifts. Steven Gerrard has had many positive things to say about Jordan Henderson's abilities, but Liverpool fans will be hoping he can inspire his troops more than he can be seen to mouth obscenities on the pitch.
7. Add more threat from midfield 
Liverpool's midfield is not bursting with goals. Adam Lallana has improved under Klopp, but his recent exploits for England show that he doesn't possess the cojones of a finisher. Henderson is similarly lacking in the goals department and Lucas's strike in a pre-season friendly against Fleetwood will probably be his only effort on target in 2016.
It would be unwise to pin all of Liverpool's hopes on a 20-year-old, but the acquisition of the sought-after Marko Grujic could help fix the problem. The Serbian finished the previous season with 29 appearances, six goals and seven assists for Red Star Belgrade. These are the numbers that the other senior midfielders must strive for.
8. Iron out goalkeeping nerves
For all his shot-stopping prowess, Simon Mignolet seems to shrink when the pressure is on. Klopp gave the Belgian a new contract last season but has raided his old club Mainz for Loris Karius, who has secured the No.1 shirt and declared: "I am not scared or anything. If I was, I wouldn't have come here. I have a good feeling. I wouldn't come here just to sit on the bench."
Quizzes, features and footballing fun
Get the best features, fun and footballing frolics straight to your inbox every week.
Thank you for signing up to Four Four Two. You will receive a verification email shortly.
There was a problem. Please refresh the page and try again.