Argentina flop, Lewa chokes, Giroud makes history and more: Five takeaways from day three of the World Cup
Day three of the World Cup 2022 produced one of the tournament's biggest-ever upsets.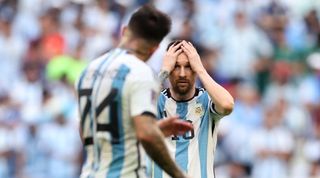 (Image credit: Getty Images)
Well, who saw that coming? Day three of the World Cup 2022 (opens in new tab) in Qatar kicked off with one of the tournament's greatest shocks ever, as Saudi Arabia came from behind to beat Argentina.
It was a disastrous start to what was expected to be a strong campaign for Lionel Messi's men, but led to scenes of elation and even a national holiday being declared (opens in new tab) in Saudi Arabia as they celebrated their greatest ever result.
Denmark and Tunisia played out a 0-0 draw, before Mexico and Poland did likewise - although Robert Lewandowski squandered a glorious chance to win it when his penalty was saved by Guillermo Ochoa. (opens in new tab)
Australia threatened a second major upset of the day when they took an early lead against France, but the defending champions responded strongly to win 4-1, with Olivier Giroud scoring a brace that sent him level with Thierry Henry on top of his country's all-time scoring charts. (opens in new tab)
Here are five big takeaways from an action-packed day in Qatar.
Saudi Arabia's high line takes advantage of new technology
During Argentina's opening Group C clash against Saudi Arabia, the South American side had already notched four goals by half-time - however, three of them were given as offside by automated offside technology, owing to Saudi Arabia's sound defensive work.
Indeed, the Asian team gambled on a high line throughout the game, a brave decision especially considering Argentina had Lionel Messi in their ranks. While the Argentine's through balls managed to penetrate Saudi Arabia's defence, nothing actually came to fruition, with offside repeatedly being called.
Their high line ensured Saudi Arabia didn't give any space for Messi to collect the ball in those positions we have become so accustomed to seeing over the years, while Argentina's lack of pace up front also meant Herve Renard's tactics were spot on.
Consequently, with the automated offside technology set to be introduced across football, could these high lines become a new craze managers are set to adopt?
It wouldn't be a surprise - football does work in cycles, and watching Saudi Arabia was reminiscent of defences sprinting out as soon as a player looked likely to play a pass in the early 1980s.
Argentina aren't as good as we first thought
Coming into World Cup 2022, Argentina were being touted as one of the tournament favourites (opens in new tab) alongside fellow South Americans Brazil, having gone unbeaten in 36 matches and winning Copa America in 2021.
However, if they can't manage to beat Saudi Arabia, how can they expect to get past Brazil in that heavily anticipated semi-final they're supposedly destined to play against each other?
Admittedly, Argentina dominated the first half against Saudi Arabia, but their lack of ideas once they had fallen behind certainly gives cause for concern. Messi struggled to take control of the game, while Lautaro Martinez and Angel Di Maria both looked sluggish in forward positions.
Pace is a necessity, but there aren't any players in the squad with that attribute, per se.
Lionel Scaloni has plenty to work on with his side now. With Poland and Mexico still to play in Group C - on paper, stronger opposition than Saudi Arabia - even getting out of the group looks a difficult test.
Only Spain have managed to win the World Cup after losing their first game at the tournament in its history, in 2010 against Switzerland. Argentina will have to defy those odds if they're to achieve glory in Qatar on December 18.
Lewandowski chokes again on World Cup stage
Robert Lewandowski's wait for a World Cup goal goes on. But this time, he'll be kicking himself that he's ended the day without breaking his duck.
The Poland striker, who has been so relentlessly prolific in the club game with Borussia Dortmund, Bayern Munich and now Barcelona, was handed a golden chance from the penalty spot during his side's opener against Mexico.
But 37-year-old goalkeeper Guillermo Ochoa guessed the right way, springing left to palm away a spot kick that, in truth, wasn't Lewa's best.
One thing's for sure – if Poland are going to get out of Group C and make their mark at this tournament, they are going to need Lewandowski to scratch his World Cup itch soon.
The 34-year-old has now played 360 minutes of tournament football against Japan, Colombia, Senegal and Mexico without scoring, an eternity by his standards. He has managed 11 shots in that time, four on target, but the ball just won't go in for him.
Giroud is ready to take the limelight in Benzema's absence
Olivier Giroud, aka the most beautiful man in football, became France's joint-top scorer of all time when he notched his second and France's fourth of the night in a comfortable 4-1 win over Australia.
Only Thierry Henry (you might have heard of him) can equal Giroud's 51 goals in a Les Bleus shirt, and the veteran could soon surpass the Arsenal legend if recent form is anything to go by.
The 36-year-old has been in terrific form for his club this season, scoring nine goals in 19 appearances in all competitions, and his first outing in Qatar might calm some French nerves after Karim Benzema dropped out of the squad on the eve of the tournament with injury.
The Ballon d'Or-winning Real Madrid superstar is a huge loss, but Giroud was ready to step up in his absence and by notching a brace, he already has more goals at Qatar 2022 than he managed in the last two World Cups combined.
Giroud was considered an unsung hero of France's success four years ago, featuring in every match without scoring a single goal, but the early signs here are that he's ready to step into the limelight.
𝐎𝐥𝐢𝐯𝐢𝐞𝐫 𝐆𝐢𝐫𝐨𝐮𝐝 𝐬𝐜𝐨𝐫𝐞𝐬 𝐡𝐢𝐬 𝟓𝟎𝐭𝐡 𝐚𝐧𝐝 𝟓𝟏𝐬𝐭 𝐠𝐨𝐚𝐥𝐬 𝐟𝐨𝐫 𝐅𝐫𝐚𝐧𝐜𝐞! 🇫🇷 He's now the joint all-time top goalscorer for his country alongside Thierry Henry...#ITVFootball | #FIFAWorldCup pic.twitter.com/P75aa5hkG9November 22, 2022
Have we got the 0-0 draws out the way?
The World Cup four years ago was something of a goal fest, as there were no 0-0 draws until France and Denmark played out a stalemate in their final group game.
Yet in Qatar, it took until just day three for us to have to sit through back-to-back games without goals. The Danes were at it again, drawing with Tunisia, while Mexico and Poland played out a stalemate.
Let's hope that we've now got our bore draw quota out of the way for this group stage.
One thing the Denmark game flagged up was that, as talented and fancied as this Danish team is, they lack a clinical finisher - and that could cost them.
Poor Andreus Cornelius won't want to watch back the moment he somehow failed to head in from about a yard out, while Kasper Dolberg was replaced after an ineffective game.
The Euro 2020 semi-finalists will be hoping to have their shooting boots on when they face France next – a team they've already beaten twice this year in the Nations League - because if they don't, there will be a lot of pressure riding on that final clash with Australia.
Thank you for reading 5 articles this month* Join now for unlimited access
Enjoy your first month for just £1 / $1 / €1
*Read 5 free articles per month without a subscription
Join now for unlimited access
Try first month for just £1 / $1 / €1