Time to party! Public holiday declared in Saudi Arabia after famous Argentina win
The Green Falcons left Lionel Messi and co. stunned in the opening game of Group C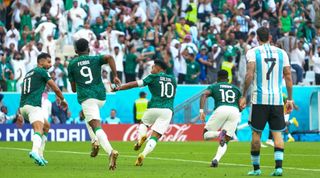 (Image credit: Getty Images)
A public holiday has been declared in Saudi Arabia on Wednesday following their famous World Cup 2022 (opens in new tab) win over Argentina.
The Green Falcons came from behind in the second half to claim an extraordinary 2-1 win over one of the pre-tournament favourites (opens in new tab) in Qatar in the opening game of Group C.
It was one of the biggest shocks in World Cup history (opens in new tab), and one of the greatest results ever for the Saudi Arabian national team – something that has been recognised by the government.
Multiple reports say that a public holiday has been declared on Wednesday for all state employees, private sector workers and students.
Argentina were on a 36-match unbeaten run stretching back to 2019 going into their opening game against the Saudis.
Chances of a shock result seemed thin to say the least when the teams went in at the break with Argentina 1-0 up through a Lionel Messi penalty, having had another three goals disallowed for offside.
But Saudi Arabia struck twice in the space of four minutes early in the second half to turn the game on its head and set up a victory that sparked euphoric scenes in the Middle Eastern nation.
This is the fifth World Cup the Saudis have competed at, but they haven't made it through to the knockout stages since their first outing in 1994.
They made it to the last 16 on that occasion, and are in a good position to repeat the feat in Qatar if they can get results against Poland and Mexico in their remaining games.
Thank you for reading 5 articles this month* Join now for unlimited access
Enjoy your first month for just £1 / $1 / €1
*Read 5 free articles per month without a subscription
Join now for unlimited access
Try first month for just £1 / $1 / €1