Where next for Eddie Howe? After Bournemouth, his biggest challenge is avoiding the Premier League's managerial merry-go-round
Eddie Howe may never be able to replace what he had at Bournemouth, but that should be what he aims for – and why he shouldn't take whatever job comes up next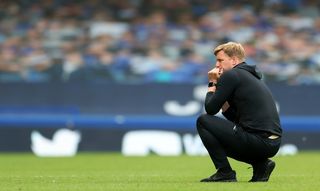 (Image credit: PA)
"Having spent a total of 25 years with the club as both a player and a manager, this decision - made together with the club - is one of the hardest I've ever had to make."
On Saturday, Eddie Howe and Bournemouth finally parted ways. It's been a long goodbye. Bournemouth's slide towards relegation has been slow and would eventually become inevitable. Over the final weeks of the Premier League season, the mental toll was plainly evident. While his side would win on the final day, Howe had spent the restart looking paler, and more haunted by the week.
What next?
A reputation like Howe's is fragile. His achievements at Bournemouth are significant, but their story has, at times, glossed over legitimate questions about his ability. His side have always conceded a lot of goals. They have also suffered through periods of creative inertia. In the grand scheme, that hasn't mattered; those issues were always contextually redundant, being generally more attributed to the club than they were to the coach.
Howe spent money and he was supported by surprisingly muscular recruitment. Nevertheless, his potential existed in a vacuum. Once it was decided that he was the Next Big Thing of British management, anything which clashed with that identity was presumed to be a result of his club's limitations.
ALSO READ What next for Eddie Howe? Three options for the ex-Bournemouth boss
That's still true now. Bournemouth have been relegated, but their porous defence and anaemic attack are seen more as products of their infrastructure – their wage budget, their geographical location, their relative status – then they are evidence of flaws in the Howe Theory.
It's a special privilege and it won't be on offer again. Naturally, it makes the decision which follows extremely important. As it does what happens between now and whenever that decision is taken.
The temptation will be to lunge for the first job on offer. For Howe, who has been continuously involved in the game since the end of his playing career, an off-season without a club will be an alien experience and likely one which compels him to jump into the arms of whichever of West Ham, Everton or Aston Villa comes calling first.
TOP-FLIGHT HISTORY
ALL-TIME TABLE After 28 Premier League seasons, where YOUR club sits
But pause for thought, because this is a fork in the road. This is the moment which will determine what his work at Bournemouth is worth and what it leads to.
The biggest concern is that he seems exhausted. Those who know him best talk of a detail-orientated man with an unbreakable work ethic and protecting those virtues has to be a priority. He needs some time off. But, looking around the Premier League, that might be tactically smart as much as it is a restorative experience.
At clubs where Premier League football feels like more of an entitlement, the environment will be harsher. The effects of failure would be far more corrosive on a reputation, causing the kind of irreversible damage that can be very difficult to repair.
It stresses the importance of finding the right fit - and an employment opportunity which doesn't seem to exist at the moment. Newcastle? Palace? There are supporting arguments to be made, but with plenty of infrastructural caveats.
EVERY NEW SHIRT New Premier League kits 2020/21: every released home and away shirt so far
Howe is a builder of culture. He's not someone – for instance – whose brand of management would be served by bouncing around the Premier League's middle class for the next few decades. He's not Mark Hughes, nor is he Alan Pardew. He won't take charge of a new team, change the starting lineup and formation, and then oversee a quick six-month upturn.
That helps makes the case for a hiatus. Perhaps not the kind of sabbatical that Pep Guardiola had, playing chess with Gary Kasparov in the mahogany wine bars of New York City, but certainly a period of time outside the game which would allow time to pass and the right kind of opening to appear.
Because Howe can't be treated as another coach or just the latest manager off the merry-go-round. He's not one of those transient characters who can just be pushed into a newly-emptied office and expected to perform. Instead, he's the sort that a chairman has to want to have lunch with on a Sunday and who's trusted to lock up the training ground at the end of the day. He's a figure around whom a club twines and grows.
That's what he has to find. Bournemouth was a once-in-a-career relationship which can never be replicated. Nevertheless, the key to Eddie Howe's future is replacing some of the elements which made it successful in the first place. And, having been insulated from Bournemouth's decline, this is the only chance he'll get to be forthright in demanding those ideals.
Don't waste it. Don't leave the beach and that stack of Lee Child novels until that chance presents itself.
While you're here, why not subscribe to the mag - get your first five issues for just £5, almost £25 cheaper than buying it in the shops!
ALSO READ...
LATEST New Premier League ball for 2020/21 season released: "Game-changing" Nike Flight now on sale
FIFA 21 NEWS Everything we know so far
DENNIS BERGKAMP EXCLUSIVE "I understand why people say I didn't really mean that Newcastle goal – but I did..."
Quizzes, features and footballing fun
Get the best features, fun and footballing frolics straight to your inbox every week.
Thank you for signing up to Four Four Two. You will receive a verification email shortly.
There was a problem. Please refresh the page and try again.