England World Cup 2022 squad: Gareth Southgate names his final 26-man squad for Qatar
The England 2022 World Cup squad has been announced with some notable omissions among the 26-man list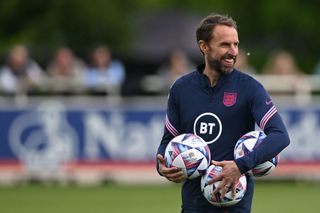 (Image credit: PAUL ELLIS/AFP via Getty Images)
The England 2022 World Cup squad has been named – with some surprises in the 26-man list.
We go again. Season One in 2018 saw the ascent of the most likeable England team for a generation, then last summer's Season Two ended with an inevitable tearjerker. The 2022 World Cup concludes the Gareth Southgate trilogy – the tease has been largely triumphant, but will the reveal turn to tragedy?
The lead characters are set in stone. Everyman striker Harry Kane is still the defining, steely line-leader, alongside speedy sidekick Raheem Sterling who silenced his critics during Euro 2020. The supporting cast of Bukayo Saka,
Phil Foden, Jude Bellingham, Reece James and Mason Mount have each developed nicely, while Declan Rice is now deemed one of Europe's most outstanding dynamic midfielders.
In the Mickey Rourke 'faded glamour' role, Harry Maguire, John Stones and Jordans Pickford and Henderson are seemingly international-proof: fixtures for England despite a flux of fortunes at club level. The increase to 26 squad spots may be a dream for sticker book collectors, but it's still not enough for the Three Lions' bulging depth.
How times change – not least from the sidelines, with Super Southgate at his most disarming when looking to complete a redemption arc. Once the punchline of Pizza Hut adverts and the epitome of failure on the international stage, he has transformed his nation's identity in his own self-effacing image. This is an England team defined not by its near-misses but in how it bounces back. England have generally reacted to defeat superbly under Southgate.
But the Nations League casts a dark shadow. June's grim showings were put down to fatigue but the limp loss to Italy and the draw with Germany – thrilling comeback notwithstanding – extended the Three Lions' winless run to six games, their longest since 1993. The doomsayers argue that this was the foreshadowing of Southgate's cycle coming to a painful end.
The Lionesses' summer success was built on a world-class coach picking a front-footed XI intent on attack. Will Saka, Foden, Mount and Jack Grealish ever be unleashed together?
For perhaps the first time, the burden of delivering a blockbuster weighs heavily on Southgate. First semi-finalists, then finalists – it's time to go one better. England expects.
England's squad
England 2022 World Cup squad: The 26-man squad for Qatar
GK: Jordan Pickford
GK: Nick Pope
GK: Aaron Ramsdale
DF: Trent Alexander-Arnold
DF: Conor Coady
DF: Eric Dier
DF: Harry Maguire
DF: Luke Shaw
DF: John Stones
DF: Kieran Trippier
DF: Kyle Walker
DF: Ben White
MF: Jude Bellingham
MF: Conor Gallagher
MF: Jordan Henderson
MF: Mason Mount
MF: Kalvin Phillips
MF: Declan Rice
FW: Phil Foden
FW: Jack Grealish
FW: Harry Kane
FW: James Maddison
FW: Marcus Rashford
FW: Bukayo Saka
FW: Raheem Sterling
FW: Callum Wilson
England World Cup 2022 top scorers
2 goals: Bukayo Saka
1 goal: Jude Bellingham, Raheem Sterling, Marcus Rashford, Jack Grealish
England World Cup 2022 yellow cards
England are yet to pick up a yellow card.
England World Cup 2022 squad numbers
1. Jordan Pickford
2. Kyle Walker
3. Luke Shaw
4. Declan Rice
5. John Stones
6. Harry Maguire
7. Jack Grealish
8. Jordan Henderson
9. Harry Kane
10. Raheem Sterling
11. Marcus Rashford
12. Kieran Trippier
13. Nick Pope
14. Kalvin Phillips
15. Eric Dier
16. Conor Coady
17. Bukayo Saka
18. Trent Alexander-Arnold
19. Mason Mount
20. Phil Foden
21. Ben White
22. Jude Bellingham
23. Aaron Ramsdale
24. Callum Wilson
25. James Maddison
26. Conor Gallagher
England manager: Gareth Southgate
Few have done 'the impossible job' with Gareth Southgate's grace. Yet the unlikely fashion icon prefers pragmatism to individual brilliance and, as such, his tactical acumen is under more scrutiny than ever following meek, avoidable defeats at Russia 2018 and Euro 2020 – not to mention the summer's horrific Nations League relegation.
England's star player
Harry Kane
How many players are England allowed to take to the 2022 World Cup?
It has been announced that 26-player squads will return for the Qatar World Cup, an expansion from the usual 23-man teams.
National managers were allowed to bring 26 players to last summer's European Championship for the first time at a major tournament, as a special measure brought in due to the COVID-19 pandemic. Due to the fixture congestion, the expanded squads have returned this time around.
Thank you for reading 5 articles this month* Join now for unlimited access
Enjoy your first month for just £1 / $1 / €1
*Read 5 free articles per month without a subscription
Join now for unlimited access
Try first month for just £1 / $1 / €1