Why England's shiny, self-aware new Golden Generation have everyone over a barrel – and we should love them for it
The latest young English talent breaking onto the international scene are doing things differently. That's why we adore them already – and it's how they might end up world-beaters, writes Clive Martin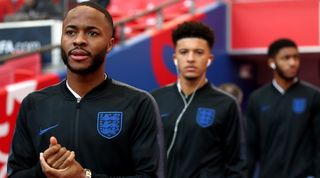 It was the Portuguese who first came up with the term 'a geração de ouro' – the Golden Generation. Theirs was the one of Luis Figo, Rui Costa, Nuno Gomes et al – a set of exciting young players who miraculously came of age around the same time, forming a team fit to carry the dreams of a football-obsessed nation after years of underachievement.
They won consecutive FIFA youth championships in the early '90s, but a decade of disappointment followed and the golden boys started to rust. The squad drifted, new players came in, a few lasted until Euro 2004 – but the term 'Golden Generation' stuck in the minds of a watching world.
The Czechs will also tell you they had a Golden Generation; the Hungarians and Colombians too. The French and Spanish have had a few. England can also probably lay claim with their Euro 2004 squad. Every now and again, retro football social media accounts will still post a team photo or formation graphic from the campaign: "Terry, Campbell, Lampard, Gerrard, Beckham, Owen, Rooney… how couldn't we?" they'll usually say.
Only now that a decade-and-a-half's dust has settled can we grasp how good we might have been, and how badly we fucked it up. At the time we didn't realise – even though we had players turning out for peak-era Manchester United, Arsenal, Chelsea and Liverpool, Ballon d'or nominees and goalscoring midfielders. Such a squad just seemed like a given, and it would only be until we embarrassed ourselves years later that we could see how good we were.
A different game
But that was then, an era in which people wondered whether David Beckham could still get into the England team because he was playing at Real Madrid. This is now, when 17-year-olds still uncapped by their parent teams have Twitter stan accounts, dedicated YouTube analyses, modelling agents and England call-ups. Now that we understand the potential of young players better (and perhaps they understand the game better), we're getting very excited about a harvest of youngsters still not old enough to hire a van.
These kids aren't just youth team prospects, they're players – 'ballers' as the current parlance goes. They have distinct styles and personalities, signature moves and haircuts. Many of them already have minutes, games and goals – others are chomping in the dugout, or honing their skills in the Championship. They are instantly recognisable, not quite household names yet, but certainly pub names. They range from the very much established; Raheem Sterling, Marcus Rashford, Dele Alli (we'll call Harry Kane a bit too old for this breed), to players who are basically embryos in football terms; Tahith Chong, Reece James, Emile Smith Rowe.
To watch them on the field is to see young players breaking through the preventive footballing codes that kept young players out of the game for so long. Not only do they have the pace and talent – the things you hope for from kids – but they also have the nous, the cojones of elite-level footballers. They get on the ball, they make things happen, they scare the bejesus out of 30-year-old full-backs – and basically look the real deal.
Because most of them are.
Too good not to make it?
Over the years, England has produced more than a few bright stars who have faded into injury, excess and obscurity. But there's just something about this mob which suggests that won't be the case. The way academies are managed these days seems to insulate them from the mistakes of the past; the horror stories of fallen prospects light a path not to venture down, where previously there wasn't one.
They create property portfolios when their forefathers probably laughed at Robbie Fowler for buying cheap houses in Liverpool; they hire personal chefs where those who came before stopped at chip shops on the way back from away games. Not only that, the way they play just suggests an innate potential for greatness and longevity that you don't remember seeing with Kieron Dyer.
Pessimists will point to the stats and say they really aren't that special – but there are no stats for that instinctive recognition of brilliance you get when watching some of these kids. Callum Hudson-Odoi may have scored fewer goals, played fewer Premier League minutes than other Chelsea academy nearly-men like Carlton Cole and Scott Sinclair – but it's the way he plays that's getting everyone excited.
There's an unshakeable confidence there, and definitely more than a dose of healthy arrogance. In the recent win over West Ham, there was a telling moment: after Jorginho overhit a pass to him, Hudon-Odoi gestured something like "that's twice now" at the Italian, like a master builder berating an apprentice. Jorginho has had his critics, but this was an 18-year-old essentially reprimanding a full international nearly 10 years his senior. That isn't something you see every day. That's not just being young and quick – it's having something about you; having what it takes.
You'll see similar examples of that grit and guile in so many of these players: Marcus Rashford's immense bottle when taking massive penalties for England and Manchester United; Dele Alli racking up consistently impressive stats season after season; James Maddison seamlessly moving from Championship starlet to creating the most chances of any player in the Premier League; Aaron Wan-Bissaka converting to full-back, getting into the Crystal Palace first team and being scouted by Manchester City in barely a year.
These aren't lads who might turn out alright – they're cold-blooded, determined professionals, just like the ones from Croatia and Belgium and Brazil.
Ambassadors for a better Britain
RECOMMENDED
INTERVIEW Jadon Sancho: Why I left Man City for Borussia Dortmund (opens in new tab)
ANALYSIS How Callum Hudson-Odoi epitomises the young English identity (opens in new tab)
In turn, there seems to be an incredible national goodwill towards them. Not in the same way we sometimes send our sportspeople out to international tournaments like noble infantry grunts to the killing field, but rather as standard bearers; representatives; ambassadors for a better Britain – Anthony Joshua rather than Anthony Blair.
The tabloid media tried to turn on Raheem Sterling, but it didn't work. He's one of the best players in the league, ironing out his youthful flaws and becoming an outspoken voice on racism in sport. They're now falling over themselves trying to win him back, but he doesn't need them. His Instagram alone has a bigger circulation than their papers.
Almost like the famous Venetian castrati singers, these young men have been gifted a special status in our society for their talent and beauty. They seem to be exalted above the trappings of mere mortals, carried through life on a cloud of Instagram likes and improved contracts. You can sense that in the way they play, the way crowds respond to them, the manner in which they interact with others – their boyish horseplay and boxfresh trainers. All that time practising one-twos in luxurious indoor training facilities, instead of pissing in pint glasses and beating up students, is clearly paying dividends.
Clean cut and Carabao Cups
Like many footballers before, there is something spornosexual, perhaps even androgynous about them. But it isn't in the sinister, hyper-moisturised manner of your Cristiano Ronaldos and Neymars. They're more like boyband members than downtown podium dancers; friendly, approachable, hairless, please and thank you men (although Trent Alexander-Arnold's World Cup chirpse messages suggest they're only human).
A lover of the chaos and violence of football might say that they're just influencers in boots; bland conduits for digital marketing and branded content. That their smiliness and Fortnite dances are just perfect fodder for Nike's 'Football Obsessed Teen' target demographic. That it's only natural that such an investment in academy systems would produce a few decent players.
Personally, I do find myself wanting a bit more dirt from them. Part of me does yearn for one of them to wreck an Audi TT, nut an assistant coach in the showers, knock up a beauty therapist. Something flawed. But knowing football, and young men, that won't be far off.
But the most impressive attribute of these boys, more so than the pass-completion rates and nifty assists – the one that really shows their resolve and separates them from so many who came before – is their control over the boardroom; their frank understanding of their value and demands for real game time. Jadon Sancho, for instance, could have just taken his lot at Manchester City, bided his time and maybe got the odd Carabao Cup start here and there. He could maybe play as much as Phil Foden is doing right now.
But he didn't do that. Instead, he made an incredible decision for an 18-year-old already at one of the world's richest clubs – to move to Germany and really show the world what he could do. Yet to him, it was barely a gamble. He already knew: he just needed the platform to show the world. Two years later he's arguably the brightest prospect in world football.
As a Chelsea fan, watching the saga of Callum Hudson-Odoi has been a painful one – his initial rise, his blackballing from the squad, the threats to leave. Yet I can't help but be in huge admiration for the cocky little bastard from Croydon who has one of the world's richest clubs over a barrel – scrabbling to please him, considering sacking managers and stumping up £100,000 a week to accommodate his demands. That he's barely old enough to watch Pulp Fiction is even more impressive.
Again, Hudson-Odoi is a player who knows his worth, knows what he can do and knows what he should be getting. What happened? Well, as soon as he was given a clear run in the team, he's looked absolutely irreplaceable.
2030's nearly men?
But of course, every Golden Generation has its nearly and never men. The famous Portuguese side had more than a few, including their Youth World Cup top scorer Paulo Torres, who only ever gained two senior caps.
Even Manchester United's exceptional Class of '92 had the likes of Adrian Doherty and Ben Thornley in their mix; players who were every bit as fancied, but never cut the mustard for one reason or another. The truth is that not all of this current crop of English youngsters will make it to the top – there will most likely be a few Ravel Morrisons and Michael Johnsons in the mix – especially as the hype around them starts to engulf any academy kid with an British passport and a yard of pace. But there will also be a few Ryan Shawcrosses and Kevin Davieses among them; players who never quite became superstars, but forged solid careers for themselves. And what more could a young player really ask for than that?
There is a worry that some, or maybe even all these players could turn out to be duds. That in 2022 we'll be still be turning out a midfield of Hendo, Dier and Delph rather than Mount, Maddison and Gibbs-White. But then, there is also the potential that the best of the bunch might not have even been unearthed yet. And that is a very exciting prospect indeed.
Now try...
UNPOPULAR OPINION Why Premier League clubs will finally need to join a European Super League (opens in new tab)
LISTEN FourFourTwo Podcast, Episode #2: Liverpool vs City (opens in new tab)
While you're here, why not take advantage of our brilliant new subscribers' offer? Get 5 copies of the world's greatest football magazine for just £5 (opens in new tab) – the game's greatest stories and finest journalism direct to your door for less than the cost of a London pint. Cheers!
New features you'd love on FourFourTwo.com (opens in new tab)
Thank you for reading 5 articles this month* Join now for unlimited access
Enjoy your first month for just £1 / $1 / €1
*Read 5 free articles per month without a subscription
Join now for unlimited access
Try first month for just £1 / $1 / €1