Even Moyes's friends don't believe he managed Manchester United
Literally nobody can recall David Moyes in charge at Old Trafford, Back of the Net can reveal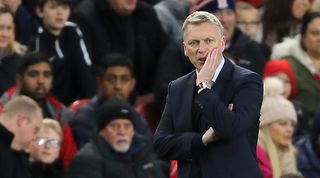 Sources close to David Moyes have revealed that the Sunderland boss has become frustrated that nobody believes he was once in charge of Manchester United.
As Moyes continues to struggle at the Stadium of Light, reports have surfaced that the Scottish tactician has become increasingly belligerent in stressing to friends and family that he was once the boss of Manchester United.
However, things turned ugly at a recent party when a group of Moyes's friends admitted that they believed he had fabricated his spell at Old Trafford.
"Moyesey [David Moyes] had made up this story that Sir Alex Ferguson himself had chosen him as his successor, it didn't even sound remotely believable," a source told FourFourTwo.
Fantasy world
"He told this fantastical tale of being given a six-year contract at Manchester United, which sounded dubious from the beginning. Then he seemed to realise we weren't buying it, so he said he was out of his depth during a transitional spell at the club, which was something we could imagine more easily.
"When someone gently suggested he may have in fact been managing Stoke City or Middlesbrough, he became aggressive and started saying he'd give everybody a slap."
Although Moyes did manage to load up a Wikipedia page that seemed to verify his claims, party goers still weren't convinced.
"Anyone can edit Wikipedia, even David Moyes," our source explained.
"I guess if he'd written the page, he may have created a more glorious spell at United and changed his profile pic, which looks like the wolf that ate Red Riding Hood - but in a way that was what was so clever about it all."
At the time of publication, Moyes had just made matters worse by claiming that he'd briefly coached Real Sociedad, but failed to produce a single word of Spanish to back that up.
Please note: This satirical news story is not real. Like, obviously.
Quizzes, features and footballing fun
Get the best features, fun and footballing frolics straight to your inbox every week.
Thank you for signing up to Four Four Two. You will receive a verification email shortly.
There was a problem. Please refresh the page and try again.