World Cup 2022: Every team's previous best World Cup performance
How far have the 32 teams at the World Cup 2022 previously gone in the tournament?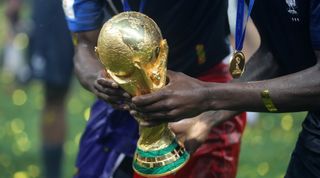 (Image credit: Stefan Matzke – sampics/Corbis via Getty Images)
Of the 32 teams who've qualified for World Cup 2022 (opens in new tab), 31 have been to at least one World Cup before.
From making the earliest possible exit to winning the whole thing, these nations from all four corners of the globe have experienced wildly contrasting fortunes on international football's grandest stage.
Some harbour realistic hopes of getting their hands on the trophy – while for others, just getting out of the group would represent a new best.
Here, FourFourTwo looks at the previous best World Cup performance of all 32 countries heading to Qatar this winter.
Qatar – never previously qualified
While they proved their continental prowess by winning the 2019 AFC Asian Cup – beating traditional AFC heavyweights South Korea and Japan in the quarter-finals and final respectively – Qatar have never previously qualified for the World Cup.
In doing so on home soil, they'll become the first host nation to debut at the tournament since Italy in the 1934 edition (and that was only the second ever).
Iran – first round / group stage (1978, 1998, 2006, 2014, 2018)
Will it be sixth time lucky for Iran this winter? The three-time champions of Asia have fallen at the first hurdle of every World Cup they've been to so far.
Team Melli came closest to reaching the second round of the tournament last time around in Russia, finishing third in their group, one point behind Spain and Portugal – having held the latter to a 1-1 draw.
Tunisia – group stage (1978, 1998, 2002, 2006, 2018)
Tunisia made history on their tournament debut in 1978 by becoming the first African team to win at World Cup: coming from behind to beat Mexico 3-1 in their opening match.
But the Eagles of Carthage have never made it beyond the group stage, failing to win their next 13 finals matches before a 2-1 victory over Panama in their final group fixture four years ago – when they also nearly held England to a draw.
Canada – group stage (1986)
Back at the World Cup after 36 years away, it shouldn't take much for Canada to better their performance in their only previous appearance.
Les Rouges – then coached by former England international Tony Waiters – lost all three group games at the tournament in Mexico – to France, Hungary and the Soviet Union – failing to score a single goal in the process.
Ecuador – last 16 (2006)
About to play at their fourth World Cup, Ecuador have recorded at least one win in each of their previous three finals appearances.
Two of those victories came at the 2006 tournament in Germany, where La Tri beat Poland and Costa Rica to finish second to the hosts in their group – teeing up a last 16 meeting with England, which they narrowly lost to David Beckham's exquisite 30-yard free-kick.
Saudi Arabia – last 16 (1994)
They've regularly been pushovers at the World Cup – losing 5-0 to hosts Russia in the 2018 tournament opener, 4-0 to Ukraine in 2006 and 8-0 to Germany four years before that – but Saudi Arabia have once advanced to the knockout stage.
That was at their first finals, USA 94, where the Green Falcons beat Morocco and Belgium – with Saeed Al-Owairian embarking on a mazy run against the latter to score one of the great World Cup goals – before bowing out to Sweden.
Australia – last 16 (2006)
Everyone over a certain age surely remembers Italy winning the 2006 World Cup – but do they remember just how hard Australia pushed them in the last 16?
The Socceroos gave the Azzurri – who played most of the second half with 10 men after Marco Materazzi was controversially sent off – a real run for their money in Kaiserslautern, only losing to a Francesco Totti's dubiously-awarded penalty deep into stoppage time.
Japan – last 16 (2002, 2010, 2018)
After losing all three games at their first World Cup in 1998, Japan were much improved as co-hosts in 2002, winning their group to tee up a last 16 clash with surprise package Turkey – which they lost 1-0.
The Samurai Blue have qualified for every tournament since then, twice matching their 2002 performance: they lost on penalties to Paraguay in 2010, before utterly capitulating against Belgium in 2018 as they threw away a 2-0 lead with 21 minutes to go.
Morocco – last 16 (1986)
Morocco have only won two of their 16 World Cup matches to date – but their first victory helped them advance from the group stage in 1986.
After holding Poland and England to goalless draws in their first two games, the Atlas Lions beat Portugal 3-1 to secure top spot in their group – then only lost 1-0 to eventual finalists West Germany in the last 16 through Lothar Matthaus' 88th-minute goal.
Senegal – quarter-finals (2002)
Senegal made one of the most memorable World Cup debuts at the 2002 tournament in South Korea and Japan – kicking things off in style as the late Papa Bouba Diop's goal stunned holders France in the opening game, prompting that iconic celebration by the corner flag.
Draws with Denmark and Uruguay saw them advance to the knockout rounds – where Henri Camara's golden goal sent Sweden packing in the last 16, before the tables were turned as Turkey defeated the Lions of Teranga the same way in the quarter-finals.
Wales – quarter-finals (1958)
Gearing up for only their second-ever World Cup, Wales are unlikely to match the uniqueness of their tournament debut 64 years ago.
After drawing all three of their group games, James Murphy's men came from behind to beat Hungary in a play-off and advance to face Brazil in the quarter-finals – where a 17-year-old forward by the name of Pele scored the decisive goal as the most successful nation in World Cup history took one step closer to their maiden triumph.
Mexico – quarter-finals (1970, 1986)
Along with Brazil, Mexico are one of just two countries to progress from the group stage at each of the last seven World Cups – but they've lost in the last 16 on all seven occasions.
El Tri have twice gone further, though, losing to the eventual runners-up in the quarter-finals both times they've hosted the tournament: 4-1 to Italy in 1970 and on penalties to West Germany 16 years later.
Denmark – quarter-finals (1998)
Shock European champions in 1992, Denmark failed to qualify for the 1994 World Cup – but they returned at France 98 and looked like they might upset the odds again.
After finishing as runners-up behind the hosts in their group, the Danes swept aside Nigeria 4-1 in the last 16 to meet Brazil in the quarter-finals – where Martin Jorgensen's second-minute strike briefly had the holders on the ropes, only for a Rivaldo-inspired comeback to extinguish Danish hopes.
Costa Rica – quarter-finals (2014)
The surprise package of the tournament, Costa Rica produced their best World Cup performance in reaching the quarter-finals in Brazil eight years ago.
After topping a group featuring former world champions Uruguay and (Roy Hodgson's admittedly hapless) England, they defeated Greece on penalties in the last 16.
That teed up a quarter-final encounter with the Netherlands – and, after a goalless 120 minutes, Los Ticos entered another shootout with even higher stakes. Dutch boss Louis van Gaal outwitted his counterpart Jorge Luis Pinto, though, bringing on penalty specialist Tim Krul – who saved two spot-kicks to end the Costa Rican dream.
Switzerland – quarter-finals (1934, 1938, 1954)
Switzerland's three World Cup quarter-final appearances have either come on home soil or in bordering countries.
On their tournament debut in 1934, they lost to Czechoslovakia in Italy; four years later, they were beaten on penalties by Germany in France.
But the Swiss' most notable knockout moment came as they hosted the 1954 finals: after thrashing Italy in a group play-off to reach the last eight, they went down 7-5 to neighbours Austria in the highest-scoring World Cup game of all time.
Cameroon – quarter-finals (1990)
The Cameroon side from Italia '90 have gone down as one of the World Cup's great cult teams, fired by the goals of 38-year-old fan favourite Roger Milla – who came out of international retirement at the request of Cameroonian President Paul Biya.
Having upset holders Argentina in the tournament opener, they won their group then edged past Colombia in the last 16 to set up a quarter-final tie with Bobby Robson's England.
And as the game in Naples entered the final 10 minutes, Cameroon were heading for the semis – only to concede a penalty, which Gary Lineker dispatched to take the game to extra time, where the same thing happened again and the Indomitable Lions were finally subdued.
Ghana – quarter-finals (2010)
As the World Cup came to Africa for the first time at South Africa 2010, Ghana flew the flag for the continent all the way to the last eight, emulating Cameroon and Senegal before them.
And it could (many will say should) have got even better than that for the Black Stars, who lost their quarter-final with Uruguay on penalties after one of the biggest sliding doors moments in World Cup history.
In the stoppage time at the end of extra time, Stephen Appiah saw his goal-bound header handled on the line by Luius Suarez; Ghana were awarded a penalty, Suarez was sent off, and up stepped Asamoah Gyan with the chance to be a hero.
But the striker (who curiously wore number 3) could only hit the bar with the very last kick of the game. He scored Ghana's first penalty of the shootout, but Uruguay ultimately won it 4-2.
United States – semi-finals (1930)
Eight of the 13 teams at the 1930 World Cup were from the Americas – among them the United States.
Of course, it has to be pointed out that the inaugural edition of the tournament consisted of only three rounds, but that doesn't change the fact that the US came within one game of reaching the final.
Unfortunately, after winning their group, they lost their semi-final 6-1 to Argentina in what remains one of the heaviest World Cup knockout defeats ever.
Poland – semi-finals (1974, 1982)
The Polish national team's golden era lasted from the early 70s until the mid-80s – and it was during that period that they hit their World Cup peak.
At the 1974 tournament in West Germany, the Eagles beat holders Brazil 1-0 in the third place play-off – having lost 1-0 to the hosts and ultimate winners in the semi-finals.
After going out at the group stage of Argentina '78, they again came third in 1982 – with a team propelled by the star quality of legendary midfielder Zbigniew Boniek – this time winning a 3-2 thriller against France after losing 2-0 to Italy (like West Germany eight years before, the eventual winners) in the semis.
Belgium – semi-finals (1986, 2018)
Belgium's golden generation will probably come to be looked back upon as one of international football's biggest underachievers.
The Red Devils' best chance of winning the World Cup came four years ago in Russia, where they sent Brazil packing in the quarter-finals before losing 1-0 to France in the last four – then beating England 2-0 to secure third spot.
And technically, that was their best World Cup performance: 32 years earlier, they lost 2-0 to Diego Maradona-inspired Argentina in the semis (the game which produced that so often misinterpreted photo (opens in new tab)) and were beaten 4-2 by France in the dreaded third place play-off.
Portugal – semi-finals (1966, 2006)
Portugal's greatest two players of all time, Eusebio and Cristiano Ronaldo have both helped their country to the last four of the World Cup.
In 1966, Eusebio bagged four goals as the Portuguese came from 3-0 down against North Korea to prevail 5-3 in their quarter-final at Goodison Park. That set up a clash with hosts England in the semis, where the 1965 Ballon d'Or winner left the pitch in tears after his late penalty wasn't enough to stop the Three Lions' march towards glory.
Forty years later in Germany, Portugal – having knocked Sven-Goran Eriksson's England out in the quarter-finals (feat. Wayne Rooney's red card, Ronaldo's wink, and England being rubbish at penalties) – met France for a place in the final but succumbed to a Zinedine Zidane penalty at the Allianz Arena (before losing 3-1 to the hosts in the third place play-off). Cue a repeat of Eusebio's tears 40 years earlier, this time from Ronaldo.
South Korea – semi-finals (2002)
Tainted by accusations of corruption after a string of eyebrow-raising refereeing decisions, South Korea's unlikely run to the semi-finals of the 2002 tournament – which they co-hosted with Japan – is not as pure as as some of the World Cup's other stories of underdog success.
The Taeguk Warriors' last 16 victory over Italy – courtesy of Ahn Jung-hwan's golden goal – left their opponents particularly aggrieved, with Italian officials claiming that the Azzurri had been stitched up by FIFA.
Spain also had cause for complaint after losing their quarter-final on penalties, with two controversial offside decisions having gone the way of South Korea during a goalless draw. That was after then FIFA boss Sepp Blatter had described (opens in new tab) some of the assistant referees at the tournament as "a disaster" (that feels rather ironic now, doesn't it).
With their semi-final edging towards extra, it looked like the South Koreans might make it all the way to the final – but Michael Ballack's 75th-minute penalty for Germany put paid to any such hopes.
Serbia – semi-finals (1930*, 1962*)
*as Yugoslavia
Recognised by FIFA and UEFA as the official successor to Serbia and Montenegro and Yugoslavia, Serbia inherited the latter's record.
They were one of only four European nations (along with France, Romania and Belgium) to compete at the inaugural, 1930 World Cup – where they won both group games, beating Brazil 2-1 and Bolivia 4-0, before being demolished 6-1 by hosts and eventual winners Uruguay in the semi-finals.
At the 1962 finals in Chile, they got revenge on Uruguay en route to finishing as group runners-up – then knocked out West Germany in the quarter-finals to set up a last four tie with Czechoslovakia, which they lost 3-1 late on.
Netherlands – runners-up (1974, 1978, 2010)
The World Cup's ultimate nearly men, no country has reached more finals without lifting the trophy than the Netherlands.
Rinus Michels' legendary 'Clockwork Oranje' team of 1974 are widely regarded as one of the best sides not to be crowned world champions. They made the ideal start against West Germany, taking the lead through Johan Neeskeens' second-minute penalty – the fastest goal ever scored in a World Cup final – before their rivals, hosting the tournament, came back to win 2-1.
Then, four years later in Argentina – this time coached by the great Ernst Happel – they forced the final against the hosts into extra time – but succumbed to a 3-1 defeat. The Oranje went to that tournament without the talismanic presence of Johan Cruyff, who revealed in 2008 that he opted to miss it after his family had been held at gunpoint by kidnappers in their own home some months earlier.
And it was not to be third time lucky at South Africa 2010, where Bert van Marwijk's side came within four minutes of taking the final against Spain to penalties – only for Andres Iniesta to break Dutch hearts.
Croatia – runners-up (2018)
Croatia made quite a splash in their first World Cup appearance at France '98, finishing third after a fine run to the semi-finals – where they lost the hosts and eventual winners.
And they were to find France blocking their path once again as they made it to the final – becoming the 13th country to do so – in 2018, losing 4-2 to Les Bleus. Mario Mandzukic took the dubious honour of becoming the first player to score an own goal in a World Cup final (although he did later find the right net).
Remarkably, Croatia's last 16, quarter-final and semi-finals victories over Denmark, hosts Russia, and England all went to extra time – with Zlatko Dalic's side winning the first two on penalties.
England – winners (1966)
Gareth Southgate's semi-finalists went some way to easing the pain in Russia four years ago, but it's now been 56 years of hurt for England.
Alf Ramsey masterminded the Three Lions' greatest triumph, secured through that iconic 4-2 win over West Germany in the final at Wembley.
Geoff Hurst – who remains the only player to score a hat-trick in a World Cup final – ultimately sealed it with two goals in extra time (the first of which definitely crossed the line, ok).
Argentina – winners (1978, 1986)
Argentina's World Cup successes of 1978 and 1986 were famous for very different reasons.
In 1978, La Albiceleste triumphed on home soil against the backdrop of a military coup, beating the Netherlands 3-1 after extra time in the final – which they reached by trouncing Peru 6-0, a result which prompted accusations of bribes.
Eight years later, they emerged victorious in one of the greatest finals of all time, Jorge Luis Burruchaga netting the decisive goal in a 3-2 win over Brazil (although a certain Diego Maradona ensured Argentina's 2-1 quarter-final defeat of England was more indelibly etched into history).
France – winners (1998, 2018)
The last host nation to lift the World Cup, France – captained by future boss Didier – Deschamps made light work of Brazil in the 1998 final: Zinedine Zidane bagged a first-half brace, with Emmanuel Petit rounding off a 3-0 win in second-half stoppage time.
Under Deschamps, Les Bleus went all the way again in 2018, living up to their billing as pre-tournament favourites; they notched 11 goals in the knockout stages alone, defeating Croatia 4-2 in a thrilling final in the Moscow rain.
Spain – winners (2010)
The dominant force in international football in the late 2000s and early 2010s – during which time they won three major tournaments in succession – Spain peaked at the 2010 World Cup in South Africa as they got their hands on the game's greatest prize for the very first time.
It's fair to say there have been better finals – but, with the game heading for penalties, up popped Andres Iniesta to send a nation into raptures (Spain also became the third side to win the World Cup after losing their opening match of the tournament).
Germany – winners (1954*, 1974*, 1990*, 2014)
*as West Germany
The most successful European nation in World Cups, Germany first tasted glory in neighbouring Switzerland in 1954; they didn't do it the easy way in the final, however, coming from 2-0 down inside eight minutes to beat Hungary 3-2.
While they were close enough to home in 1954, they hosted the tournament in 1974; captain Frenz Beckenbauer held the new World Cup trophy aloft after Gerd Muller's goal clinched a 2-1 final triumph over the Netherlands.
Sixteen years later at Italia '90, Beckenbauer was in the dugout as the Germans beat Argentina 1-0 in the final through Andreas Brehme's 85th-minute penalty in Rome.
Germany's first World Cup success as a unified country came in 2014, when they stunningly obliterated hosts Brazil 7-1 in the last four – before Mario Gotze's goal deep into stoppage time clinched a 1-0 win over Argentina in the final.
Brazil – winners (1958, 1962, 1970, 1994, 2002)
There's one country whose name is more synonymous with the World Cup than any other: Brazil, perennial qualifiers (they're the only nation to have played in every edition) and record five-time winners. On top of that, they're World Cup 2022 favourites (opens in new tab), too.
The Selecao's first triumph in 1958 remains their most famous: a 17-year-old forward by the name of Pele announced himself to the world, scoring six goals – including a brace in the final as Brazil thrashed hosts Sweden 5-2.
Pele missed most of the 1962 tournament in Chile through injury, but that didn't stop Brazil from going on to retain their crown – this time coming from behind to beat Czechoslovakia 3-1 in the final.
There was to be no third straight success in 1966 (more on that below), but they made it three triumphs from four tournaments in Mexico four years later; Pele scored what would be his last World Cup goal, sending the Selecao on their way to a 4-1 final win over Italy (Mario Zagallo, a member of Brazil's 1958 and 1962 squads, became the first person to win the World Cup as both a player and manager).
Brazil would endure their longest World Cup drought after that, not lifting the famous trophy (well, the trophy we know today as they kept the Jules Rimet after that third triumph) again until USA 94 – when Roberto Baggio's (in)famous penalty miss saw Italy defeated in a shootout following the only 0-0 draw in World Cup final history.
After finishing as runners-up to hosts France in 1998, Brazil, won their fifth – and most recent – World Cup at the 2002 tournament in Japan and South Korea, where Ronaldo stole the show and secured success with a second-half brace against Germany in the final.
Uruguay – winners (1930, 1950)
The greatest show in international football got underway 92 years ago in Uruguay – where the hosts went all the way, beating arch-rivals Argentina 4-2 in the final to become the first-ever world champions.
Twenty years later, Uruguay went and did it again – and this time they caused quite an upset, famously shocking hosts Brazil in the final group stage (this was the only World Cup without a one-off final match) to get their hands on the Jules Rimet Trophy for the second time.
Thank you for reading 5 articles this month* Join now for unlimited access
Enjoy your first month for just £1 / $1 / €1
*Read 5 free articles per month without a subscription
Join now for unlimited access
Try first month for just £1 / $1 / €1