How Fabinho became the world's best defensive midfielder
​Under Jurgen Klopp's tutelage, Fabinho has become vital to Liverpool. So why is he still so overlooked?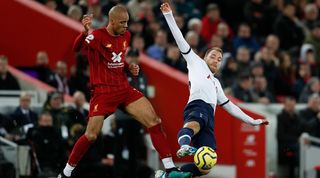 Liverpool didn't waste any time in making the signing of Fabinho from AS Monaco in the wake of their defeat to Real Madrid in the 2018 Champions League final: the £39 million deal was announced by the club less than 48 hours after their miserable night in Kiev. But Jurgen Klopp certainly took his time in introducing the Brazilian to his team-sheet, despite his early arrival allowing for a full pre-season in which he featured in all nine warmup friendlies.
It was October 27 before Fabinho made his first Premier League start for the Reds, coming in a 4-1 victory at home to Cardiff City, who were languishing towards the bottom of the table two months into their brief return to the top flight. A year on from that 90-minute outing, and Klopp discussed the long adjustment period he presided over for his No. 3, and how he and his backroom staff "thought we had to change system" to accommodate their summer signing.
The 'double six' setup of a 4-2-3-1 – which not only facilitated Fabinho's transition but also the game-changing form of Xherdan Shaqiri – lasted just three months before Klopp saw fit to shift back to the 4-3-3 which has, largely, been deployed ever since. The manager's assessment of Fabinho's impact on that tactical shift came with a well-tuned example: the 4-1 victory at Genk in the Champions League group stage, in which he anchored a midfield widely perceived as unbalanced, behind the incoming Naby Keita and Alex Oxlade-Chamberlain.
"Fabby had a lot to do, to sort some little gaps which we left open in different situations," Klopp said. "The job of the No. 6 in modern football is incredibly important. The more offensive all the players around you are, the more important it gets. But he's not only a 'gap-closer', a 'challenger' or whatever: he's a very good footballer as well."
That was further reinforced in Liverpool's 2-1 comeback victory over Tottenham four days later – a year to the day on from his league bow against Cardiff. It was a game in which the Reds thoroughly dominated: with 68.3% of possession, 21 shots on goal to Spurs' 11, and 13 on target to the visitors' four. Were it not for an inspired performance from stand-in goalkeeper Paulo Gazzaniga – who was forced into 12 saves to Alisson's three—Klopp's side would have maintained their lead at the top of the table with a significantly more convincing scoreline.
Liverpool suffocated Spurs, and key to this was Fabinho's role within Klopp's preferred 'big-game' midfield – next to Jordan Henderson and Gini Wijnaldum, alongside whom he has made nine of his 14 starts for the club this season. Before the game the manager outlined this setup as being "kind of a wall you have to try and go over," clearly opting for stability over the dynamism Oxlade-Chamberlain or Keita would provide, and Spurs certainly took this "go over" approach with their direct play. But once the Reds settled – and shook off the blow of Harry Kane's early opener – Fabinho was able to flex his multifaceted, front-footed brand of defensive midfield play.
As Liverpool pinned the Spurs defence further and further back, Fabinho was able to inch forward from his natural position on the edge of the centre circle, and every time the away side contrived to clear, there was the 26-year-old to collect and recycle; Klopp's gegenpress in full effect. Only Trent Alexander-Arnold and Dejan Lovren touched the ball more often than Fabinho in that victory, only Lovren made more passes, and no player on either side made more successful tackles or interceptions. Such was Liverpool's dominance that just one of Fabinho's 111 touches was in his own penalty area, only nine were in his defensive third and 73 were in Spurs' half. Thirty-two of his 92 passes were into the final third, only five were into the defensive third, 56 were directed forwards and two created chances for his team-mates. Sadio Mane, who won the penalty that led to Mohamed Salah's winner, earned the broadcaster's Man of the Match award, but it was Fabinho who was voted the standout by the supporters.
Born Fabio Henrique Tavares, known as Fabinho; the Brazilian is a man of many names. After his masterclass against Spurs, Klopp nicknamed him Dyson; Virgil van Dijk has labelled him Inspector Gadget ("his legs are everywhere!"); and to his Spanish and Portuguese-speaking team-mates, he has become flaco (or skinny, in English).
But perhaps the most fitting so far came from Liverpool's assistant manager, Pepijn Lijnders, who referred to the midfielder as being "like a lighthouse."
"Inside the 'organised chaos' that we want, that we like, he is like a lighthouse," Lijnders explained earlier in 2019. "He controls it and, for me, you can still have the style of the gaffer and how we want to identify ourselves."
He is a beacon within Liverpool's midfield; an assured presence who, regardless of the situation, is always available to receive the ball – and, as Klopp argued that he is "a very good footballer as well," he is able to diversify how he uses it: whether it be a simple pass, a dribble into space or the whipped passes out wide that has made him such a regular supplier to Alexander-Arnold. Fabinho has only been dispossessed once in the Premier League this season, fewer than 115 other midfielders in the English top flight. When the Reds don't have the ball, he is able to assert himself in the grittier aspects of the role, snapping into tackles, hounding opposing midfielders and cutting out hopeful passes.
Watch himself closely at the stadium, and you can appreciate the space Fabinho covers, the possession he regains and the niggling challenges he is able to execute; on TV, it is remarkable how often a ball is cleared from the opponents' penalty area, only for Liverpool's No. 3 to arrive from out of shot and keep his side on the front foot. He is clearly a popular member within the dressing room, now able to keep up with his team-mates in English, and while he may not be the most forthcoming with journalists, his dismissals always come with a flash of his enhanced white teeth. There is everything to like about Fabinho, whether you're his captain – and the player who has benefited the most from the Brazilian's introduction – Henderson, who described him as "perfect" for the position, a rival player like Declan Rice, who recently named his counterpart the best deep-lying midfielder in world football, or an onlooker such as Gary Neville, whose obvious biases against the Reds cannot be ignored but whose praise is consistent and effusive.
Like Rice, Neville believes Fabinho is in contention to be considered the best in the world, and it was bemusing that he, unlike seven of his team-mates, was not included in the 30-man shortlist for the 2019 Ballon d'Or award. Interestingly, the only players nominated who operate close to Fabinho's position were Wijnaldum and Frenkie de Jong, which could imply a lack of appreciation for those plying their trades in the engine room.
Or it could highlight a dearth of defensive midfielders currently operating at world-class level: a group which Fabinho should now be considered at least among the forefront. It may not be universally recognised at this stage – and not least by Brazil manager Tite, who regularly omits Fabinho from his starting line-up in favour of Casemiro – but after his long apprenticeship under Klopp at Anfield, Liverpool's lighthouse is establishing himself as one of the most vital, and most accomplished, No. 6s in football.
While you're here, why not take advantage of our brilliant subscribers' offer? Get the game's greatest stories and best journalism direct to your door for only £9.50 every quarter. Cheers!
NOW READ…
QUIZ Can you name every player to score 10+ Premier League goals for Liverpool?
LIST 19 high-profile players who are out of contract next summer
GUIDE Premier League live stream best VPN: how to watch every game from anywhere in the world
Thank you for reading 5 articles this month* Join now for unlimited access
Enjoy your first month for just £1 / $1 / €1
*Read 5 free articles per month without a subscription
Join now for unlimited access
Try first month for just £1 / $1 / €1