FFT's wry season review pt.4: David Moyes is on his bike, Mark Hughes is in the sky
Today's Back of the Net season review is brought to you by the letter 'S' and the number '6' (Premier League wins for Sunderland this season)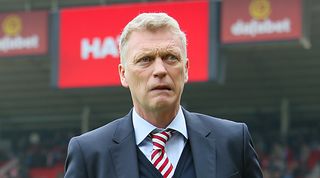 Southampton (8th)
Previously unpublished Back of the Net pre-season prediction: 8th
The lowdown: Stars like Sadio Mane, Victor Wanyama, Jose Fonte and Ronald Koeman may all have departed, but Southampton just keep rolling along, like a milk float with the handbrake off.
The best: Oriol Romeu provided no-nonsense solidity at the base of midfield, giving players like Nathan Redmond and Dusan Tadic a platform to indulge in plenty of free-flowing nonsense. Veteran goalkeeper Stuart Taylor did everything that was asked of him, which was nothing.
The worst: After Koeman's defection, Saints fans promised themselves they would never to get emotionally involved with a manager again, and accordingly treated Claude Puel with icy disdain. This led to widespread uncertainty over whether the St Mary's crowd was saying "Boo" or "Puu-el".
Need to do for next season: Since Southampton's best players will inevitably be poached by other teams, it is clear that the Saints' road to future success is through only buying bad players from now on.
Stoke (13th)
Previously unpublished Back of the Net pre-season prediction: 13th
The lowdown: Stoke delivered another year of mid-table mediocrity, with Mark Hughes drifting aimlessly through the season like a small, angry cloud. Potters fans lament that the squad has lost its identity in recent years, although supporters of other clubs would argue that that's no bad thing.
The best: Saido Berahino's arrival was a high point, especially when set against disappointments like Saido Berahino's performances.
The worst: Stoke's impressive defence only once conceded three goals in a single game. Unfortunately they conceded four goals in a single game on seven separate occasions.
Need to do for next season: Hughes must make the bet365 Stadium a harder place to come, by removing its location from Google Maps. He should also try to summon up some of that Tony Pulis spirit by picking eight centre-backs, at least three of whom should be dead-eyed bastards.
Sunderland (20th)
Previously unpublished Back of the Net pre-season prediction: 20th
The lowdown: Sunderland curled up in the relegation zone in September and slowly died, stinking out the Premier League for the remainder of the season. David Moyes must now rebuild his reputation from scratch, ideally in a different sport, like MotoGP or chessboxing.
The best: Without goalkeeper Jordan Pickford, the season could have been a galactic humiliation of unfathomable magnitude to stand as a warning to future generations, rather than merely a reprehensible embarrassment that stains the reputation of an entire region.
The worst: Picking a worst performer is the only area in which Sunderland's players were competitive. Of those who could be bothered to run around, Didier Ndong seemed the most aimless, but on closer inspection, his heat map invariably spelled the word 'HELP'.
Need to do for next season: The squad needs a comprehensive overhaul, so the Sunderland board will probably stick with the tried and tested approach of signing highly paid journeymen the wrong side of 30 who briefly impressed at other teams half a decade ago.
Swansea (15th)
Previously unpublished Back of the Net pre-season prediction: 15th
The lowdown: Having been the model of a straight-laced, sensible club for years, Swansea decided this would be a good season to go off the rails for a bit. Paul Clement arrived in January to settle things down again, and the Swans grudgingly stopped flirting with relegation, fun as it was to lead it on.
The best: 15-goal striker Fernando Llorente looked just like his old self, but he has one of those faces that ages well.
The worst: Despite looking like a maverick police officer, Bob Bradley played very much by the rules but did not get any results at all.
Need to do for next season: Clement should nail Gylfi Sigurdsson's feet to the Liberty Stadium grass to ward off potential suitors, though it might reduce his effectiveness.
Part 1 of this review features an Arsene and a Conte, Part 2 delves into Hull on earth, while Part 3 stars all of your favourite European super-coaches (plus bonus Aitor Karanka!)
Quizzes, features and footballing fun
Get the best features, fun and footballing frolics straight to your inbox every week.