Focus: Arsenal look to Ozil to unlock Allardyce's stubborn Sunderland
The German could be crucial for the injury-hit Gunners, but Alex Keble says Yann M'Vila will play a vital role for the visitors on Saturday afternoon…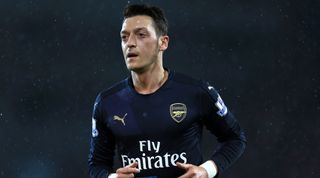 Just two weeks ago this fixture would have seemed like an easy win for the hosts, but a three-match winless run for injury-hit Arsenal and back-to-back victories for Sunderland has cast doubt on this prediction. A switch to 3-5-2 has brought stability for Sam Allardyce's team, and their centrally focused counter-attacks could challenge Arsenal's makeshift midfield.
Since the 6-2 defeat at Goodison Park, Allardyce hallmarks have begun to define this team: across their last three league games, Sunderland's shot concession has dropped from 16.9 per game to 13 per game. But aside from showing greater defensive solidity – by tightening gaps between the lines and using a flat five – Allardyce has also simplified their playing style.
In the last three their pass completion has dropped from 74.8% to 70%, the number of times they have been dispossessed has dropped from 9.1 per match to 6.3 per match, and their tackling rate has dropped from 23.5 per match to 19.0 per match.
More direct passing and clearer attacking instructions have helped de-clutter a team whose technical proficiency is questionable at this level; it would not be surprising if Arsenal hold more than 70% possession on Saturday as Sunderland sit in a compact shell deep in their own half.
As such, Mesut Ozil's vision and delicate touch could prove vital in picking a hole or exploiting the briefest lapse in concentration. Sebastian Coates has been in superb form as part of a back three in recent weeks; his propensity to anticipate the through ball and clear from danger will be crucial.
The pattern of this game when Arsenal are in possession is therefore easy to imagine, and though it remains likely that they will eventually break through and open the scoring, Sunderland's recent fixtures suggest that there could be intrigue at the other end. Sunderland's 3-5-2 was extremely narrow in attack against both Crystal Palace and Stoke City. This is partly because they are instructed to launch longer passes towards Steven Fletcher and Jermain Defoe quickly, and partly because width on the counter is tricky when – after sustained periods of territorial retreat – the wing-backs form part of a flat five.
It is for this reason that Yann M'Vila, bursting powerfully through the middle to launch the counter, has become integral to this team, and why Arsenal's injury crisis could be so important.
Francis Coquelin's injury will hugely affect Arsenal's season (their run of good form throughout 2015 correlates precisely with his selection) and leaves either Mathieu Flamini or Calum Chambers – who played in defensive midfield last week for the under-21s – to fill in.
It is difficult to predict Chambers' suitability to the role, and indeed he is likely being re-trained as a back-up option; Flamini was effective against Norwich, making three tackles and three interceptions. Coquelin is superb at cutting off passing lines and breaking up a counter; Flamini will need to play at his best to prevent M'Vila from dominating his space and Sunderland from earning a shock result at the Emirates.
​Arsenal vs Sunderland LIVE ANALYSIS with Stats Zone​
STATS ZONE Free on iOS • Free on Android
Thank you for reading 5 articles this month* Join now for unlimited access
Enjoy your first month for just £1 / $1 / €1
*Read 5 free articles per month without a subscription
Join now for unlimited access
Try first month for just £1 / $1 / €1