Football's all-time cricket XI
Tim Ellis carefully selects the 11 men who would form the beautiful game's all-time strongest cricket team...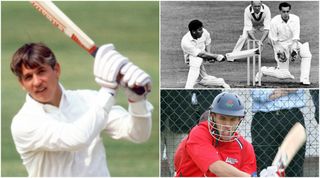 1. Christian Vieri
"The Bison" could so easily have been swinging a bat rather than a boot. He was born in Italy but moved to Sydney at the age of three and when asked who his sporting hero was, the former Inter (opens in new tab) striker once replied: "Allan Border" to a rather bemused, football-dominated press gathering. "To be honest, I wasn't very good at football. I loved cricket."
Legendary Aussie cricket captain Border swapped shirts with the Italian at the 1998 World Cup in France, where Vieri bagged five goals. We doubt that a tight-fitting football shirt would fit the beer-swilling Aussies of the 90s: on one flight from Sydney to London, Border's team-mate David Boon drank 52 cans of lager.
2. Gary Lineker
Striding out to the wicket in his whites (and a protective box under his pants) is Gary Lineker, who fancies himself with the bat in his hand. He often turns out for celebrity matches for Bunbury Cricket Club, where he has teamed up with none other than the shy and retiring Ian Wright.
In 1992, Lineker had his big chance for revenge after Italia 90, playing at the home of cricket, Lord's, in the European Cricketer Cup Final against none other than Germany. Unfortunately, he only scored one run before being caught. He joked: "I always score one against Germany."
3. Dietmar Hamann
A cricket fanatic, Hamann insists he was born English, which must explain why he became hooked on the game after the classic Freddie Flintoff-inspired Ashes series of 2005.
Didi once turned out for Alderley Edge CC 2nd XI in the Cheshire County Cricket League. In his 2012 autobiography, the former Liverpool (opens in new tab) midfielder recalled an evening spent spread betting during an Australia vs South Africa Test match.
"That night, I bought Australia for £2,800 at 340 runs. That meant for every run [they score] over 340, you win £2,800, but for every run under, you lose the same amount. Australia collapsed for 237."
It cost him £288,400.
4. Denis Compton
The original Brylcreem boy and the David Beckham of his generation, Compton won League and FA Cup winners medals with Arsenal (opens in new tab), playing on the left wing.
He was even better on a cricket pitch. He played over 70 times for England, averaging over 50 with the bat. In his debut for Middlesex, Compton was given out leg before wicket incorrectly because the umpire was desperate to get off the pitch and relieve himself. It's a long game, this cricket...
5. Willie "Fatty" Foulke
The heaviest man ever to represent England on the football pitch, "Fatty" played for Derbyshire County Cricket Club four times in 1900 when he was 24 stone.
He was more famous for winning the FA Cup twice with Sheffield United (opens in new tab), where his own supporters playfully rounded on him with the original version of "You fat b*****d, you fat b*****d, you ate all the pies."
It isn't known what Foulke had for lunch and tea in the cricket pavilion, but the Blades staff were always warned not to arrive late at the dinner table...
6 & 7. The Neville brothers
Phil was the youngest ever player for Lancashire's Second XI and apparently could have gone on to great things with the hard red ball if Old Trafford hadn't come calling.
He even played alongside Flintoff, who said: "Phil was our team's superstar when we were growing up. To give you an idea of his level, he captained England Under-15s at cricket, while I didn't even get in the squad."
Gary played for the Bolton Cricket League, where his biggest achievement was scoring a century in a huge partnership with bullish former Aussie opener and notorious "sledger" Matthew Hayden. Now we know where G-Nev gets his mouth from.
8. Andy Goram
The larger than life (but smaller than Foulkes) goalkeeper played over 600 competitive games for Rangers, Hibs, Motherwell, Manchester United and of course, Scotland.
He also played cricket for the Scots against the all-conquering Australian side of 1989 that thrashed England 4–0 and who included Merv Hughes, he of the broom-handle moustache, fast bowling and acidic tongue; Merv advised Goram to stick to football.
9. Steve Ogrizovic
'Oggy' may have been a legend at Coventry, notching up over 500 competitive matches at Highfield Road, but in 1983-84 he donned his cricket whites for Shropshire and bowled out the mighty West Indian batting legend Sir Vivian Richards.
Ogrizovic remembers: "I've got a picture of his leg peg cartwheeling out of the ground." Unfortunately, it was a no-ball, the cricket equivalent of offside, and therefore didn't count.
10. Alex Oxlade-Chamberlain
The Ox was a bit of a sporting all-rounder, apparently a decent scrum-half at rugby and also an opening batsman and wicketkeeper, rejecting a trial at Hampshire when football became a priority.
Whatever his prowess, he certainly impressed when Essex's professionals came calling at Arsenal's Colney training ground last summer for a challenge. Teaching such skills to teammate David Ospina might prove to be more difficult judging by the hysterical attempts at "bowling" from the Colombia goalkeeper.
11. Ron "Chopper" Harris
Last man in is the uncompromising Chelsea (opens in new tab) legend who made 795 appearances for the Blues. "Chopper" was actually offered terms by Middlesex as he was a promising youth, but according to a source he "decided that football offered more opportunities for violence".
Chelsea were offering more money as well at £6 a game. Harris rather fondly remembers the etiquette of cricket: "I used to play a lot of cricket. If you thought you were out you walked but there's not too many people do that today." What a gentleman.
More features every day on FFT.com (opens in new tab)
Thank you for reading 5 articles this month* Join now for unlimited access
Enjoy your first month for just £1 / $1 / €1
*Read 5 free articles per month without a subscription
Join now for unlimited access
Try first month for just £1 / $1 / €1