The FourFourTwo Preview: Liverpool vs Man City
Premier League | Anfield | Sun 13 Apr | 1:37pm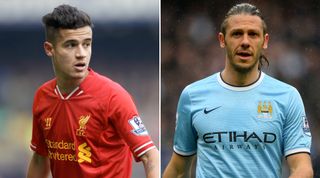 Billed as
The biggest match of the season. And, to be fair, that's about right.
The lowdown
Could anyone have seen this coming in a month of Super Sundays? Liverpool, fifth at the turn of the year, have swashbuckled to their most convincing tilt at a league title in 23 years. Victory over Manchester City, four points behind but with two games in hand, would put a thrilling achievement firmly in their sights.
LIVERPOOL FORM
West Ham 1-2 Liverpool (Prem)
Liverpool 4-0 Spurs (Prem)
Liverpool 2-1 S'land (Prem)
Cardiff 3-6 Liverpool (Prem)
Man Utd 0-3 Liverpool (Prem)
MAN CITY FORM
Man City 4-1 So'ton (Prem)
Arsenal 1-1 Man City (Prem)
Man Utd 0-3 Man City (Prem)
Man City 5-0 Fulham (Prem)
Hull 0-2 Man City (Prem)
The summer seems long ago. Brendan Rodgers' side had finished seventh in the 2012/13 Premier League and it was dangerously fashionable to dismiss the pass, pass, passmaster as something of a charlatan. Luis Suarez wasn't helping their prospects, becoming embroiled in an opaque bore of a transfer saga and then feeling the bite of suspension for the season's first five games.
Since then, Liverpool have become the team you can't take your eyes off. Suarez and Daniel Sturridge, two soloists who rarely complete 90 minutes without exchanging at least one smouldering glare, have scored 49 Premier League goals – of all shapes and sizes – between them. Steven Gerrard, nearly 34 and newly pulling the strings from deep, has amassed 13.
Throw an energised Jordan Henderson, maturing Raheem Sterling and a twinkle-toed Philippe Coutinho into the mix, and Liverpool are playing some of the most proactive and – excuse the term – 'modern' football that the Premier League has seen in many years. With nine wins on the trot, the momentum is all theirs.
Well, hold on. When Sergio Aguero spent 45 minutes running amok through Spurs' defence in February, it seemed City would be unstoppable. The Argentine's hamstring had other ideas; he didn't reappear for the second period and City evinced a worrying fallibility in his absence. Defeat to Chelsea and a draw at Norwich suggested a wobble, with FA Cup and Champions League exits – including an abortive Aguero comeback – doing little to salve the wounds.
Bereft of distractions, City have recaptured some attacking vim; Hull, Fulham, Manchester United and Southampton have all been disposed of with minimal fuss in the last month, and Arsenal drawn with. Fifteen goals have been scored.
And here's the thing: Aguero, all 26 goals of him (15 in the Premier League) looks likely to be back this weekend. If City needed someone to push them over the line, their man has arrived in the nick of time.
So are we set for a gung-ho thriller? Not necessarily – both have been skinning cats in different ways lately, Liverpool sandwiching an exciting dismissal of Spurs with relatively workmanlike fare against Sunderland and West Ham, while there's a feeling that City, who got slightly lucky against Southampton last week, haven't needed to hit top gear against pretty compliant opposition. But whichever way it goes, this game looks like one to justify the hoopla: when two such free-flowing sides are vying for stakes like these, everything seems that little bit better with the world.
Team news
Aguero's likely return, whether from the start or the bench, is the headline news here. Matija Nastasic continues to be laid low, but otherwise City look in good health ahead of Sunday's match. Jose Enrique doesn't look like featuring again for Liverpool this season but, his knee injury apart, the same goes for them. For this stage of the campaign, it's a pretty impressive bill of health all round.
Player to watch: Martin Demichelis (Man City)
Really? Really. Although they've been back among the goals, City's return to form has equally been predicated on an improved performance from their back-line. Three clean sheets from five after their Barcelona disappointment has been a decent return, with the 33-year-old Argentine seemingly set to see out the season alongside Vincent Kompany at centre-back.
Demichelis's season at City has appeared thoroughly ill-starred on the whole – never more so than when he received his first-leg red card against the Catalans – but, from a figure of fun, he has looked a reasonably reliable partner to Kompany in recent weeks, and his technical nous hasn't been unwelcome. He will, however, be the first link that Suarez and Sturridge look to exploit: it might take his best City performance yet, but keeping them at arm's length would give City more than half a chance.
LAST FIVE MEETINGS
City 2-1 Liverpool (Prem, Dec 13)
City 2-2 Liverpool (Prem, Feb 13)
Liverpool 2-2 City (Prem, Aug 12)
Liverpool 2-2 City (LC, Jan 12)
City 0-1 Liverpool (LC, Jan 12)
The managers
These two are more likely exchange to post-match pleasantries in Spanish over a cooling cerveza than stew over any enmity that might briefly rear its head on the Anfield touchline.
A studious and surprisingly pleasant pair of rivals, Rodgers and Pellegrini have steered clear of kidology despite the intensification of their sides' duel, the latter drawing a line in the sand back in February when rhetorically asking: "I don't know if you think managers who play mind games are more intelligent? I don't think so."
At that point, the Chilean appeared braced for a gruelling regimen of barbs from Jose Mourinho; instead, it seems that we might be in for the politest run-in since Geoff Shreeves first asked a provocative question.
Facts and figures
Liverpool have won just 1 of their last 10 meetings with Man City as this fixture has been drawn 4 of the past 5 seasons.
6 of the 7 meetings between these teams since 2010/11 have had at least 3 goals.
12 of Liverpool's last 13 away matches have had at least 3 goals with 11 having 4 or more.
City are unbeaten in 10 away games and in the previous 2 seasons they lost just 2 of 8 trips to top-five finishers (W5 D1 L2).
There have been 30 clashes between two top-five finishers between March and May in the previous 5 seasons and 15 were level at half-time.
Best Bet:Over 3.5 Goals @ 2.30
More FFT Stats Zone facts• Find the best odds with Bet Butler
FourFourTwo prediction
Anfield has been waiting for this a very long time – there's a reason black market tickets have been circulating for upwards of £2,000. Liverpool need to win this one, with City enjoying a softer run-in on paper, and they'll bring the dream closer by taking it 2-1 in front of a febrile home support.
Liverpool vs Man City LIVE ANALYSIS with Stats Zone
Quizzes, features and footballing fun
Get the best features, fun and footballing frolics straight to your inbox every week.
Thank you for signing up to Four Four Two. You will receive a verification email shortly.
There was a problem. Please refresh the page and try again.