Matias Kranevitter: Atleti's future star who's stepping into Mascherano's shoes
Diego Simeone can't wait to have the 22-year-old in Madrid. David Cartlidge explains why the Atletico Madrid boss is getting excited...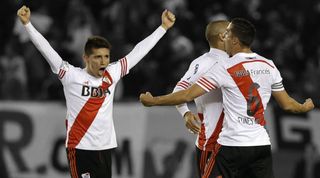 The 60-second story
FACT FILE
Date of birth: May 21, 1993
Place of birth: San Miguel de Tucumán, Argentina
Height: 5ft 10in
Position: Defensive midfield
Club: Atletico Madrid (on loan at River Plate)
Former club(s): River Plate
International: Argentina (1 cap, 0 goals)
Atletico Madrid demonstrated their continued commitment to sourcing the best young talent in South America, in particular Argentina and Uruguay, when they snapped up Matias Kranevitter in the summer.
The Madrid-based outfit beat a host of interested parties to secure the player some are calling the next great Argentine midfielder.
It's a tag that has been used frequently with mixed results, but those with great reputations are putting their money on Kranevitter succeeding where others have failed. The player, spotted by a River Plate scout at 14, first caught the attention of senior sources when featuring for River's winning side in the Under-20 Copa Libertadores.
His next step to the first team was a difficult one, given that the experienced duo of Cristian Ledesma and Leonardo Ponzio were in his way. Under Ramon Diaz he was given his first shot, but not a thorough chance of being a regular. Still, he made his debut in December 2012 and would start nine times in River's successful Torneo Final during 2013/14.
Marcelo Gallardo's arrival as coach saw Kranevitter become River's central hub. Even though a fractured metatarsal briefly stalled his ascent, upon returning he continued as a regular and key link in Gallardo's side. More success followed with Copa Sudamericana and Libertadores triumphs.
The 22-year-old will stay in Argentina until December as part of his €8 million move, his final act to help River secure the World Club Cup against opponents including Barcelona.
Why you need to know him
With a move to Europe already sealed, it will be imperative to keep close watch on Kranevitter's progress. He's arguably moved at the right time, gaining enough experience at River by honing his game and claiming a series of titles. Diego Simeone is rarely so enamoured with an individual, and when he is they're worth keeping track of. El Cholo demanded Atleti's board did what it took to seal the signing of a player who he believes will be vital to Atleti's progression as a club – and eventually Argentina's.
The demands will be significant at the Vicente Calderon, but if Kranevitter can handle the energy-sapping training sessions and show maturity upon arrival, then he could close in on a first-team spot sooner rather than later. Tiago and Gabi's powers are beginning to fade somewhat, so the Argentine should be prepared.
When it comes to the national team, a plan appears to be in motion to fast track him into the mix. Tata Martino wanted to call Kranevitter up a year ago, but that metatarsal injury blocked the move.
The young midfielder's debut eventually came recently against Bolivia, and deputising for Javier Mascherano – the player many compare him with – he didn't disappoint. Argentina won 7-0, and Kranevitter showed the full array of his midfield qualities. Most notably, he produced a neat assist for soon-to-be club-mate Angel Correa, and generally looked ice cool in possession.
Strengths
The Mascherano comparison has tagged itself to Kranevitter since his arrival onto the scene, but there is more to him that meets the eye. While both are classic Argentine No.5s, Kranevitter boasts better playmaking attributes. While Mascherano is more visible in front of his defence and aware of opponents behind him, the new boy prefers to look ahead. Kranevitter is an accomplished player on the ball, able to carry it into advanced areas while also offering a decent range of passing to offer variation in midfield. It's no surprise, given coach Gallardo suggested watching some videos of how Sergio Busquets and Andrea Pirlo approach their game. Kranevitter can bring others into play, but just because he's so efficient at this doesn't mean defensive awareness takes a back seat. He can rough it up when needs be, produce tackles and provide intelligence off the ball – something Simeone will be most interested in.
Weaknesses
Kranevitter will need to make sure his positional play is sound when it comes to covering his defence, as he lacks pace. It's there he may be found out, but this lack of speed isn't exactly an uncommon trait among defensive midfielders. If he can remain aware and read the game well then the issue won't be as significant.
They said…
"Kranevitter is one of the best midfielders in Argentina," said former manager Ramon Diaz. Future boss Simeone noted: "I've been following him, and Gio (Simeone's son and Kranevitter's team-mate at River Plate) speaks very well of him. He's a good midfielder." Former River and Uruguay favourite Enzo Francescoli was even more gushing in his praise, declaring: "Matias is a player with a level of game that isn't easy to find. He holds the team together, and plays well positionally. He's always thinking of getting back the ball, even when River has the ball! He has characteristics of Mascherano, especially when it comes to pressing. Matias will be the successor to Mascherano."
Did you know?
Matias was born in the town of Yerba Buena in Tucumán, a northern province in Argentina. In the area there are several golf courses, and a young Kranevitter had a job as a caddy at one of them.
Being from a large family he had to help out with money, and was paid 15 pesos a shift – of which 10 he gave to his mother. "At 12 I went to school in the morning, and in the afternoon I worked as a caddy.
In the evening it was was practising football," recalls the player, who also admits he had a choice to make between football and golf in terms of a career.
What happens next?
Kranevitter will join Atleti ready for the New Year. Buenos Aires giants River have aspirations of claiming a Club World Cup title, and wanted their midfield maestro to be present throughout.
Upon arriving in Madrid it will be a case of winning a place in Simeone's team. Given the maturity and level of composure shown in his career so far, the 22-year-old will no doubt thrive on the challenge.
Get the inside track on football's hottest prospects with Talentspotter
Thank you for reading 5 articles this month* Join now for unlimited access
Enjoy your first month for just £1 / $1 / €1
*Read 5 free articles per month without a subscription
Join now for unlimited access
Try first month for just £1 / $1 / €1