Meet the future England star Wenger will hope to pinch from under Mourinho's nose
Nick Ames profiles the Ipswich star Arsenal have already conceded interest in – but whose dad scouts for Chelsea...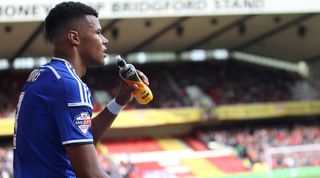 The 60-second story
FACT FILE
Date of birth: March 13, 1991
Place of birth: Bath, England
Height: 6ft 5in
Current club: Ipswich; 39 apps, 0 goals
Former clubs: Chippenham Town, Yate Town, Bristol Rovers (Yth), Southampton (Yth)
In common with an Ipswich side that had barely been on the radar in the last few years, Mings shot to prominence in the second half of 2014.
Mick McCarthy's side are flying in the Championship and that is thanks in no small part to their 21-year-old left-back, who was entrusted with the No.3 shirt after Aaron Cresswell's departure to West Ham in the summer and has not looked back since, being named Championship Player of the Month in September and playing persuasively enough to force the usually cagey Arsène Wenger to admit that he is keeping tabs.
Crystal Palace had already seen his potential, bidding £3 million in August for a player who at the time had only played a handful of league games.
And the most remarkable thing? Just over two years ago, Mings was playing part-time for seventh-tier side Chippenham Town, of the Evo-Stik Southern Premier Division – and working as a mortgage adviser during the day.
Ipswich boss McCarthy signed him for £10,000 and a pre-season friendly after he impressed in a trial match against a Nike Academy side – deciding within minutes that he would sign Mings before anyone else had a sniff. These days, you can barely turn through the sports section of a newspaper without seeing his name linked with one of country's top clubs. Arsenal remain strong favourites for his services in the long term, although dad Adie might have something to say about that – he's a scout for Jose Mourinho at Chelsea.
Why you need to know him
Mings has the tools to be England's next left-back – and perhaps has even more raw potential than current favourite for the role, Luke Shaw. Like the Manchester United new boy, Mings started out at Southampton. However, unlike Shaw, he was released aged 16 and drifted into non-league.
Among the reasons given was that he was too small, but he has since shot up to 6ft 5in and is blessed with the kind of athleticism that the top clubs find hard to ignore. Add to that the technical grounding he received with the Saints and there is plenty to work with from the get-go.
Make no mistake about it: Mings is different from the youngsters who come straight through the ranks at Premier League clubs and sometimes give off a sense of entitlement. He is profoundly grateful for his recent change in fortune and it shows in the way he treats those who support him.
Famously, he left tickets for a supporter who tweeted that he couldn't afford to attend a game last season – turning down interview requests on the back of his generosity – and last summer he paid for new replica shirts for fans who had been caught out by his change in squad number.
He and his girlfriend also spent last Christmas helping to feed homeless people at an Ipswich church. Two weeks ago, he quietly turned up at a supporters' Q&A with Terry Butcher held at a local pub, listening intently. In short, along with being outrageously talented, Mings is a thoroughly good egg – a refreshingly grounded character who McCarthy says he would be "proud to call my son".
Strengths
Mings eats up the ground with his stride and, when in full flow, is almost impossible to dispossess when bombing forwards. A phenomenal athlete with pace and strength in abundance, he is also a fine distributor of the ball – a superb 70-yard ping to David McGoldrick that set the wheels in motion for Noel Hunt's injury-time win at Charlton in November being just one example (below).
A dominant figure in the air (he can also play at centre-back and there are those who feel he may end up in that position, even if his unique gifts at left-back feel like an advantage for the next few years at least), he also has some of the best interception figures in the Championship and is a clean, decisive tackler. Mings's defensive savvy has improved noticeably since playing regularly alongside the likes of Christophe Berra and Luke Chambers. There are still rough edges to be smoothed out, but players with this blend of attributes do not come around that often.
Skip to 1:58 for Mings's magic
Weaknesses
Mings is part of a tough, streetwise Ipswich backline and is creditably switched-on for a defender so young, but there are sometimes occasions when, if not at full throttle, he can be got at – as Liam Feeney did for Bolton a couple of weeks back.
Although generally composed in possession, there are moments when sloppy passes can creep in too. And perhaps his pace and long, beanpole legs allow him to bail himself out at times if he has been caught positionally awry. All unsurprising in a player who had been very much an understudy to Cresswell until this season, and these are minor quibbles: McCarthy had spoken highly of Mings since the day of his arrival and he has proved his manager spectacularly right.
They said…
McCarthy, on the instant impression Mings made in his trial game: "It had just kicked off. He went and won a header, then he went flying into a tackle, then he passed the ball on the inside, then he came on his right foot and dropped it down the line and that was all in the time we were walking across to the pitch.
"In one of the tackles he went into, he absolutely creased the guy. That'll do for me, that! Not just that, but the four things that he'd done while we were walking around the pitch.
"I remember taking him off after 70 minutes, he'd been hurt in a tackle... so I took him off, and as he came off he was growling. I hadn't met him then and I said: 'Ty, I'm taking you off because I want to sign you, so you don't get injured'. And he finally stopped growling at me! He's a good kid."
Did you know?
Mings benefited from a good education: he attended the famous Somerset public school, Millfield, on a football scholarship.
Elsewhere, he was close to packing football in a few months before his move to Ipswich, in order to concentrate on what looked a promising career in mortgages. His dad, who was a powerful non-league striker in his own playing days, was among those who encouraged him to stick with it.
TALENTSPOTTER RATINGS
Shooting 6
Heading 8
Passing 7
Tackling 9
Pace 8
Dribbling 7
Creativity 7
Work-rate 9
What happens next? 
It's hard to imagine Mings not making the step up sooner rather than later, but Ipswich will be desperate to keep him on for the rest of a season that holds genuine hope of an overdue return to the big time.
There is a suggestion that a £10m bid might cause chairman Marcus Evans to waver, especially if McCarthy could invest much of it to make his squad stronger ahead of the run-in, but the smart money is on Mings staying at Portman Road until the summer and then moving on for a sizeable fee – regardless of which division Ipswich are in by then. If that does happen, there are suggestions that he is exactly the kind of player the FA would love to fast-track into the England setup.