Meet Marco Asensio, the youngster set to become Real Madrid's next big thing
Lee Roden runs the rule over Mallorca youngster Marco Asensio, the teenage playmaker who's had Real Madrid and Barcelona all hot under the collar...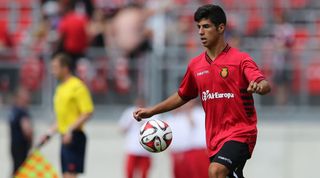 The 60 second story
Marco Asensio
Date of birth: January 21, 1996
Place of birth: Palma de Mallorca
Height: 5ft 6in
Position: Attacking midfielder/forward
Current club: R.C.D Mallorca
National team: Member of Spain U19 squad
It's not often that a second division footballer does enough to convince Real Madrid he's worth signing, but Marco Asensio is special. The Mallorca attacker has taken the distinctly unglamorous Liga Adelante by storm over the last 12 months, becoming a regular in the club's first team at the turn of the year then consolidating his place this season.
His brilliance for the islanders sparked interest across major European leagues, but Spain's big two were the strongest contenders, and now it seem Real Madrid have dealt a blow to their eternal rivals by coming out on top.
Things could easily have been different. Barcelona struck first, and were so close to signing the player in August that he even visited the city to scope out potential pads in the nearby coastal town of Castelldefels. The Catalans made two mistakes in their negotiations, however. The first, only offering cash-strapped Mallorca payments in three separate instalments.
The second, insisting Asensio should immediately join Barça B, rather than allowing him to stay in Mallorca on loan until the end of the season in an effort to help his boyhood club gain promotion to La Liga.
In swooped Real Madrid. The Champions League winners played smart, offering €3.7 million and giving the green light on extending his time at Mallorca until the summer.
Carlo Ancelotti and Florentino Perez even made the effort to call the teenager, helping to sway him towards the Santiago Bernabéu despite an initial preference for Barcelona. The icing on the cake was permitting Mallorca first preference on loaning a few young talents from Castilla.
Why you need to know him
Asensio burst onto the scene at Son Moix at a moment in time where Mallorca fans were desperate for something to smile about. Descent to the Liga Adelante in 2013 coupled with the club's dire financial situation meant pessimism was thick in the air over the island, but a glimmer of hope emerged in the form of their academy's brightest talent. An initial taste of first team football came in October 2013, but it wasn't until February that Asensio was afforded a run of any significance with the seniors. Three quarters of his 20 games in 2013/14 came from that month onwards.
News travels fast – even from an island – and bigger clubs rushed to get a look. Staying at Mallorca beyond the summer hasn't worked out badly for the youngster. Voted Liga Adelante player of the month for October, a game rarely passes by where Asensio isn't decisive for Els Vermellencs: he has been involved in more goals than any of his team-mates this season, assisting five and scoring three.
Purple patches are as common in the Segunda as any other league, but it is Asensio's capacity to thrill in an otherwise dire side that really makes him stand out from the crowd. Give him the ball and, almost without fail, something of note will happen. Madrid are investing in that potential, in the hope that he can do even better with a higher quality of players around him.
Strengths
It's easy to get distracted by the quick feet, but Asensio's brain is his main weapon. The 19-year-old is a master at putting the breaks on at just the right moment to leave a hapless defender skidding past him on the turf. Technically excellent, as would be expected of any Real Madrid target, his ability to produce flicks and feints to good effect in some of the sub-standard grounds of the Liga Adelante bodes well for the future.
The numbers reflect Asensio's effectiveness. Poor pitches or not, he has managed to average 79% pass completion this season, while 52% of his 72 dribbles have been successful.
Weaknesses
Asensio is still raw, and suggestions from within Mallorca that staying in the Segunda until the end of the season would be for the best aren't unfounded. Though he creates plenty of openings with his technical wizardry, he could be more clinical when it comes to finishing them. Fitness problems have also started to pop up on occasion this season, though at 19 his body is still developing.
They said…
"There aren't many out there with his characteristics. Even when he was a kid you could see he was a different kind of player. It's been a long time since we've had a talent like this". Nando Pons, who was Mallorca's sporting director when they signed Asensio as an 11-year-old.
Did you know?
Mallorca's current sporting director Miguel Ángel Nadal claims his nephew – a certain tennis player named Rafa – was the first person to inform him of Real Madrid's interest in Asensio. Rafa is one of Los Blancos' most high-profile supporters.
TALENTSPOTTER RATINGS
Shooting: 6
Heading: 5
Passing: 7
Tackling: 5
Pace: 7
Dribbling: 8
Creativity: 8
Work-rate: 5
What happens next?
The deal between Madrid and Mallorca was only announced on Friday December 5, but Carlo Ancelotti was confident enough to reveal details in a press conference a week beforehand, calling the youngster a "great player" and clarifying that he is a signing for next summer rather than January. The 19-year-old had himself already confirmed he will move to Madrid, calling it an "honour" and "the best option".
Internal politics at Mallorca explain the delay in announcing the deal, with warring factions in the club's hierarchy resulting in the move not being signed-off on Thursday as was previously expected.
Quizzes, features and footballing fun
Get the best features, fun and footballing frolics straight to your inbox every week.
Thank you for signing up to Four Four Two. You will receive a verification email shortly.
There was a problem. Please refresh the page and try again.